by Isidra Mencos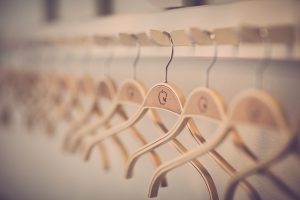 It was turquoise green with black side panels—a simple sheath in stretchy nylon that fit in a fist. When I tried it on I instantly knew it was mine.
I stepped out from behind the folding screen and into the main room where my friend Marisa and the woman who made the clothes were waiting. We had seen a sign on her door while taking a walk in town after a day at the beach.
"Wow. It looks great on you," said Marisa. Her eyes scanned me from head to toe, as if she was seeing me for the first time.
"You sure have the body to pull it off," added the woman.
I was wearing flip-flops and sandy legs. My hair was a shambles. But when I looked in the mirror, I saw myself at the club, in high heels, dancing.
The thin fabric and cheery color reminded me of sun and swimwear, but the dark half-moons on the waist that set off my curves brought it right back to its natural habitat: night hunting.
I bought the dress.
The first time I wore it, it was a Saturday night. I had dinner with Marisa and we went to Luna, the latest salsa club. Salsa was now fashionable in Barcelona. When I started dancing only one club played it—a little dump in the red-light district named Tabú. There I spent five nights a week dancing until dawn.
From the first time I heard the music, it felt like my mother tongue. Each partner spoke a new dialect. I wanted to learn them all. Pleasure became sweat running down my spine, feet moving en clave, hips talking. My friends renamed me Isadora in reference to the dancer, Isadora Duncan.
Ten years later there were at least four clubs playing salsa and dozens of girls eager to dance. Sitting on a chair in a far corner or perching myself at a barstool with my back to the world didn't get me much attention. I had to stand close to the floor, marking the steps, to quickly land a dance partner.
That night, soon after we entered Luna, I noticed a change. Marisa and I checked our coats, and as we walked towards the bar, men moved aside, like waters parting, to let us through. I could feel their gaze taking me in: the long naked legs, the shapely body, the slim waist that seemed to beg for hands to touch it. Marisa noticed too.
"Isadora, you're causing a sensation," she said, a hint of envy in her voice.
"So are you," I replied. But I knew she was right. Even the waiter, usually harder to flag than a taxi on a rainy night, trotted to us as soon as I lifted my hand.
I was taking the first sip of my gin and tonic when a guy asked me to dance. I didn't sit down again. I went from one pair of arms to another, feeling wanted and in control. A thank you, a step back, and a smile at the end of each song was enough for a partner to let me go, wistfully, to the next in line.
I did, however, reap a stalker—a fresh-faced boy who followed me from floor, to toilet, to bar, to floor, without saying a word. He seemed unable to stop his feet from walking in my tracks. It was annoying but harmless. Marisa and I had a laugh about it, and she made sure to wait with me until I got in a cab to go back home before she drove to hers.
I lived alone, having recently broken up with the latest boyfriend. I didn't mind being single. For the first time in my life, I had a clear goal: enter a PhD program in the U.S. I was tired of bouncing from job to job, man to man, and bender to hangover. A friend suggested that I consider a doctorate program in the U.S. and I went for it. I needed a change.
I got busy. During the fall, mornings from eight to twelve I studied for the TOEFL and the SAT, researched American universities, and applied by the dozen. Afternoons, I worked at the Press Department of the Olympic Games Committee as a translator. I saved every penny— something that had never occurred to me before. I still went dancing, but I consigned it to weekend outings.
I put on my new dress sparingly, so it wouldn't lose its power. Every time I wore it I became a magnet. Maybe it was the color, which evoked the shimmering surface of the Caribbean seas. More likely it was the simplicity of a woman's body taken down to its most iconic elements. Nothing distracted from the shape. No cleavage, no necklace, no too short a mini, no curves too tightly bound like sausages. In the dress I was the perfect symmetry of a slightly open eight.
Once while wearing it at Luna, I ran into my cousin Hector, an affable fellow I liked well enough. He didn't know how to dance, so I visited him between songs, and he treated me to a drink.
After a while he proposed that we go to his apartment.
"What for?" I asked.
"You know, to have some fun." He grabbed my waist. I pulled back.
"We are cousins," I pointed out.
"That doesn't matter, does it?" he said.
"But…you are engaged!" He was getting married in a few months. I had recently met his fiancée at a family party.
"That will make it even spicier," he whispered, bringing my body to his.
I was stunned. We had seen each other for over thirty years at dozens of family functions, but I clearly didn't know him at all. I freed myself from his arms. "I'd rather stay dancing," I said. He left soon after.
It was now March, six months before the Olympics, and I was working full time. I'd been accepted to a few doctorate programs. I chose UC Berkeley because my friend Chiori lived there.
Chiori and I had met five years before through my then boyfriend, a salsa concert producer. Chiori was dating the son of the famed musician Eddie Palmieri. We became close when she visited Barcelona after his concert, and ended up staying four months. When she left we kept in touch through letters. Now she offered me a soft place to land in the U.S., and that was far more important to me than choosing this or that university program.
I was thirty-three and about to leave behind everything I knew. I felt excited and terrified.
The last couple of weeks I spent in my old life I worked twelve-hour days in the Olympics press department. I didn't have time to go dancing.
In the evenings, exhausted, I classified and packed: boxes of books and photos that would go to my parents' attic, furniture and appliances to be sold or donated, clothes and small mementos that would travel with me.
I wondered if I should take the dress. Would I have time to go to clubs? I hesitated. But it was a thin, non-wrinkle fabric: A simple sheath that fit in a crevice of the suitcase. I packed it.
August 14th, 1992, four days after the end of the Olympic Games, I arrived in the U.S. The first few months in Berkeley were hard. I felt crushed by the piles of homework, by nostalgia, by the newness of it all. Salsa receded into the background. I had little time and no car. There were no clubs close to my home, public transportation was a joke, and a woman walking alone at nighttime may invite trouble. Unless I went to a concert or a club with Chiori, I was stranded. I missed dancing.
By May I had settled in. When Chiori's boyfriend, Eddie, invited me to his dad's concert in San Francisco, I asked my friend Isabel, who had a car, to come along.
Getting ready for the concert, I put my green dress on. When Isabel picked me up, she did a double take. "That dress is amazing," she said, a trace of jealousy in her voice. She had a red top and black skirt on. She looked beautiful.
Isabel drove us to the club. As we waited in the will-call line, Eddie Jr. came out, saw me, and let out a long whistle. "You look great!" he said. He greeted Isabel politely, took us by the arm and brought us into the club through the side door.
Isabel and I danced nonstop. During the break, Eddie came to look for us. "Come say hi to my pops. He'll be glad to see you again," he assured me.
We followed him upstairs to a small dark room above the stage where the band was waiting for the next set. Eddie Sr. was sitting on a sofa with a couple of guys—one on each side. I walked towards him, Isabel trailing me. His face lit up when he saw me.
"Hi, Eddie. We met in Barcelona a few years back. I don't know if you remember me," I said.
"Of course I remember you! Come, sit with me," he answered with a big smile. The two guys with him got up, said hi, and moved back.
I could feel their eyes on me as I sat to the left of Eddie, crossed my legs, and turned to him. Isabel sat on the other side. Eddie and I chatted for a while, and when the break was ending we exchanged a warm goodbye and I got up to go. On the way out Eddie Jr. introduced us to some of the guys. "What are you doing after the concert?" asked one.
"We're going home. Isabel has an early morning tomorrow," I answered.
The next day Eddie was scheduled to play an outdoor gig during Carnaval, a big street fair in San Francisco. Chiori invited me to attend the parade and the concert with her.
I planned carefully what to wear. Nothing could top last night's outfit, but I still wanted to look good. I chose a short multicolor pleated skirt that reminded me of a tropical bird, a tight purple top, and sandals. It was playful and sexy, but appropriate for daytime.
After a long day at the parade, it was time for the concert. We hung out with the band right before they came out in a cordoned-off area. I was serving myself a glass of wine from the catering table when one of the musicians came by. I greeted him with a smile. "Hi, we met yesterday backstage during the break. How are you?"
He looked at me, surprised, but then he seemed to place me. "Oh, hi." He nodded his head, and turned his attention back to the table. Then he looked at me again.
"Where is your friend?" he asked.
"Isabel? She didn't come today. I came with Chiori," I replied.
"Mmmm…I don't think her name was Isabel," he said.
"Do you mean the girl with the red top and the black skirt?" I specified. "That was Isabel."
"No. I mean the girl in the green dress," he answered.
I laughed. "That was me!"
He scanned my body from head to toe. "Nah. It wasn't you. I mean your friend, the one who sat by Eddie and talked with him for a while."
I was quiet, puzzled.
"Do you have her number? I'd like to call her," he insisted. "I'm here a couple of days, and I'd like to take her out to dinner."
"I was the one wearing the green dress," I repeated. "Unless there was another woman with a green dress who came backstage," I added, thinking that may have happened.
"No. There was only the one. But it wasn't you—I'm sure of it. It was your friend. Can you give me her number?" He sounded annoyed.
My frozen smile melted. I wanted to throw my drink in his face.
"I can't give you her number because it was ME."
I turned around and left him there, shaking his head, convinced that I was lying.
I told Chiori what had just happened. She threw her head back and laughed at the guy's stubborn blindness. I couldn't join in. I burnt and throbbed like a freshly slapped cheek. "It's always me!" I wanted to shout, "Underneath it all it's always been just me!"
After that incident, I still went out dancing. I still dressed sexy. I still enjoyed the gaze of men who found me attractive. But the green dress had lost its luster. When I wore it, I felt out of step with the ripples it created. They belonged to another era, to another name, not to the new person I was becoming.
A year later, about to move to a new apartment, I was packing clothes to take with me or to donate. I folded the dress into a pocket-sized, cheery square, and slipped it into a crevice of the box destined to Goodwill.
I wondered if it would work its magic again—if it would part the waters for another sensuous woman, if she would cross and find that there, waiting on the other side, had always been her real power.
Category: Featured, Memoir, SNHU Creative Writing, SNHU online creative writing