by Jami Pack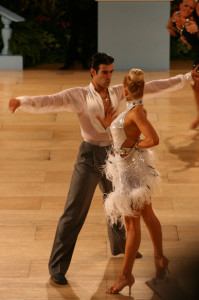 "Dancing with the feet is one thing, but dancing with the heart is another." ~Author Unknown
Pas de duex. The lights flicker on. The music begins. Five, six, seven, eight; challenge position. You stride toward me; confident, proud, arrogant. You know me and we have been here many times before. Closed position; connection. Your hand slides across my lower back and it settles in its place along the trench of my spine. You pull me in close where your warmth radiates off your chest. Your smell of sweat and Old Spice overwhelms me. My head spins. You could do as you please with me. Step ball-change; pivot, center.
My heart quickens to match your pace. One & two & three & four; allegro. My body knows your movements and follows without complaint. Your body leads me around the dance floor twisting and pulsing in tempo. We move as one. You spin me out and pull me back in. Body completes turn. We are one again. My breath catches as you run your fingers along my arm. Flirtation position. I wish we would stay together indefinitely. Do you feel what I feel? Breakaway; heel-toe, heel-toe.
Contra position; adagio. The music slows and I again sense your hot breath on my neck. Kick ball-change; chasse turn. Your body tightens around me and I catch the familiar glint in your eye. You are daring me to want you. Rond de jambe, arc turn; dip. Your lips brush mine and I gasp as you lift me for on final move. Ciseaux; arabesque. The strength in your hands spread tingles of satisfaction through my limbs. We hold the final pose, our chests heaving in unison. The audience erupts in appreciation.
The music has ended and you still grasp my hand. Second position; curtsy. You smile at me but your eyes look through me. Is it the dance or is this real? You don't answer and I am alone on an empty stage. My body aches for you to return. Solo.
Category: Short Story