By Rebecca LeBoeuf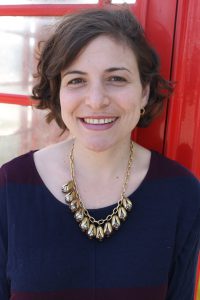 Natalie Haney Tilghman co-wrote "A 52-Hertz Whale," a young adult novel, with author Bill Sommer. When a juvenile humpback whale separates from its pod, a high school freshman calls upon a young filmmaker who volunteered in his special education program to help him locate it. The plot unfolds with a series of electronic correspondence and unexpected events.
Tilghman is the 2015 recipient of the Rona Jaffe Writer's Award and has placed in several writing contests.
Have you always written?
My mother encouraged reading and my interest in storytelling from a young age. I "published" my first book when I was four-years-old – constructed of cardboard and covered in stickers – and I spent much of my free time as a child writing "novels" long-hand on lined paper. Like most teens in high school, I was consumed with academic writing and a million extracurriculars, but I rediscovered the joy of creative writing in college when I took a class while studying abroad in Italy.
Before pursuing writing full-time, I was a social worker. I find writing to be similar to social work in that, in order to be successful, you must have an interest in understanding people and their motivations, desires and Achilles' heels.
What's your process in developing your storyline and characters?
The process of writing "A 52-Hertz Whale" was very different from my current project. "A 52-Hertz Whale" developed out of what was essentially a creative writing exercise with a fellow Rainer Writing Workshop MFA grad, Bill Sommer. Bill and I both assumed characters and wrote emails to one another in our chosen character's voice. It was only about halfway through our exercise that we realized we might be writing a story worth sharing with others. We plotted the rest of the book only at that point, so the resulting novel is very character-driven.
My current novel, which is adult literary fiction, set in both Italy and America, is inspired by my grandmother and great-aunt who both lived through World War II. This time, I used detailed chapter outlines as a tool to keep the narrative organized. The characters' backgrounds are so different from mine, so I try to find other ways to connect with them. For instance, I decided to have a Romani boy in the story play the fiddle, which I played as a child for many years.
What challenges do you face in your writing, and how do you overcome them? 
I love research, and so, for me, it is a constant balancing act of how much is too much. Research can make stories more authentic, but it can also be a distraction (good for procrastination!) and also become overly influential, bogging me down and causing creativity to take a back seat. I try to research at the onset of a new book, but then back off so that the story can take shape and be molded by the characters, not just their circumstances and the time period.
Additionally, I have three children – all under the age of five – so finding time to write is a challenge. When I have a consistent schedule where I am able to return to a manuscript every other day or so, I am most successful. A grant from the Rona Jaffe Foundation makes this possible for me by helping with childcare, for which I am very grateful.
What has the road to publication been like for you?

Like most writers, I've encountered rejection and those depressing "thanks but no thanks" emails from journals. But I was also fortunate to have encouraging mentors, colleagues and teachers along the way. My "break" was thanks to an amazing editor, who saw something in "A 52-Hertz Whale," and picked it out of a slush pile full of unagented manuscripts. In 2015, when I was awarded a Rona Jaffe award, it was truly a dream come true. My mantra is simple: persevere, persevere, persevere.
How do you market your work?
As a parent of three young children, it is hard to find time both for writing and marketing. Just keeping up with social media feels like a full-time job! But I try to connect with readers (or potential readers) however I can – through interviews, book signings, conferences, Goodreads, Twitter, book fairs, school visits. There is nothing more satisfying than hearing that someone connected with the work.
What do you wish you knew when you first started writing?
Writing is a job like any other job. And though it is a dream job, there are still bad days – days when the words won't come, days when rejection stings, days when you wish you were doing something else. I've also realized that publishing one book doesn't mean I know how to write the next one. Each project presents opportunities to learn and be challenged.
Who are the authors that have inspired you most, and how have they inspired you?
There are so many authors that have inspired me that choosing just a few feels like an impossible task.
Louise Erdrich is an inspiration because of her ability to make culture and history relevant to readers of all ages through captivating storytelling. She is a mother and so prolific, which reminds me that parenthood can coexist with a successful writing career. Erdrich is also a shape shifter – working in multiple genres and moving from the short story to poetry to the long form with mastery.
Alice Munro also comes to mind because of her ability to craft stories that feel full and novelistic. I feel that I can learn almost any aspect of the craft by returning to her work and reading closely.
Anthony Doerr is another inspiration because of how he seamlessly infuses science and nature into his writing.
Finally, I have to mention Laura Ingalls Wilder because she sparked my interest in writing as a child. Her books drew me in thanks to strong female characters and the exciting way she captured history.
If you could keep just three books in your library, which would you choose and why?
Oh boy, this is another hard one. This list comes with a disclaimer – if you ask me tomorrow, it may change!
"The Hummingbird's Daughter" by Luis Urrea – An epic and magical story infused with humor and filled with unforgettable characters.
"Strega Nona" by Tomie de Paola – A children's book about an Italian witch that always inspires me to look to my own Abruzzese roots for inspiration.
"The House at the Edge of the Night" by Catherine Banner – A novel that captures the effect of time (95 years!) on a small Italian island and the colorful characters living there.
Visit Tilghman's website to learn more about her and to digitally connect with characters from "A 52-Hertz Whale."
Category: