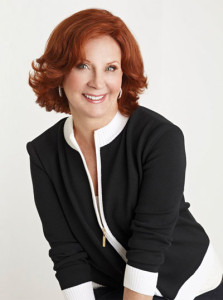 by Gabbi Hall
New York Times bestselling author Janet Evanovich has not always been a writer. She studied art in college and says, "It never felt exactly right." When she made her first $2,000 for a romance she'd written, it clicked and she took on writing full time. Her first book of the Stephanie Plum series, "One For the Money," was recently turned into a movie starring Katherine Heigl and Jason O'Mara. Janet Evanovich's next book, "The Chase," will be released February 25 and Stephanie Plum will be back in June 2014. Janet took time to talk with us about developing characters, the road to publication and books she loves.
Have you always written?
I used to make up stories as a little girl, but only began to write seriously when my kids were young. I would write while they were at school during the day.
What's your process in developing your storyline and characters?
I spend a good bit of time "trying out" different story lines before I begin the book. When I think I have a good one, I start to write. With the Plum series, most of my characters are recurring, so I have a pretty good idea as to how they will react to the situations I put them in.
What challenges do you face in your writing, and how do you overcome them?
For me, it's the morning walk up the stairs with my cup of coffee. It's usually at about 6 a.m., so I still have a few cobwebs that need to cleared. However, once I turn on the computer and review what I've written the day before, I'm ready to go. This may sound weird, but I take that blank computer screen as a welcome challenge each day.
What has the road to publication been like for you?
I was an overnight sensation — it only took me 10 years and three completed novels before I made my first sale.
Who are the writers that have inspired you most, and how have they inspired you?
Writing a series puts different demands on a writer than writing stand alone books. I have always been inspired by two series authors. They are the late Robert B. Parker and his Spencer series and Robert Crais and his Elvis Cole series. I'm proud to claim both authors as friends.
If you could keep just three books in your library, which would you choose and why?
A Regency romance, any one of the late Barbara Park's fabulous Junie B. Jones children's books and the latest Scrooge McDuck comic book. Every woman should have a Regency romance on hand for really bad hair days. I totally relate to Junie B. Jones. And I like Scrooge because after a 12 hour day of writing, I like to laugh at a page with lots of pictures.
Category: