by Pamme Boutselis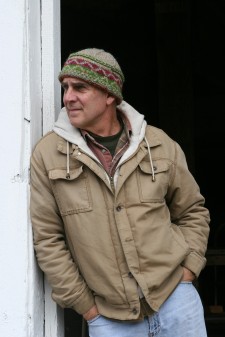 Richard Adams Carey's essays and short fiction have appeared—and are forthcoming—in a number of journals and magazines. He is the author of three prize-winning books of narrative nonfiction: "Raven's Children" (Houghton Mifflin, 1992), "Against the Tide" (Houghton Mifflin, 1999) and "The Philosopher Fish" (Counterpoint Press, 2005). Carey is the assistant director of the MFA in Fiction and Nonfiction program at Southern New Hampshire University. He recently connected with us to share his experience as a writer.
Have you always written?
All through school there was no assignment I hated more than a writing assignment. Three different things happened along the way to not so much change that as to complicate it. First, I noticed how writing so beautifully served the thinking (and feeling) process, how it helped to clarify, deepen, and form links between things I had thought unrelated. Second, I found people responding to my writing, becoming engaged by it. I got patted on the head. Finally, my sister and her husband lived for a while on a sailboat. I decided that would be a good situation for me, and I could fund it by writing bestsellers. Gonna start on that any day now.
What's your process in developing your storyline and characters?
I write primarily nonfiction, and for that my process has been a reporter's: find a problem that captures your interest (say, how an Alaskan Native family straddles two worlds in conflict with each other) and find the particular people who are engaged in that problem. So you begin with a plot, or at least the seed of one, and then find your real-life characters. When I write fiction, that gets reversed—I begin with at least two characters with different agendas, and discover what ensues when those agendas collide.
What challenges do you face in your writing, and how do you overcome them?
Knock on wood, I've never suffered during my career from a lack of ideas or material to put on a page. But it comes slowly, and otherwise I face the same challenges shared by nearly anyone who writes: never enough time; the struggle to find an audience; the degree to which this pursuit excludes a normal family, or even personal, life. I don't so much overcome these as negotiate with each a fraught and delicate sort of détente.
What has the road to publication been like for you?
I actually suffered considerably from a lack of ideas until I went to teach for a decade in the Alaskan Bush. Suddenly I found myself in a world that really wasn't being written about at that point in time, and abundant subject matter. I sent articles away to magazines, and they began to get published. Eventually an editor at one of those magazines prompted me to send a book proposal to a friend he had at a publishing house, and that led to my first book contract.
How do you market your work?
I'm a member, probably, of the last generation of writers whose only tasks were to write, and then to follow through on the publicity opportunities arranged for them by their publishing houses. My next book will drag me into a cold new world where much of that is borne by the author, and where the book-buying audience is much more fractured. So I'll pump the social media channels, work the telephone, gas up the car, hire my own publicist, and probably feel grouchy about it. One lucky thing—I won't be off in the Pacific on a sailboat.
Who are the writers that have inspired you most, and how have they inspired you?
Wow, I wrote a short article on just this subject last year for the Penmen Review. Forgive me if I just provide a link. First, the authors of The Holy Bible, King James Version. It's a platform for understanding the mythos and tribal psychology of this part of the world we live in, and—if you're willing—a good point of departure for understanding other platforms. And there's something about the language of the King James that invests that platform with the power, mystery, and flat-out eeriness appropriate to it. Those very qualities are also central to the language of my other two favorite authors: William Shakespeare and James Joyce
If you could keep just three books in your library, which would you choose and why?
So this follows from the above—that version of the Bible; and the collected works, both poetry and drama, of Shakespeare, who was so good he could write comedies that are nearly as profound as his tragedies, sort of like making "Friends" measure up to "Death of a Salesman"; and "Ulysses," a leap forward so massive in the technique of storytelling that the rest of us, nearly a century later, are still trying to catch up. That would be all I'd need on my sailboat.
Category: