by Gabbi Hall
Nicole Pribbernow said, "Writing is a part of who I am. Everything I see, I see as though it were a part of some form of written work." This online BS in operations and project management student has spent the past two years volunteering as a writer for Mercy Ships, a non-profit organization, and has also written a novel based on a world where humans no longer have emotions. Nicole shared some of her experiences in this spotlight interview.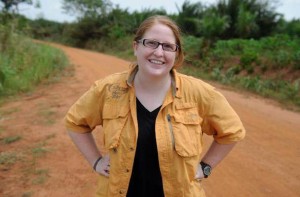 Tell me about your job with Mercy Ships.
While I worked with Mercy Ships on the M/V Africa Mercy we were docked in several countries along the West African Coast. The mission of Mercy Ships is to help the poorest of the poor by reaching out to the hopeless and helpless of these third world nations. We provided free surgical care to people with specific conditions that are a known problem of the poorest nations in the world. These included large facial tumors, cleft lips/palates, burn contractures, bowed legs, clubbed feet, VVF, and a rare and debilitating condition called noma.
While the ship was full of medical professionals, engineers, and mariners my job was simply one of the best. I was a writer for the marketing department. My job was to reach out and touch the hurting and helpless by becoming their friend. They would tell me their heart-wrenching story that usually included pain, suffering, abandonment, and complete solitude. Many people were told and convinced that they were cursed or a demon because their deformity was noticeable. I think with every story I heard I thought, "It can't be any worse than this, a human can't endure any more than this." However, every story continued to shock me and wake me up to the comfortable reality of my life.
It was my job to write down these stories; become an advocate, the voice if you may, of these patients; telling the world of the reality of West Africa. These stories were then used in publications and radio blurbs Mercy Ships used to create awareness of the need for medical care in these nations.
What is the most challenging part of telling these stories?
The most difficult part of my job was holding the hand of a patient who is being told we can't help them. Being surrounded by so much despair and darkness makes it hard to keep your little light shining. The reality is we couldn't help everyone. The simple act of seeing us was enough to spark the hope in their hearts, but then to receive the crushing news that they were going to die from their condition and we can't fix it, it shatters your heart into a million pieces. Does their story deserve to be told as well?
It is a fine line between exploitation and bringing the ugly truth to the world. Reality isn't a perfect little package with a bow on top. Reality is messy and gross. It is unpredictable and rarely fair. In the West, we worry about our homes or if we can afford a vacation while the reality of these nations is a child with a facial tumor worrying about if they will be used as a human sacrifice. So even though that child died, doesn't she deserve to still have a voice to advocate for the next child in her position? Some have argued this with me relentlessly because it makes them uncomfortable. I will always side with that little girl and I will always have people who think my stories are not appropriate.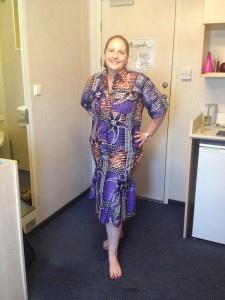 What is the most rewarding part of the job?
To walk up to someone who is so full of fear – so hopeless  – and reach out your hand, touch their shoulder, look them in the eyes telling them, "It's going to be okay, you won't have to go through this alone. I will hold your hand." Seeing that person completely breakdown all barriers and crumble into you and it is in that moment that you know: I am probably the first person to physically touch them and look them in the eye for over a decade. There is no greater satisfaction in life than to give this type of comfort. You forget the power of the physical touch until you realize people have been so afraid to touch them and to realize the solitude that comes with that fear.
Some of those patients will forever be in my heart. Their pain became my pain and I was able to watch their hope being restored in the moment they were told they would be having surgery. Hopelessness eats away at you in the very depths of your being but one spark can set your hope aflame again. I was a part of that and now I don't know if anything will live up to the supreme joy it gave me.
What advice would you give to someone considering a similar line of work?
Being someone's advocate is emotional, disturbing, uncomfortable and risky. Many times my life was on the line and I had to ask myself, is it worth it? I can tell you with complete confidence, it is absolutely worth it! You have to be willing to look someone in the eye who may have a tumor growing out of it, or you may have to interview someone who was a part of rebel forces and they killed the family of someone you know. However, getting the truth out to the world – the unbiased raw truth – gives a satisfaction the runs deep in your soul. I walk away knowing that my risking everything means more lives will be saved from the awareness I brought to the world.
You also write fiction. What can you tell me about your book?
My novel is based on the premise of what our society would look like if humans no longer had emotions. In the future, we have created an emotionless society yet there is a resistance group, the Phoenix clan, which is able to withstand the effects of the chemical warfare that caused the current state of humanity.
Our society currently tries to bury all negative and sad emotions. We pump people full of drugs so they don't have to feel the emotions of life going on around them. I'm not talking about people who chemically need medication to help them; I'm talking about handing out medications like it is candy so we don't have to feel the pain of reality. However, what is happiness without the intimate knowledge of sadness? Can we truly ever feel joy without also feeling pain at some point in our lives? My book simply delves into the possibility that by trying to protect ourselves from pain we lose our grip on humanity in the process.
Tell me a little about your writing process for the book.
I have created my own writing journal and set aside 15-30 minutes every day to sit down and write. I found that it was difficult to find something to write about every single day so I decided to spice my journal up a little bit. I used one of those 365-day calendars that had a picture on it for every day. I cut out those pictures and pasted them into my journal. My goal in writing was to find motivation in the picture to start to develop my writing skills. I would either describe the scene I was looking at or use the picture to develop a story line.
For example, the picture of a desert once helped me create a poem about sand. I represented a single grain in the sea of sand – yet I was all alone. In regards to my book, it all simple started with the picture of a waterfall and a cave hidden behind. I start to write a description of what I was looking at and it then morphed into a letter that my main character was writing to the world. I found myself still writing after two hours and decided I really needed to follow where this lead me. I wrote at all hours of the day trying to get down all of the ideas that were swimming around in my head. Before I knew it, two months later, I had compiled 280 pages of a story. Now I am in the process of refining it, expanding it, and making it shine. I find this is the most tedious part of it all.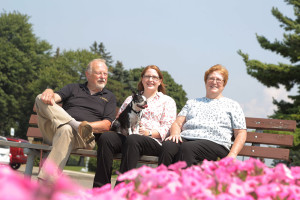 What prompted your interest in storytelling?
When I was a child, my parents believed in letting a child's creativity being a part of their every day life. I found myself surrounded by storytelling. When I was really small my mom would sit by my bed and ask me to give her a person, place and thing. Usually it involved some prince and a unicorn. She would weave a mighty tale that was unique and creative. As I got older, when we were on road trips, we would do something similar. My mom would start a story and craft the tale for 10 minutes. Then she would stop and pass the storytelling on to my older sister. She would continue to weave the tale and then pass it on to me. We would do this for hours as we sat in the car and make the most ridiculous of tales.
When I was in sixth grade, we had a summer project that included the entire family. The premise of the adventure was similar to the Swiss Family Robinson: we were stranded on an island and had to survive. Every Wednesday we would eat dinner together, always rice and beans, and tell about our week on the island. One week my dad would pull me aside (in real life) and teach me how to make traps to catch animals and other survival skills. That week I would report what he taught me and add to our island adventure. This continued for the entire summer break. We recorded all of our adventures down in a journal and I still have it today.
With a childhood filled with the art of storytelling I can't imagine life without the magic of a great story and the journey to create it.
What are your future plans in regards to writing?
Writing is a part of who I am. Everything I see, I see as though it were a part of some form of written work. I believe I will always be writing in some fashion because it is such an integral part of my inner most being. While I always have tales spinning inside my head I need to make myself sit down and write these story on paper. It is difficult to find the time to quietly sit and write.  I would love to expand my written works and dive into the world of publication. Only time will tell where my writing will bring me and in a way, it's as exciting as the journey of creating a story on paper.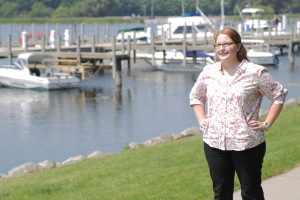 I recently had the opportunity to meet with Nicole in her hometown as part of the #SeeYourselfSucceed journey. Her SNHU story is featured here.
Category: