by Rebecca LeBoeuf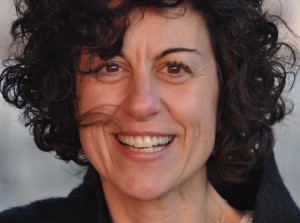 Ann Garvin has been praised for the seamless humor and compassion found in her novels, "On Maggie's Watch" (2010) and "The Dog Year" (2014). A third novel, "I Like You Just Fine When You're Not Around," will be released in June.
"On Maggie's Watch" achieved positive reviews from New York Times bestselling authors Jacquelyn Mitchard and Luanne Rice. Mitchard also had high praise for Garvin's second novel, which garnered strong reviews from Booklist and New York Time bestselling author Wiley Cash.
Prior to becoming a writer, Garvin went to nursing school and studied exercise psychology in graduate school. She then discovered her passion for teaching and writing. Her first short story, "Daydream Believer," won second place in the Wisconsin Book Festival, which inspired her to write novels.
Garvin is now a professor at the University of Wisconsin and Southern New Hampshire University's Low-Residency MFA Program, where she teaches creative writing. She is the founder of Tall Poppy Writers, an organization that unites female fiction writers. She also works as a general fiction writer and a speaker.
For more information about Garvin and her novels, visit her website.
Have you always written?
I have not always written. I wrote letters and science but never fiction. I started writing fiction in 2004 when I won a short story contest and the rest is history.
What's your process in developing your storyline and characters?
A character with a flaw or problem usually introduces herself/himself to me and I start thinking about them. I think of them when I'm driving and moving through my days and eventually a story develops. It takes me a lot of thinking before I begin writing. Then, I let my thoughts flow about where the story and character might take me. It's not very scientific, that's for sure.
What challenges do you face in your writing, and how do you overcome them?
By far my greatest challenges as a writer are interruptions, life and finding time. I have a full time job at the University of Wisconsin as well as my part-time teaching job at the SNHU Low-Residency MFA. I am a single mother to two girls and run the Tall Poppy Writers co-op. The way I handle it is to try and work on what is most important to me during my most productive hours in the day. Plus, I love writing so I make a lot of time for it.
What has the road to publication been like for you?

My road to publication has been lovely, daunting, filled with rejection and both failure and success. The road continues this way as I move into my third published book. It's as Haruki Murakami says, the three essential qualities for all serious novelists are Talent, Focus, and Endurance and I work hard to maximize all three of these things.
What do you know now that you wish you knew when you first started writing?
How hard and time consuming promotion and the business of writing is. I'd have been less disappointed and more realistic.
Who are the authors that have inspired you the most, and how have they inspired you?
I am entirely inspired by Laura Hillenbrand, author of "Unbroken" and "Seabiscuit." She has long suffered with a debilitating fatigue and a kind of non-specific illness, yet what she creates are epic works of art. If she can write like she does while ill, I can make more time for writing while well.
If you keep just three books in your library, which would you choose and why?
"Olive Kitteridge" by Elizabeth Strout, "In Private Life" by Barbara Holland and anything written by Nora Ephron.  These women writers are powerful, funny, sad and I aspired to do just a fraction of what they have done.
Category: