by Pamme Boutselis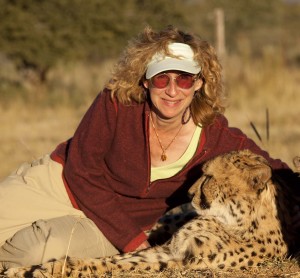 While researching more than 20 books for adults and children, award-winning author Sy Montgomery has been chased by an angry silverback gorilla in Zaire, bitten by a vampire bat in Costa Rica, worked in a pit of 18,000 slithering snakes in Manitoba, hunted a tiger in India, and swam with piranhas, electric eels and dolphins in the Amazon, to name just a handful of the adventures she's had. Montgomery said that she is currently having a blast working on her octopus book. In the summer of 2014, she took to the water once again, this time in a shark cage off the coast of Guadeloupe, for a book on great white sharks for young readers. Her most recent book, "The Soul of an Octopus" is an exploration of the physical and emotional world of the octopus and the extraordinary, and surprising, connections it makes with humans.
Montgomery serves as affiliate faculty (nonfiction) for Southern New Hampshire University's Master of Fine Arts in Fiction and Nonfiction program. Her book, "The Good Good Pig," is an international bestseller; she is also the winner of the 2009 New England Independent Booksellers Association Nonfiction Award, the 2010 Children's Book Guild Nonfiction Award, the Henry Bergh Award for Nonfiction (given by the ASPCA for Humane Education) and many other honors.
What came first, the fascination with and love of nature or the desire to write? When did the two intersect?
I loved animals and plants long before I could read or write. I am told that before I was two, I toddled INSIDE the hippo pen at the Frankfurt zoo—and the massive hippos were apparently quite welcoming and did not (obviously) bite me in half, as they are prone to do to humans in similar circumstances in the wild.
I had thought as a child that I would become a veterinarian. But growing up, as I began to read, I changed my mind. I was born in 1958 and began to read in the 1960s. My father, a General who had survived the Bataan Death March, was my hero, and because he was reading the newspaper I wanted to, too. What I learned in the pages of The New York Times, as we read together, was the world was falling apart. "Environment" was a new word to the American public in the 1960s, and so was a whole new vocabulary of loss: words like "pollution," "deforestation" and "human overpopulation." So many of the animals I loved—elephants, gorillas, whales—were facing extinction just like the dinosaurs. And it was our fault! It was then I decided to become a writer because I hoped I could help more animals than I could as a veterinarian if only I could tell my fellow human beings what we stood to lose.
You seem to possess an innate curiosity and sense of adventure. How does that drive your writing projects?
There's a wonderful Buddhist saying: when the student is ready, the teacher will appear. I feel ready to meet new teachers at every turn, whether they are shamans wearing bark cloth in the Amazon or tigers in India's Sundarbans mangrove swamp or 18,000 snakes in the Narcisse snake dens. I'll go to where the animals are and learn what they have to teach.
How does the book writing process unfold for you? Do you have certain go-to practices that you adhere to each time or is it different with each experience?
Each time is different, but one practice I always keep is I keep a journal when I travel in which at the end of each day I try to write an essay about what I learned that day. Many of the most compelling paragraphs in my final books are lifted directly from this journal.
At what point did you come to see that a nonfiction book for adults would be equally as fascinating for children, told in a format that would work best for the target age level?
Most of my books are actually either for adults or for kids, but not for both—there are only three for which there are adult and child versions. My first book for kids, "The Snake Scientist," actually founded a whole series called Scientist in the Field. I never wrote an adult version of it. I developed it with photographer Nic Bishop and there are now over 30 titles in the series, to which other authors contribute as well. Nic and I met at a conference at the New England Aquarium at which I was speaking. Nic had already published books for kids, but wanted someone else to do the writing so he could concentrate on the photography.
The Scientist in the Field series still follows the format we devised: telling the true story, in half photos and half text, of a real scientific expedition in which real scientists and their team of volunteers or experts works to solve a scientific mystery in a way that will benefit the animals (the series also includes other sciences, but I only do stuff on wildlife conservation.)
I wrote the Temple Grandin book as a stand-alone book, not part of the series. Temple has written a dozen titles for adults, but there was nothing about her for kids. I jumped at the chance to write this, because here was a way to write for kids to honor other minds—not just the minds of people with autism, but the animals that people raise for their milk, meat and eggs.
What do you know now about writing that you wish you knew back when you started?
I wish I had known for sure that yes, two writers (yes, my husband is a writer, too) CAN making a living full time, writing exactly and only what they believe in—and not have to resort to eating rocks from the driveway. There were many days in the beginning we were not so sure, but we were willing to go down with the ship trying.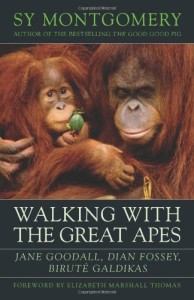 What led to your first book being published?
I wanted my first book to be an homage to my heroines: Jane Goodall, Dian Fossey and Birute Galdikas, the three "Apes Ladies" who were all protégées of paleoanthropologist Louis Leakey.  So I found an agent (from Literary Market Place) and wrote a proposal. She got a publisher pretty quickly: McGraw-Hill. The book required travel to three countries in Africa, to Borneo, to Canada and California, as well as thousands of dollars in long distance phone calls and hundreds of dollars for my vaccinations alone, and it would take me a year to research and a year to write.
The advance? $15,000. One third up front. 15 percent to my agent. I was immensely grateful for it, but it certainly would not underwrite my costs in doing the book.
Obviously I would find a number of other ways to finance this, including freelancing to magazines and newspapers while in Africa and Borneo, living off savings, and cutting costs such as NOT seeing a doctor when I got dengue fever in Borneo, and instead waiting to see if it killed me or not. Sick as a dog, I stayed in a flophouse in Singapore with my friend Dianne Taylor Snow, who I had met at Birute's orangutan camp. She didn't know it, but she had hepatitis. Before we both passed out, we agreed if one of us woke up and the other didn't, the survivor would call the other one's husband to let him know he was now a widower.
Then, after my first trip to Borneo, McGraw-Hill ditched its trade books, and with it all the titles that were not textbooks. Oh, dear.  But I kept on working and trusted my agent to find another publisher.
Earlier that year I had met Elizabeth Marshall Thomas, an author who had penned two nonfiction bestsellers about the Bushmen and the Dodoth in the 1950s and 60s. We quickly became good friends. Liz had a contract for a Paleolithic novel with Houghton Mifflin. When the deal with McGraw-Hill fell through on me, Liz told her editor, Peter Davison, about my book in progress. He agreed to read my proposal and he instantly signed on—for many, many more dollars that McGraw-Hill had paid. So it all worked out for the best.
Peter also published my next book, "Spell of the Tiger." Liz is now my best friend and has been for 30 years. And though Houghton Mifflin hasn't published any of my subsequent adult titles, they have published all but one of my books for children.
When it comes to promoting your books, what do you like most and least?
I hate being on TV—because I have the perfect face for radio! (and I enjoy doing radio very much.) But I enjoy the travel, because I usually have friends in the cities where I tour, and can almost always find a zoo or aquarium to visit along the way.
What challenges you most as a writer, and how do you overcome it?
Too often I am intimidated by my own material. I think: I'm not good enough for this. I'll screw it up. I AM UNWORTHY! But at these times, I don't pretend to believe in myself. Instead, I believe in my teachers—the animals and people I met along the way. I trust in those teachers when I can't trust in myself. I can't believe in myself all the time (who can?) but I can always count on the animals, and they give me the strength and courage to go on—through anything.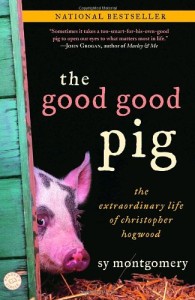 If you could choose just one of your books as your legacy, which would it be and why?
Maybe it would be my next book, "Soul of the Octopus." But at the moment, it would be "Journey of the Pink Dolphins," which I think is the best book I've written in a literary sense. But I think "The Good Good Pig" will be my legacy. This is the closest thing I will ever write to a memoir, and the only book that hit the bestseller list. It is my love letter to my great big Buddha master, who happened to have a flexible nose disk and a curly tail, a great soul, Christopher Hogwood, who I still think about every single day and who I will never stop loving.
On a cold winter night, with a storm raging outside, you settle into a comfy chair with your favorite book. What title would we see on the book spine?
Right now it would be "Dwelling in Possibility," my husband's latest book. He is such a phenomenal writer. I read his work over and over, and especially like to now, because the book is just out. The book is about what makes a house a home, and this is a wonderful, complex and satisfying question to consider, safe and sound inside our beloved old, white-clapboarded farmhouse by our wood stove when a storm is raging outside.
Category: