by Pamme Boutselis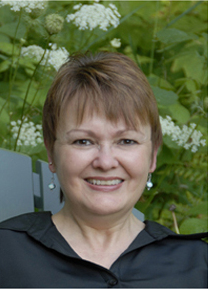 Cynthia Brackett-Vincent is a Pushcart Prize nominee and published poet. Her 2012 co-edited anthology, "Women on Poetry: Writing, Revising, Publishing and Teaching" (McFarland), was named one of the 100 Best Books for Writers by Poets & Writers. Cynthia is pursuing her MA in English/Creative Writing-Poetry at Southern New Hampshire University.
Did you choose poetry or did poetry choose you?
I've been turning this question over and over in my mind. I think I chose to write poetry as a way to escape. Poetry provided brief moments of elation. On the other hand, what I wrote became poetry over time, from diary entries to three-liners to longer poems. Perhaps, then, we chose each other. All these years later, it still serves as moments of brief elation.
Tell us how "the Aurorean" came about and what the journey has been like since its inception in 1995.
Last year, we published an anthology of favorite poems from the first fifteen years of "the Aurorean" (1995–2010). I wrote an Introduction for that which answers your question nicely. What follows, then, is loosely excerpted from "Favorites from the first fifteen years" (Encircle Publications, 2012):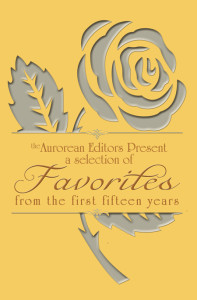 "The Aurorean" came to be late in 1995 after a conversation with my best friend. We both had been submitting our work to various journals. It was the correspondence we noticed—the forms, the impersonal communications. We joked that we should begin our own journal because we would be able to treat our contributors the way we wanted to be treated. Of course, over the years, I have had to create forms, too. But even with the volume of submissions we now receive, we attempt to put a human touch on every correspondence.
When I made the decision to begin the journal, I was attending a creative writing class and begged fellow students—and professors—to submit. I tried to think through the entire process of editing a journal by creating our guidelines, our mission, and other policies prior to putting out a call for submissions. I decided on our title—the adjective form of the word aurora, meaning, "luminescent, like the dawn." I spread the word of my upcoming journal through as many channels as possible. In our first issue, we printed the work of fourteen contributors—including mine, that of my best friend, two family members, three professors, five of my classmates, and two poets who responded to a call for submissions that I placed in a district church newsletter.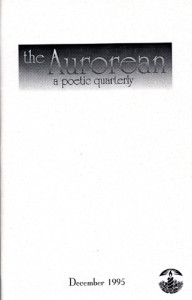 We printed, collated and stapled that first issue in black and white (with seasonal clip art I'd chosen for the cover) on a laser printer at our home in Southeastern Massachusetts with my three teenage sons at hand. My husband still remembers slicing his hand with an X-ACTO knife while trimming pages. But I remember feeling like I'd just given birth. That we'd created a new life and it was going out into the world, ready or not. I became computer-literate only by working on "the Aurorean." I became a poetry editor only by working on "the Aurorean." I learned as I went, and often reviewed (and still review) the work of poets who have more education, expertise and publication credits than I. It is humbling.
And off we went. We went to a friend who owned a printing press for the second issue. In fall of 1999, we went from stapling the issue to perfect-binding (we had grown from nineteen pages to thirty-three). One of our biggest milestones came in 1999 when we received our first real boost of public exposure. Chantelle Bentley, then-editor of "Poet's Market," interviewed me for a feature profile of "the Aurorean" in the 1999 edition. Upon publication of the 1999 "Poet's Market," the number of submissions we received multiplied exponentially as envelopes of poetry from all corners of the globe began making their way to my desk. "Poet's Market" put us on the map.
In 2002, we relocated to Maine. In 2003, I enrolled in a creative writing program at the University of Maine at Farmington. After graduation in 2005, I began supervising interns from the program. In December of that year, we celebrated our 10th anniversary with a special issue. We invited past featured poets to submit, and we printed the name of every poet we'd published on the endpapers in that issue.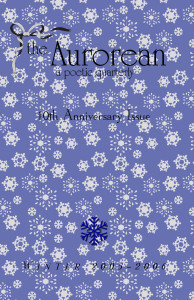 In April of 2006, we switched from quarterly publication to biannual. We also launched our website. The next spring/summer (2007), we made major changes that have stayed with us. We began using my photographs of rural Maine for "the Aurorean" covers on glossy stock. With our first glossy-cover issue, I took on Devin McGuire as my next intern from UMF. But Devin didn't leave after one semester. In him, I found a colleague. A math-hating, poetry-loving colleague (we met in a mandatory remedial college math class). Devin stayed on as assistant editor on an as-needed basis. With the fall/winter 2009–2010 issue, we hired Devin permanently. It was with publication of that issue that we marked the milestone of having published over 1,000 poets worldwide.
The next fall/winter, we celebrated our fifteenth anniversary—with "New England Wall, Autumn Light" as our cover photo, complete with a debut YouTube video (which we now create for each issue)—and published our 51st "Aurorean." With the upcoming spring/summer issue (our 56th), we will have published over 1,200 poets, and at the end of this year, we will enter our 18th year of publication.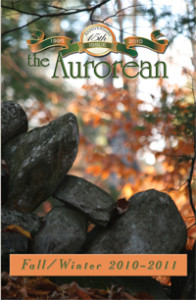 But for me, it's still the human touch that matters. It is wonderful to have affirmation in the form of great reviews (in Small Press Review or NewPages, for example), or work chosen in a "Best of" anthology, but it's the relationships that we build with poets who become friends and colleagues that I cherish. It is a journey that I hope to continue on for as long as I can.
"Favorites" is available on our website in softcover or in digital format. It provides a nice overview of what "the Aurorean" publishes.
How has your life been enriched by your own writing and the writing you've been immersed in through "the Aurorean" and other publications?
My own writing is still elation. I don't mean it's so good that it's elating. What I mean is, to the poet, nothing compares to the feeling of finishing a poem that has been difficult to write, or starting one that just seems to flow from a moment of pure inspiration. It's a huge high. It's harder to find time for my own writing now that I am pursuing my MA, but it is imperative that I eke out bits of time for writing.
I have been enriched by the work of every single poet whom I have read and/or published. Even without realizing it, the details of how to write good poetry sink in subconsciously just by reading lots of good poetry. Conversely, what not to do sticks out at me like a sore thumb just by seeing it over and over.
I'm also enriched by other publications because I get to see what's fresh and new. I don't have time to read everything in the publications that come through the door, but I do like to thumb through them and read what I can. This goes for other journals, books of poetry and chapbooks of poetry. Going to book fairs is a great way to meet other editors, publishers and writers and to keep my finger on the pulse of what's going on.
What is the commonality that makes good poetry?
First, it has to be interesting and grab the reader's attention. A good title can do that for a poem at the outset. "Commonality" is a great word because a good poem should speak universally. Different readers will gain different insights, or perhaps be entertained (or shocked, or inspired—whatever the case may be) in different ways. It has to have great images. Clear, crisp, burning images. The images should remain with the reader long after the poem is put down. A good poem has at least more than one layer of meaning and comes with a backstory. It also should be concise, for that's what makes poetry poetry as opposed to prose (well, that and line breaks). If the poet can cut a word, a line, a stanza, then by all means, cut. The advice I give most often when workshopping is to get rid of the first stanza and/or the last few lines and/or the complete last stanza. Sometimes, poets feel like they have to explain their way into poems when that is not the case. And then, we often feel like we have to neatly wrap it all up. Also not true.
As an editor, what are some of the most common issues that result in almost immediate rejection?
The only cases where immediate rejection would be considered would be those in which the submitter has obviously no idea what kind of poetry we publish. Our guidelines are on our website, so there is really no need for wasted postage and time (the poet's postage and time, and our time). This constitutes the bulk of our rejections.
Other than that, if a submission comes in with no SASE, we attempt to contact the poet and ask for one so that we can process the submission. (We hope to be moving toward accepting submissions online in the near future, so that may help to alleviate that problem. But if a submission comes by postal mail, we would still require an accompanying SASE for reply).
You can't imagine the material we receive that just completely baffles us. We've received drawings, fiction, hand-scrawled illegible poems, KKK propaganda acrostic poems, poems in the name of a deceased poet from a poet who was banned from submitting (and who tried to sneak a submission in that way)—you name it— we've seen it.
But all that said, the vast majority of people who submit to us do so with good intentions, even if the work doesn't hit the mark the first or second time. Many of our poets become regulars on our pages. When my assistant editor brings a new batch of mail in every day, I recognize at least one or two submissions by handwriting alone on the outside envelope. That's the kind of relationship I set out to have with people in the beginning, and I am glad to still have it.
What do you know now about writing that you wish you knew when you started?
1) That I would still be going to college to learn more about my craft at age 55! 2) The words that Maine's Poet Laureate Wes McNair wrote to me on my poem portfolio, when giving me my final grade for the semester in which I was fortunate enough to study with him: "Is any poem ever perfect?" In other words (at least I took his words to mean), the revising job continues as long as we draw breath.
Who are the writers that most inspire you and why?
There are so many. But some of the poets that I turn to for inspiration are Dickinson, Hafiz, Robert Frost, Thomas Merton, Linda Pastan, Sharon Olds, Mary Oliver, Basho, Donald Hall, Wesley McNair, Kate Barnes, Baron Wormser and Billy Collins. All for various reasons, but mostly spiritual. But I also receive just as much inspiration from my poet friends—my monthly poetry workshop friends in particular. I have a tiny poem hanging on my refrigerator. The poem is by Jay Franzel. It's been there since 2010 when he wrote it — we workshopped it. The poem hangs beside a Keats sonnet, which I'll mention below. Jay is a well-known Maine poet in his own right, but what I'm trying to say is, those close connections matter. It's important for writers to build a community of supportive writer-friends. Jay's poem reads:
Before sleeping I watched a bright ship
sail across dark sky,
and before waking
paddled through the colored lilies.
(Reprinted with permission.)
I don't think any one of us could have improved on Jay's poem that day. Jay's poem inspires me as much as one by Keats.
This is by no means a complete list. I am leaving out most of the classics, simply because they are classics! A few of the writers that inspire me are the Dalai Lama, Chekhov, Sarah Ban Breathnach, Barbara Kingsolver, Richard Bach, Maya Angelou, Rachel Carson, Alice Hoffman and Anita Shreve. They inspire me because of their abilities as writers and/or their ability to inspire, promote change, or entertain.
I also wanted to mention the inspiration of place. For me, that is of utmost importance. When I moved to Maine, I knew I was "home" (in the sense of inspiration) before I even saw the property or home we were to purchase. The gravel road we drove down (and now live on) reminded me of my grandfather's home in Massachusetts where I visited from the time I was an infant until he passed away when I was ten. I always felt at home there. It was a rural town — my grandfather's place had an old rambling barn, lots of acreage, ancient stonewalls and an old farmhouse. I felt like I found my soul when I moved to Maine. My writing just blossomed. The ocean in Massachusetts still inspires me as well. We go home to visit often as we now have five grandchildren—and they inspire me as well! Every amazing thing that comes out of their mouths could be turned into a poem. ("Grammie, what does poetry mean?"—this, from 6-year old Noah.)
What are some of your favorite poems?
I'll list a few favorites: "Birches," by Frost; "The "Journey," by Mary Oliver; "First Snowfall," by Wesley McNair; "The Trouble With Poetry," by Billy Collins; "Country Stars," by William Meredith; "When I Have Fears That I May Cease To Be," by Keats; "The Life of a Day," by Tom Hennen; "Ode to My Socks," by Pablo Neruda; "For the Anniversary of My Death," by W.S. Merwin; "Love After Love," by Derek Walcott; and "The Last Uncle," by Linda Pastan. "One Today," by Richard Blanco is fast becoming a new favorite.
Read Cynthia's poem, "How to Stay Occupied as Your Friend is Dying."
Category: