by Rebecca LeBoeuf
Anton DiSclafani has continued to grow her roots in the historical fiction genre after her debut novel, "The Yonahlossee Riding Camp for Girls," hit the New York Times Best Seller List in 2013. Her latest novel, "The After Party" (2016), takes place in Texas during the 1950s, following the wealthy and glamorous social scene that's ruled by patriarchy.
"The After Party" garnered many positive reviews from newspapers and magazines, including one by People Magazine, which said "DiSclafani's story sparkles like the jumbo diamonds her characters wear to one-up each other. Historical fiction lovers will linger over every lush detail."
Have you always written?
No – I started writing fiction in college.
What's your process in developing your storyline and characters?
Half-planning, half-letting things happen organically. I do work from an outline, but I deviate from it pretty often. I don't plan my characters at all. I start with a voice, and then the rest happens on the page.
What challenges do you face in your writing, and how do you overcome them?
Challenges are constant. That's perhaps the only constant of being a writer – that you're always challenged, every single day. If you're not, you're doing something wrong. Sometimes I think of writing as battling your own brain, day after day after day. There are challenges in writing a scene – how do I get that character from the couch to the refrigerator in a graceful, non-belabored way? But then there are more global challenges, too: How do I make sure the book isn't lagging in the middle? How do I make sure this plot point is compelling and not confusing? The biggest challenge of being a writer is to see your own work – to step back from it and be able to think critically about what you're doing, and why.
What has the road to publication been like for you?
I sold my first book when I was 30. Before that, I worked hard and wrote and read.
How do you market your work?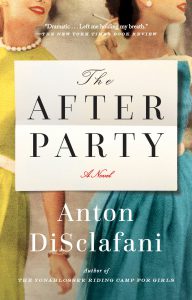 I do what my publisher tells me to do! I am lucky to work with an amazing publisher, who is very passionate about the books they put out into the world. On a personal level, I try to engage with my readers when I'm on tour, and Skype with book clubs, etc.
What do you wish you knew when you first started writing?
I wish I knew that all the work I was putting into "Yonahlossee" would eventually pay off, and then I wouldn't have worried so much that I was devoting my 20s to writing a book that might not ever be published. But, of course, that's unknowable. You write because you love it, and hope the rest falls into place.
Who are the authors that have inspired you most, and how have they inspired you?
My favorite book is "The Known World," by Edward P. Jones. It's magnificent, on every single level. I love what Kate Walbert does with female characters in historical settings. Christine Schutt is funny and wry. Chang-Rae Lee writes books that are devastating and compelling. In a way, I'm inspired by everything I read. Right now I'm reading a book that I don't think is amazing, but I'm paying attention to what I think could be better about it.
If you could keep just three books in your library, which would you choose and why?
Hmmm. Can I cheat and say I would keep an e-reader? I'm not a big re-reader, so I'll list my favorite books. Besides "The Known World," I love "The Gardens of Kyoto" (Kate Walbert), any book by Alice Munro, and "A Separate Peace" (John Knowles) was the first book I fell in love with.
Visit DiSclafani's website for more information.
Category: