by Rebecca LeBoeuf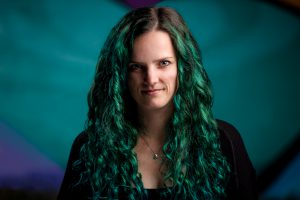 Ryan Graudin, a young adult fiction author, just wrapped up her weeklong tour celebrating the Sept. 26 publication of her latest novel, "Invictus." The tale, which garnered a starred review from Publishers Weekly, follows Far, the son of a time-traveler. Far fails his time-traveling exam, crushing his dream to explore history. Instead, he finds himself stealing valuables from throughout history.
Graudin lives in South Carolina, but can be found throughout the country this fall as she attends book festivals and conferences.
Have you always written?
I have one of my father's old tax ledger books from the '90s, which I commandeered to write an illustrated short story collection entitled "White Wolf's Evechers." I consider this my first true stab at storytelling, and if memory serves me correctly I penned it when I was six or so. I've written quite consistently ever since. My spelling has much improved, but I continue to tell stories with "Wolf" in the title.
What's your process in developing your storyline and characters?
It depends on the book. I used to consider myself a purely "organic" writer — the gardener as opposed to the architect — nurturing storylines as I wrote them. Publishing, however, has forced me to become more of a planner. Sometimes I sell books to publishers with nothing more than 50 pages and a synopsis, which means that I have to have a pretty clear idea of where I'm taking the story and how it will end before I begin writing it. Of course, there are still surprises along the way. My characters will often wrench the plot out of my hands and use the story to their own devices. This is both delightful and infuriating.
What challenges do you face in your writing, and how do you overcome them? 
Ha! What challenges doesn't a writer face? I've been writing for almost two decades now, and in the publishing business for six years. Once you put your work out into the world, there are a lot of voices that respond to it, and one of the biggest challenges I've come across is learning how to handle criticism. It would be all too easy to let one-star reviews compound the doubt that every writer has naturally. I find that it helps to remind myself that it is a law of the universe that not everyone will love my books. And there are people who do! At the end of the day I write for them.
What has the road to publication been like for you?
I graduated university with a degree in creative writing, then wrote up a storm for two years while working odd jobs. I got my first agent and my first publishing contract at age 24, but due to delays my debut novel didn't get published until I was 27. Over the past three years I've published five books, and my sixth novel, "Invictus," hit shelves this September 26th. I've certainly been very fortunate, in that I get to mash genres — thriller, sci-fi, paranormal romance, alternate history! In the future, I would love to write a fantasy series.
How do you market your work?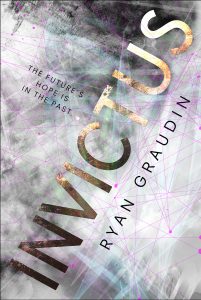 With the help of professionals! One of the perks of being traditionally published is that your publishing house uses their resources to get your books on the shelves and into the hands of readers. I travel to a lot of conferences (BookExpo, ALA, Miami Book Fair, Texas Book Festival, YALLfest, etc.) where I get to meet vendors, librarians and readers face-to-face. That's one of my favorite parts of the job. Another big aspect of marketing that I have control of is my social media. I'm active on Twitter and Instagram, and I've just started a newsletter that lets me keep my fans in the loop about appearances and book launches! It can be tempting to let marketing swallow up my time, but at the end of the day my job is to write new words so my publisher has future books to market!
What do you wish you knew when you first started writing?
That "evechers" was really spelled "adventures." Honestly, if I had a time machine, I'm not sure I would tell my young wanna-be author self a thing. My hunger to get published really drove me to hustle after school, and if I'd known my name would be on book covers at some point maybe I would have jinxed myself? Also, if I'd known how hard writing truly was, truly continues to be, I might have decided to opt for a less anxiety-inducing profession. Ignorance is bliss, right?
Who are the authors that have inspired you most, and how have they inspired you?
I grew up reading J.R.R. Tolkien, C.S. Lewis and J.K. Rowling. The breadth of their fantasy worlds and the depth of the stories they told fed my young imagination.
If you could keep just three books in your library, which would you choose and why?
"The Collected Poems of T.S. Eliot" – Eliot has always struck a chord with me. His poetry is masterful and his themes are timeless. In fact, my upcoming novel, "Invictus," was inspired by his "Four Quartets."
A "Harry Potter" omnibus – Is this cheating? Probably. I love "Harry Potter." In fact, I even did an independent study on the series in college. Jo Rowling is a genius. The allusions and mythos of this series is astounding. The craft of Rowling's storytelling, paired with childhood nostalgia, makes it a forever re-read for me.
"Daughter of Smoke and Bone" by Laini Taylor – This is one of my favorite fantasy books written in the past decade. Laini's prose is like chocolate cake, delightful and rich and hard not to gobble down all at once.
Consult Graudin's website for appearance dates and book synopses.
Category: