By Amber E. Box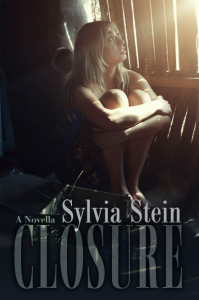 Sylvia Stein fell in love with writing as a young child, but didn't pursue it seriously until she enrolled in SNHU's graduate creative writing program. Her first solo novella, "Closure," was recently released, and she has already begun work on the follow-up book. Stein is currently pursuing her Master of Arts in English and Creative Writing at SNHU, specializing in fiction. Along with book release, Stein did a blog tour last month, and was recently featured on "The Cooks and Books Show," a segment on Urban Nation Radio.
You can find out more about "Closure" and Stein on her website.
Have you always written?
Yes. I have been writing since I was about seven years old. Writing was a way to create different characters and worlds and places that were entirely my own.
What's your process in developing your storyline and your characters?
My process begins with writing an outline of the characters and then the plot. Next, I write in my composition book by hand before typing it on the computer. I used to be more of a no-outline person, but through the years, I have become more organized with using an outline.
What challenges do you face in your writing, and how do you overcome them?
The biggest challenge that I face is trying to find the time to write. I am a mother of three children, and I am first and foremost, a mom. I have to take care of their needs first, so I usually write when they are at school or late in the evenings. Luckily, I have a very supportive spouse and he helps by letting me have more time to write. The way I overcome it is by setting a schedule and no matter how much time I have, even if it is only 20 minutes, I write every day.
What has the road to publication been like for you?
Wow, the road to publication has not been an easy one. However, I have to say that being able to publish has become more accessible through publishers such as Smash Words, Createspace and Amazon KDP, among others. For me, I have to say it is hard work and I am learning so much from having been published in several anthologies prior to my own solo novella, "Closure." It is not easy, but when you love something as much as I love writing and creating, you get it done.
How do you market your work?
The way I market my work is through social media, blogging and word of mouth. I recently did a week-long blog tour to promote "Closure." I find that these platforms have helped me in so many ways. I have also had many other writers and authors who have helped me along the way by tweeting, hosting interviews and doing blog features for "Closure."
Who are the writers that have inspired you most, and how have they inspired you?
How much time do you have? No, seriously, the list is long, but if I have to choose I would say: Stephen King, Jodi Picoult, Harper Lee, Chrissie Parker, and new authors, like Elaine Grey and Elle Bryant Henry. As a writer, you always strive to be better when you read a book by your favorite author. Growing up I always loved books, and one of the first books that made a big impact on me was "To Kill a Mockingbird" by Harper Lee. The issues that Lee addressed made me want to write or create stories that would impact other readers.
Another is Jodi Picoult because of the emotions she brings to each of her books. The other day I read a review in which they compared me to her and it meant so much. The main reason I love Stephen King is that he is such a humble man with great advice. He has always stated how important it is to focus on your writing and when you are not writing, to read. Now the other authors I mentioned have impacted me because they have brought a different blend of stories for not only adults but also for children, and I think that is amazing.
If you could keep just three books in your library, which three would you choose and why?
"To Kill a Mockingbird" by Harper Lee, "The Great Gatsby" by F. Scott Fitzgerald and the "Holy Bible."
I chose these three books because, as I said, Harper Lee's book made a big impact on me in high school. "The Great Gatsby" was another one that did that for me. I chose the "Holy Bible" because I am very religious and that is a big part of me. I believe that my faith is what also carries me each day.
Category: