by Rebecca LeBoeuf
Amy Poeppel's "Small Admissions" began as a play in 2011 and was later expanded into a novel, incorporating material from Poeppel's experience as an assistant director of admissions in a New York City private school. Her debut novel has been praised by Booklist, Library Journal and InStyle for its glimpse into the admissions world, and was named People magazine's "Book of the Week" and listed in BuzzFeed's "Top Six Books You Need to Read." The paperback version of "Small Admissions" was released July 11.
Poeppel is now focused on her second novel and blogging for The Debutante Ball.
Have you always written?
Writing as a profession is brand new to me, but I have always written for the pleasure of it. Ever since I was quite young, I would write long, dramatic stories. One I would love to find in my attic is a story I wrote when I was about 10 years old about an orphan girl and the stable boy she falls in love with — very corny, no doubt, but quite possibly hilarious. I did not complete a novel until I was almost forty, and that manuscript sits patiently in a drawer, likely never to see the light of day. I did not actually publish my book "Small Admissions" until I was in my fifties. Writing is certainly a career one can come to later in life. In the meantime, I have had many professions: actor, high school English teacher, admissions officer and full-time mother.
What's your process in developing your storyline and characters?
I have a background in theater, so I most often start writing by coming up with a premise and a conflict, and then I dive right into writing dialogue. I do not think this is a particularly efficient method, and I often wish I were more of a planner, carefully outlining in advance. But I adore writing dialogue, and I find it is the best way for me to make progress at the outset and discover the storyline. I get two people in a high-stakes situation together and create the conversations between them.
What challenges do you face in your writing, and how do you overcome them? 
Those dialogues I love to write? Well, the problem is, I always have to go back and fill in, not only with dialogue tags, but also with inner thoughts. It is always so clear to me what's happening in the minds of my characters when they're speaking, but of course, that needs to be explicitly shared with the reader. My editor will often make a note in the margin ("What's actually happening here?") and then I know I need to go back and describe the scene in better detail. It's difficult for me to show someone's frame of my mind in a scene and not rely on clichés, so that's something I'm working on.
What has the road to publication been like for you?
It has truly been a dream come true. I have learned so much about the publication process and I find it fascinating. The timeline is slower than I ever imagined (when one considers every step from drafting to revising to actually having a book on the shelf), but I have grown to appreciate the amount of time it takes to get through every step of the process. It takes an enormous amount of work to get a book out, and it involves a large group of experts who know exactly what they're doing, from the copyeditors, to the art designers who create beautiful, appealing covers, to the publicists who get the word out to the world. I trust these people and know they have a wealth of information that will help my book succeed. Watching all of that unfold is incredibly exciting.
How do you market your work?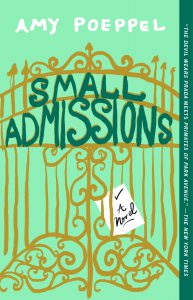 I am not a big fan of self-promotion but I understand that a certain (tasteful) amount of it is not only important, but it is also, in fact, required. I am happy to retweet positive reviews, share reader photos of my book on Instagram and post good news and upcoming events on Facebook. I also am doing my best to publish short pieces to get my name known to the readership of other sites and publications. I am lucky to have a wonderful publicist at Simon and Schuster who has done an incredible job in spreading the news about my book.
What do you wish you knew when you first started writing?
I wish I'd known how necessary it is to write pages and pages of really wretchedly bad fiction in order to come up with a paragraph or two that are worthwhile. When I was younger, I would write a few hundred words, read them a day later, and then think, "Well, I'm a terrible writer." What I understand now is that every one of those bad pages was work (and practice) toward writing a single good page. Editing is where all the good stuff happens, but you can't get to that stage without getting a lot of poorly chosen words down first. I'm not afraid anymore simply to sit down and write, knowing that I will be revisiting every sentence many times over and maybe even deleting them completely. It's all part of the work.
Who are the authors that have inspired you most, and how have they inspired you?
As a young girl, I was inspired by Laura Ingalls Wilder, and I read her "Little House" series over and over again. Those are the books that turned me into a reader. There are countless writers who inspire me as an adult: Jesmyn Ward, Julie Schumacher, Elizabeth Strout, Mario Vargas Llosa, Edward Albee, Sarah Ruhl, Kaye Gibbons, Cathleen Schine, Elinor Lipman, Donna Tartt, Nancy Pearl, Marcy Dermansky, Suzanne Rindell, Georgia Clark, Julia Alvarez, Anya Seton, Dorothy Allison, Colson Whitehead, Margaret Drabble, Edward P. Jones and Italo Calvino to name a few. They inspire me for various reasons: for their wonderful sense of humor, their accurate depictions of the past, their gift of dialogue and/or their captivating story-telling. I read all the time and always have. I have a goal this year to read more non-fiction, but this will be a challenge for me because my fiction "To Be Read" pile is growing by the day. Reading is the number one way I combat writer's block and best way I have found to feel inspired to keep writing.
If you could keep just three books in your library, which would you choose and why?
I would choose "Beloved" by Toni Morrison because it is by far the most moving, beautifully written book I've ever read. I would keep "Skinny Legs and All" by Tom Robbins because it is one of the funniest, most original and clever books I know. And finally I would never part with my battered copy of Margaret Atwood's "A Handmaid's Tale," a book I taught to high school students for years and one that is a chilling, important work of dystopian fiction.
For more author information, visit Poeppel's website.
Category: