by Rebecca LeBoeuf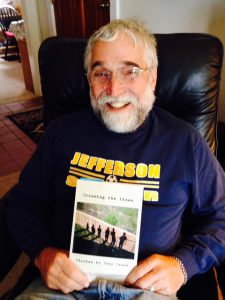 Short fiction writer Tony Press published a collection of stories, "Crossing the Lines: Stories by Tony Press," earlier this year. In 2014, one of his stories was nominated for the Pushcart Prize. His story, "Funeral Season," was published in 2015 in The Penmen Review. Press also writes poetry and nonfiction. He teaches English to adult immigrants and is a former lawyer and a high school teacher.
Have you always written?
No, although with a name like Press it was always in the air. And indeed, my father was a newspaperman. I've always enjoyed reading, and admired good writing, but I didn't write with any thought of publication until the early 2000'-s.
What's your process in developing your storyline and characters?
It remains a mystery to me. I'm not saying (claiming?) "they come to me from afar," and that I simply channel the whole thing, but I am saying I really don't know. I'm not a disciplined writer. I've been lucky in that I listen, and I observe, and words and characters and plots begin to develop in my mind – especially if I have a small notebook or my laptop with me, which I almost always do!
What challenges do you face in your writing, and how do you overcome them?
The lack of discipline is a problem. It's like physical exercise. I absolutely know that if I do it – i.e., commit to even 60 minutes first thing each morning (whether exercise or writing), I will benefit. And yet, and yet.
What has the road to publication been like for you?
My first pieces appeared in 2005 in a wonderful anthology of Buddhist poetry called "The Heart as Origami." -I am a Buddhist (since 1991). One is a poem, one is a mostly-true little story.
My first short fiction appeared in the late-great Canadian print journal, Lichen, in 2006. That story, "The Viper's Smile," is in my collection.
I've now had about 100 publications (including print and online).
My book, "Crossing the Lines," is thanks to Robin Stratton and Big Table Publishing. She had published a few of my stories in her Boston Literary Magazine, and she urged me to put the collection together. She has been extremely supportive.
I've attended the Iowa Summer Writers' Festival several times, beginning in 2009, and also the Tin House workshop in 2011 and the Aspen Summer Words workshop in 2012. I've received huge help – in the craft – from my workshop leaders: Amber Dermont, Ben Percy and Mona Simpson.
How do you market your work?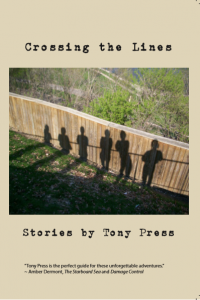 I read submission guidelines carefully! I read what journals are offering and try to decide if those editors might appreciate my words. I also try to decide if I'd like to see my words in those journals. The match should be mutual.
I do use Duotrope and I also peek at New Pages for possible sources. Mostly, though, it is when I see someone has published something I really like, that's when I want to submit to that editor. In fact, that's how I found The Penmen Review, after reading a great Michael C. Keith story.
What do you know now that you wish you knew back then?
I've known all this forever but I've only slowly began to practice it: be kind, tell the truth, ask questions. And if I'm going to spend time, I intend to pay attention.
Who are the authors that have inspired you most, and how have they inspired you?
There are so, so many, and I discover new ones all the time (witness the shelves, tables, desks and floors in my home). I generally think of John Steinbeck and his ability to write with both drama and humor and still tell difficult truths. I think of Alice Munro and Wallace Stegner and Sandra Cisneros and Alice Mattison and Kent Haruf and Marilynne Robinson and Luis Alberto Urrea – for many of the same reasons. And, so many more!
If you could keep just three books in your library, which would you choose and why?
That's an impossible choice! But in this moment, I will say: "Plainsong" by Kent Haruf, "Gilead" by Marilynne Robinson and "A Place Where the Sea Remembers" by Sandra Benitez. Why these three? I choose them because I feel something in my heart whenever I think about them, and because they are books I do return to, to relish the familiar and discover on the pages, once again, something new and extraordinary.
Category: