by Rebecca LeBoeuf
Wiley Cash is a full-time novelist and author of two bestselling books, "This Dark Road to Mercy" and "A Land More Kind Than Home." Published by William Morrow/HarperCollins Publishers in 2014, "This Dark Road to Mercy" became a National Bestseller. It was selected as the UK's Crime Writers' Association's Crime Novel of the Year, was Amazon's Book of the Month, and LibraryReads February Selection, among other achievements. The novel was selected as one of O Magazine's Top Ten Title to Pick Up Now, the Indie Next Pick, and the Southern Independent Booksellers Alliance Okra Pick.
Wiley's first novel "A Land More Kind Than Home," published in 2012, is a New York Times Bestseller and was named a New York Times Notable Book of 2012. Also in 2012, the novel achieved the Southern Independent Booksellers Alliance's Best Fiction of 2012, Crime Writers' Associations' Debut Novel of 2012, and was placed in the Library Journal Top Ten Book of 2012 and the Kirkus Reviews Best of 2012. These are among many awards Wiley's novel achieved, and it was a finalist in many others.
Currently, Wiley is a part of Southern New Hampshire University's MFA faculty. For more information about Wiley and his novels, and for a complete list of his novels' achievements, visit his website.
Have you always written?
No, but I've always been a reader. Literacy was encouraged and fed in my family when I was a child. It wasn't long before I began trying to emulate the stories I was reading, which I think is the best way to learn. By the time I was in high school I'd decided that I wanted to make a career as writer. Every decision I've made since has been in support of that.
What's your process in developing your storyline and characters?
It's hard for me to nail down something like this. My first novel and my novel-in-progress were inspired by true events – the smothering of a boy in a healing service and a deadly textile mill strike – but my second novel came from a handful of characters that wouldn't leave my mind. Regardless of where the book comes from, I think it's best to always privilege your characters over your plot. You must develop them in order for the book to feel real.
What challenges do you face in your writing, and how do you overcome them? 
One of the biggest challenges I face is taking advantage of time. I'm a full-time writer, which means I write novels for a living, but it's not that simple. I teach. I write essays and reviews for other publications. I read other writers' books for blurbs. I give interviews and readings and teach at conferences. All of this is to support my career as a full-time writer. It's easy to let the writing get lost in all of the other responsibilities.
What has the road to publication been like for you?
I don't know that my story is any different than any others writer's. I began writing my first novel in 2004, and my agent sold it to my editor in late 2010. It was released in 2012. There were a lot of years involved, and there was a lot of doubt too. Writing is something that requires two qualities: acceptance and persistence. Those may sound like opposites, but they're not. You accept rejection, but you keep trying to improve.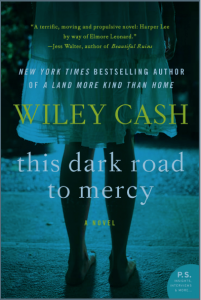 How do you market your work?
I have a wonderful publicists and marketing team at William Morrow/HarperCollinsPublishers.
What do you know now that you wish you knew when you first started writing?
That's impossible to answer because I don't think there are any tricks or any secret founts of knowledge that will make the path to publication easier or less daunting. You just do the work and try to improve it. That's all I knew when I started, and that's all I know now.
Who are the authors that have inspired you most, and how have they inspired you?
In my work I've been inspired by a number of southern standard-bearers: Ernest J. Gaines, William Faulkner, Flannery O'Connor, Raymond Carver, Carson McCullers, Elizabeth Spencer, Charles W. Chesnutt, and Jean Toomer.  In my professional life, I've been inspired by the kindness and collegiality of a number of current writers, most of them here in North Carolina: Ron Rash, Lee Smith, Jill McCorkle, Gail Godwin, Clyde Edgerton. The list could go on forever.
If you could keep just three books in your library, which would you choose and why?
"Look Homeward, Angel" by Thomas Wolfe, "Cane" by Jean Toomer, and "Song of Solomon" by Toni Morrison. I can read these books continually and learn about craft and humanity.
Category: