by Rebecca LeBoeuf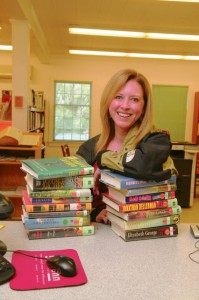 Paranormal mystery, fantasy and historical romance author Erica Obey discovered a passion for creative writing through her interest in folklore. This discovery led to her obtaining an M.A. in Creative Writing and a Ph.D. in Comparative Literature.
Obey's debut novel, "Back to the Garden" (2013), garnered praise from fellow authors Pat Conroy and C.E. Lawrence.
Two new novels, "The Lazarus Vector" and "The Curse of the Braddock Brides," will publish, respectively, in 2016 and 2017. For more information about Obey and her novels, visit her website.
Have you always written?
No, but I've always daydreamed. It was entirely liberating when I finally decided to ignore my mother's repeated pleas to stop making believe and decided to try to earn a living from it instead.
What's your process in developing your storyline and characters?
I recently gave a faculty talk at Fordham University on "The Mystery and Romance of Place," because that sums up not only the genres I write, but the way I write. I see a place that intrigues me with some kind of mystery–anything from the Bronx cathedral that inspired "The Lazarus Vector" to the Catskill guest house now converted to a "Matreum of Cybele," occasionally purveying "fresh eggs," which launched my current WIP, "Ryland's Bride." Anything that gives me a sense of "something happened here"—or more accurately, "something ought to have happened here." I do enjoy historical research, but I am never wedded to the facts—hence, the "romance" in the title. And I do like happy endings.
What challenges do you face in your writing, and how do you overcome them? 
My teacher/Ph.D. mind. I am, by nature, very orderly and disciplined (those who love me best might venture the word "obsessive"). Don't get me wrong; a lot of good comes from that. But I have to work very hard at making myself come up for air, turn my back on a problem, and let my subconscious do the work. A good, hard run works wonders, as do hiking and gardening.
What has the road to publication been like for you?
Up and down – as it is with most writers. Just a year ago, "The Lazarus Vector" was rejected by my original publisher because they had decided to specialize in westerns. Nine months of collecting rejection slips, and suddenly I find myself with contracts for not one, but two books, and, more importantly, an editor in Kristy Blank Makansi, who not only made a book I was happy with an order of magnitude better, but whose edits also showed me what I needed to be doing with "Ryland's Bride." Not to mention terrific support and enthusiasm from every member of the Amphorae Publishing Group. So I guess I'd say I'm on an up now.
How do you market your work?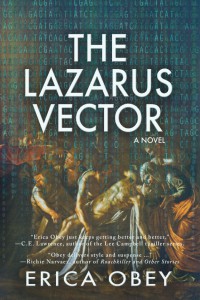 Ouch. Not my wheelhouse. My first reading came about when my dentist told me one of his patients owned a bookstore, and I heard a voice that could not possibly belong to me emerge from my mouth and ask, "Would you mind if I contacted them to set up a reading?" I'm still working on cultivating that voice – although it is easier with a second and third book on the way. Still, the fact that my "Facebook reach" literally leapt 10,000 percent after my magazine marketing maven of a sister-in-law, my hairdresser, and my two college-age nephews shared my cover reveal for "The Lazarus Vector" suggests I still have a lot to learn.
What do you know now that you wish you knew when you first started writing?
That you need to write as though you don't care about publication–and revise with nothing else in mind.
Who are the authors that have inspired you most, and how have they inspired you?
Vera Chapman–who published her first book at age 77, after she served as the President of the Tolkien Society under the nom de guerre of Bella Took for years before that. Talk about being true to yourself. And T.H. White, who somehow managed to produce 600 pages of the most textually complex prose I've ever seen, while writing a thoroughly entertaining and emotionally satisfying book.
If you could keep just three books in your library, which would you choose and why?
Oh, come on. Aren't you supposed to be allowed 10? But okay, here are three with annotations:
1. Jacobus de Voragine. "The Golden Legend." Saints and saints' lives are better than T.H. White and J.R.R. Tolkien combined. (Both of whom I'd sneak in too, if I could.)
2. Thomas Malory. "Le Morte d'Arthur." (The main reason "The Once and Future King" isn't on the list. A little redundant. And if you're going to put a broadsword to my neck and force me to choose…)
3. Grimm's Fairy Tales. (Actually, if you allowed me the complete Andrew Lang Color Fairy Tale Books, I'd take them instead. But if you're going to force me to choose only one, I have to go with Grimm.)
And I'll probably tuck "Orlando Furioso" into my cleavage and hope I can sneak it in as fourth.
Category: