by Rebecca LeBoeuf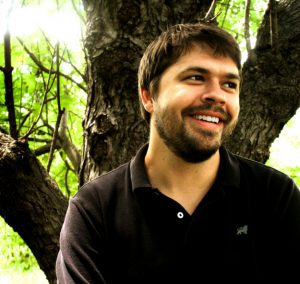 School library media specialist James E. McTeer II's life changed after he won the South Carolina First Novel Prize competition for his adventure novel, "Minnow." This led to an opportunity to publish "Minnow" with independent publisher Hub City Press, who co-sponsored the competition with The South Carolina Arts Commission.
Since its 2015 publication, "Minnow" has won a regional Gold IPPY and received positive reviews from Kirkus, Library Journal, Publishers Weekly and his peers.
Have you always written?
Yes. I wrote my own little fairy tales in a reporter's tablet, the long kind with more vertical space. I still have some of them saved. I graduated up to copying my own favorite stories using my mom's electric typewriter, and later putting down the imaginary adventures of my stuffed animals using a Commodore 64. By the time I was in middle school I was writing derivative novels, trying out the voices of my favorite authors, replicating my favorite scenes from movies and books. All of these early ventures came from loving books, and loving to read. I was read to from infancy, and having that love of reading instilled in me is what made me want to create my own books. I was working on my BA in English when I really started finding my own voice and writing stories that had real potential.
What's your process in developing your storyline and characters?
I start with a seed, with the idea of a story. Quite often that seed contains the DNA of the main character, though sometimes not. I let that seed germinate for as long as it needs to. I want to have a good idea of what the story is, where it's going. I want to have a good idea of who my main character is. What is the character's personality, their desires, their motivation? And of course, what is the character's arc? When I have those held in my mind — a good character, a story with enough waypoints to keep me on track — I can begin the process of putting words to paper. But never too soon. Too soon and you risk getting stuck from lack of preparation.
What challenges do you face in your writing, and how do you overcome them?
Momentum and doubt are the biggest challenges, and I think in many ways they are intertwined. Momentum is the antithesis of writer's block, or the vaccine against getting stuck. The most common advice you hear from writers (other than "read") is to write every day. That is my biggest advice, and it's how I overcome that challenge of slowing down and getting stuck. By writing every day, you keep momentum, you make sure that you're ready to keep the story going each day. Slowing down can be death for a longer piece.
The other challenge, doubt, is always there. Even if you've had a little bit of success, even if folks have let you know that you've got some talent, it can be daunting to sit in front of the page to create something new. That question is always there: "Am I writing something that anyone would want to read but me?" I think you just have to write with the faith that if you like what you're writing, others will as well. That comes from reading, and knowing what makes a good book.
What has the road to publication been like for you?
I've had a very classic experience with submitting works to agents. I took the classic approach, at least at first, and had three or four of my manuscripts rejected by agents something like a combined hundred times. I think you have to know that the mathematical odds are not in your favor. Even the best of authors can fall victim to a hasty "delete" key in an agent's e-mail. They see so much work, it's hard to stand out. That's why I changed my strategy and decided to write a more locally-based novel with a strong sense of place. I knew I could submit it to local presses, and perhaps stand out in a smaller pool of authors. I wound up submitting "Minnow" to the South Carolina First Novel Prize competition, which is sponsored by The South Carolina Arts Commission and local independent publisher Hub City Press. I had researched Hub City and knew that I wanted to submit to them. The contest was a chance to do so while also having the additional benefit of possibly winning the prize. After being announced as the winner, Hub City Press really got behind me and behind my novel, working to produce an amazing novel that was ready for market.
How do you market your work?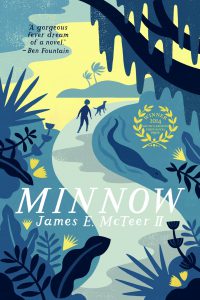 Hub City Press has been great about marketing "Minnow" and marketing my identity as an author. They were instrumental in getting me submitted to big review publications like Kirkus Reviews, Library Journal, and Publishers Weekly. They had the connections and ties to get me into newspapers and magazines. Most of all, they've kept me busy by arranging bookstore visits, library events, and appearances at festivals and fairs. It was a true partnership, in that they got me into these venues, and I went out and did my best to bring "Minnow" and the press to the wide world. You've got to be your own best marketer: in the real world, online, everywhere.
What do you know now that you wish you knew when you first started writing?
That I'd never be able to stop! Writing is a part of my soul, now. A part of my identity. I don't think I could stop if I wanted. If I'm not writing novels I'm writing something else: freelancing smaller work, twiddling with personal projects. If I'm not writing, I'm probably feeling like a little piece of me needs to be cheered up or lit on fire. But a more concrete component of writing that I wish I'd known about is the amount of work it takes to keep your book in the public eye. I love doing festivals and book fairs, but they take a lot of work. Public speaking is fun, but it's not something that a lot of beginning writers imagine as part of their future careers, I think. My experience as a school media specialist really prepared me to get in front of crowds and talk, read, answer questions. I didn't expect it, but it became my secret weapon.
Who are the authors that have inspired you most, and how have they inspired you?
Reading Stephen King probably made me decide I wanted to write more than anything else. I had other dreams, other art forms I was interested in, but his novels just made me know that I had to create something like that. I had to be creating stories.
Hemingway is a great influence. His sparse prose is something that I admire. The ability to tell a story with just a few words, and with little or no exposition. I think that sort of writing is the key to success in almost any form or genre. Great southern writers like Cormac McCarthy and William Faulker taught me to love my roots and to find the dark and gritty stories intertwined down there in the soil with them.
If you could keep just three books in your library, which would you choose and why?
"The Lord of The Rings" by J. R. R. Tolkien, if we can count it as one book. If not, I'll take "The Fellowship of the Rings." I could go on that journey a thousand times and still want to take it again. You've got great descriptions of the world, fun characters, beautiful songs and a history that would take years to deeply understand.
"Ulysses" by James Joyce, because there would always be something new to find, understand and enjoy. It's also immensely funny.
"Where the Wild Things Are" by Maurice Sendak, because sometimes you just need to read your favorite picture book and remember being a kid.
For more information about McTeer, visit his website.
Category: