by Tricia Dannhauer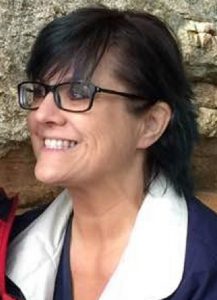 The past year was momentous for one of Southern New Hampshire University's faculty, Elane Johnson. At the 2016 commencement, she received the "Excellence in Teaching Award," followed by earning "Best Essay Prize" in Creative Nonfiction magazine for her work, "The Math of Marriage," in July.
In addition to guiding writers in SNHU's creative writing program, Johnson has a strong social media Facebook and Twitter following where she shares writing challenges and delights in engaging with current and former students.
Have you always written?
Yes, but badly. My first published piece, a poem that I wrote when I was nine-years-old—the ghastly "A Yellow Rose"—appeared in The Daily Sun, my hometown newspaper. I suspect that the editor felt pity on me and just didn't want to hurt my feelings. I continued to attempt poetry for years and years and began writing embarrassing short stories and plays at age eight or nine, too. I would force my neighborhood "friends" to put on the plays. I still have every, single page I've ever penned. Silly spiral notebooks and a rainbow of paper folders full of things that will never, ever see the light of day. I wrote a poem titled "I Dreamed I was a Norwegian Sardine," for heaven's sake.
What's your process in developing your storyline and characters?
Because I'm primarily a creative nonfiction writer, I tend to reconfigure autobiographical events even for my fiction pieces. But, since I'm fictionalizing, I labor over detailed character profiles so that I know every possible nook and cranny of my characters. They need to act and react in believable, justifiable, "true" ways. I may or may not change plot details, but I add descriptions and dialogue that I have no way of knowing from actual events. I follow this process for fictionalizing too-good-to-be-true stories that I see in the news as well. I honestly struggle with creating entire storylines from scratch.
What challenges do you face in your writing, and how do you overcome them?
The most daunting challenge is finding time to write, which is a common complaint of writers. I've tried creating and sticking to a writing schedule, and the "sticking to" part doesn't make it past the printing and posting of the schedule. What works best for me anyway is to plan a piece of writing in my head over several days or weeks (I always write in my head while driving!); during that planning phase, I will often compile research, which further spurs my in-head drafting. Then, when I'm so near the deadline that it seems impossible to meet, I sit down in one session and write the whole piece. I read it aloud for revision, make changes, and that's it.
Another challenge is when a piece turns out to be a complete disaster. To overcome hideous writing, I put away the piece for a few days and then come back to it with a plan for revision because I continue to play around with it in my head. I love trying a new POV, which often helps even more than I imagined it would. Also, rewriting in a different tone or style of narrative voice can make all the difference. Scrapping a character or a scene hurts like death, but changing the POV or narrative voice frequently makes it clearly necessary.
What has the road to publication been like for you?
After that first early poem, I didn't publish any other writing until my freshman year in college. I wrote and illustrated a children's coloring book, which was sold in the old B. Dalton Bookstores, and I wrote for my college newspaper. After I sent out one short story and one article to magazines, both of which were rejected, I waited eons to figure out that I needed to earn a degree in creative writing. During my M.F.A. program, a couple of my pieces made it into the university's literary journal. And, then, in my last month, I submitted a piece to Brevity magazine because I noticed that my instructor had been published in the esteemed journal. The piece was selected for publication, which sparked others to request writing from me. Often, I'll submit work that is rejected but then catches the attention of someone else who ultimately publishes it. It's a never-ending process, and I have far more rejections than accepted pieces.
How do you market your work?
Because publishing is no longer the romanticized version of the old days in which an agent performed the leg work and marketing and whatnot (and the writer mostly just created the masterpieces), a writer who seriously intends to publish must establish a platform. Even if a writer is just beginning, she or he should set up accounts with some of the available options such as Twitter, Facebook, Instagram, and/or Snapchat, create an author's website, and gather affiliations with writers' groups, organizations, schools and publications. The more possible "followers" a writer has, the more possible readers, which makes agents and publishers more likely to pick up the writer's work. (But, exceptional writing still has a powerful sway even without a huge platform.)
I've created Twitter, Facebook and Instagram accounts, an author's website, an email address solely for writing, and a long list of affiliations. It's taken several years, but the process was essential. I go to writers' conferences, which has had the greatest return—after a reading at a conference open mic, an agent signed me. So, in conjunction with my agent's marketing, I do a lot of heavy lifting by constantly submitting work, staying in contact with many writers, promoting any publications on all my platform accounts, presenting at conferences and accepting every chance to participate in author interviews in print and on podcasts and every opportunity to read publicly.
Who are the writers that have inspired you most, and how have they inspired you?
Haven Kimmel's memoir, "A Girl Named Zippy" convinced me to pursue my degree in creative writing because her humor and (seemingly) effortless ability to unspool the most perfectly voiced, charming stories leave me and her legions of adoring fans utterly in love with her and her talent no matter how many times we read her work. I wanted to figure out how to do that.
Stephen King's memoir, "On Writing" and his short stories, likewise, got under my skin because his expertly crafted syntax and diction, and his divinely inspired plot twists and dialogue hit like lightning, scrambling up my insides and reassembling them into a feverish drive to emulate his genius. My copies of "On Writing" and "Zippy" are both tattered and split-in-two because they're well loved.
And both Mary Karr's and David Sedaris's scandalously funny and heartbreaking prose in their various memoirs and essays sends me running to my computer keyboard just to capture some of the energy and emotion that their writing stirs up.
My great fiction loves are Charles Dickens (no explanation necessary) and Hilary Mantel, whose "Wolf Hall" and "Bring Up the Bodies" are so real that I swear she channeled the dead souls of her characters.
If you could keep just three books in your library, which would you choose and why?
What a torturous question!
But, I'd, of course, keep "Bleak House" by Charles Dickens because I love the characters like family, and I need to immerse myself in the story from time to time to feel a spectrum of emotions and to escape our ridiculous reality.
Second, I'd keep "A Girl Named Zippy" by Haven Kimmel (Sorry, Stephen King!) because her writing makes me laugh heartily and cry ugly.
Third, I'd keep David Sedaris's "Me Talk Pretty One Day" and "The Fault in Our Stars" by John Green stuck together with duct tape to look like one book because I couldn't do it! I couldn't! Three is not enouuuuuuuuugh. Sedaris makes me laugh until I can't breathe, and John Green's evil ending makes me cry until I can't breathe. With reading-induced emotions, go big or go home.
Check out Elane Johnson's award winning essay here.
Category: