by Rebecca LeBoeuf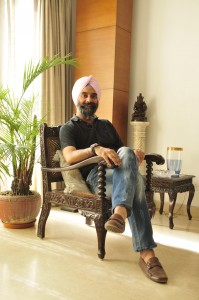 Indian author Avtar Singh is anticipating the release of his second novel, "Necropolis" (Akashic Books), which releases in June 2016. Set in Delhi, "Necropolis" mixes crime with fantasy as it follows around the main character, a detective.
His first book, "The Beauty of These Present Things," was published in 2000. His writing has been in a variety of publications including Seminar, Outlook, GQ, "Pilgrim's India: An Anthology," and "Chillies and Porridge: Writing Food."
Singh was educated both in India and in the United States. He is the managing editor of The Indian Quarterly and lives in Delhi with his family.
Have you always written?
Well, yes and no. I never took a creative writing class in college, and didn't think I'd shill words for a living till I, umm, started to. But I was always around books; reading them, hoarding them, writing about them. I still read books with a pencil in my hand, leaving notes that I'll probably never read.
I read carefully, I suppose you could say. I think the germ of authorship lies in that; in having been, and continuing to be, a careful reader. You inhabit places and events with the authors you admire, and then you wish to emulate them. Then, without your ever having really considered it, your own journey begins.
I wish I could say I'm a diligent diarist, but I never have been. I've always loved writing limericks though. Do they count?
What's your process in developing your storyline and characters?
Thus far, I've been pretty lucky. Both my books grew out of short stories. My more acid critics would doubtless point out that a short story each is about what they're worth; I'd like to think I was fortunate to find subjects that stood the test of amplification.
As regards storyline, again, it's pretty organic for me. The outline reveals itself, as if in a dream. The hard work is then sketching in the constituent parts. The characters, at least in "Necropolis," came to me fully formed. I felt I knew them the moment I sat down to write them. I'd like to think my readers will feel the same way.
What challenges do you face in your writing, and how do you overcome them? 
My biggest challenge is time, frankly. I'm a husband, a son, a father, a sibling, a friend. I try to inhabit those roles fully. But in my world, all of that takes time.
Then, I work from home, in an Indian context. That means nobody respects your time. The doorbell rings at least fifteen times before lunch (vegetable lady, rubbish man, cleaning lady, assorted charity seekers). Stuff in the house conks out and I'm the guy on the spot. My dog has his demands (in fairness, those are mostly fun).
Then, there's my life as an editor, of a fantastic magazine. I love my publication, but it's a lot of work. It's hard for me to turn off the editor and turn on the writer. I suppose it shouldn't be so. But it is.
I don't know how I overcome them, really. Or if I have. I've published two books in 15 years. That's really not very good, is it?
In hindsight, I should probably pass on this question.
What has the road to publication been like for you?
A little too easy. My first editor saw some stories I'd written, and came to my home with a contract. We've been friends ever since, and she published "Necropolis" in India.
(When I say that it was "too easy," I'm not being a smug moron. I think there's an element of graft that I didn't learn, because my first book came out too easily, and arguably too soon. The road to publication should be paved with edits, inputs from friends and mentors, drafts and questions and an internalizing of the logic of the world you're setting out on the page.)
How do you market your work?
Very badly. I trust the publisher to do it. But I'm learning; I have a website and clearly I need to be more active on social media. I wish I had a skill that I could use; like being really good at chess, or being able to do the most shots. That way, I'd be able to make people read my book.
Or at least buy it.
What do you know now that you wish you knew when you first started writing?
Take your time. There's nothing more important, especially with the first book. You only ever get the chance to write your first one once.
Also, find a reader you trust. Some people take a lifetime finding that person. It's worth the effort.
Who are the authors that have inspired you most, and how have they inspired you?
So many, really. Aside from the usual litany of Hemingway, Heller (see below), etc., I'm really immersed in the works of W.G. Sebald right now. The way he approached our separate and collective histories is something quite apart. Joseph Mitchell's journalism should be required reading for anyone wanting to write about cities and the people that live in them. I don't know when I've devoured an account of a different time more greedily than with Hilary Mantel's "Wolf Hall" and "Bring Up the Bodies." The depth of the imagining is just stunning, as is her craft.
If you could keep just three books in your library, which would you choose and why?
Certainly the Guru Granth Sahib, because I read it end to end every year. I'm not particularly religious, but I do keep the marks of an observant Sikh. It's also such a part of my cultural identity. Then, there's the poetry. I find something to savor every day.
If available, and allowed by the rules of this game, an omnibus edition of P.G. Wodehouse. His is a comic universe realized in full. When you're done chuckling, you'll realize what a tremendous achievement every sentence he writes actually is. He's an inspiration to any writer, not merely comic ones. Plus, he makes me shoot water out of my nose.
Finally, I'd be torn between "Catch 22" by Joseph Heller and "Blood Meridian" by Cormac McCarthy. They're both savage books, and both exhibit a refusal to put up with rubbish of any sort (including editing, in McCarthy's case) that I find exemplary.
Category: