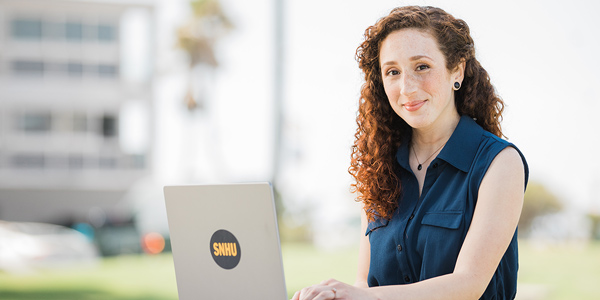 The 8th annual Southern New Hampshire University (SNHU) Fall Fiction Contest brought writers from across the country together for a chance to win a scholarship to SNHU and publication in The Penmen Review. After receiving more than 660 submissions, a panel of creative writing experts considered several factors during their review, including originality, structure, character arc, language and whether it was engaging.
Once the judging concluded, the top–scoring stories made it to the voting round, and the public weighed in on their favorites. The winners of the 2022 Fall Fiction Contest are:
The top three writers were awarded $3,000, $2,000 and $1,000 scholarships, respectively, that can be applied to an SNHU undergraduate or graduate degree program.
All five stories earned publication in The Penmen Review, and the writers will have an opportunity to read their work at an upcoming virtual Student Writer Spotlight event. They'll also receive two books, including "The Secrets to Creating Character Arcs: A Fiction Writer's Guide to Masterful Character Creation" by Josh S. Warner and "The Best American Short Stories 2022."
Meet the Winners
This year, the finalists possessed varied writing backgrounds, educational and professional goals, but they all produced work that stood out and resonated with others.
First Place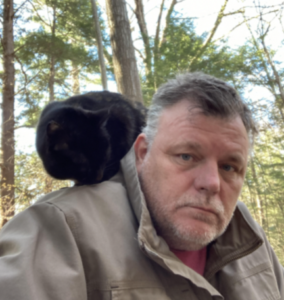 Douglas W. Goff has always been told he should be a writer but only recently began taking his writing seriously. This year, he entered the 2022 Fall Fiction contest to showcase his work and hopefully win a scholarship to finish his degree at SNHU. Goff is honored and feels validated in his creative work to have placed first.
The initial outline for "Run Chicken Run" began several years ago, but when Goff and his family purchased 23 chickens this year, he was inspired to return to the story.
Goff has spent his life serving others as a US Marine, a retired federal agent and the creator of a family-run homeless program called Fifth Wheel. However, his writing is the first thing he does solely for himself out of his pure love for it.
Second Place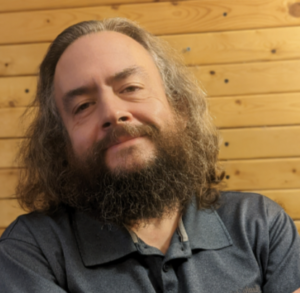 Tim Brumbaugh has been writing for the last 15 years and often must ignore the little gremlin on his shoulder telling him he can't do it. So, winning second place feels amazing for him.
Brumbaugh originally wrote "Snowfall" at the beginning of the year. It was inspired by his own life and one of the infrequent snowfalls that happen each year in northern Texas. After standing outside in the snow, he rushed inside to begin his story. However, once he saw the 2022 Fall Fiction contest, he changed the story's POV and believes it made a world of difference for the story.
Brumbaugh is currently achieving his MFA in Speculative Fiction from SNHU while teaching high school English and says this scholarship couldn't come at a better time for him.
Third Place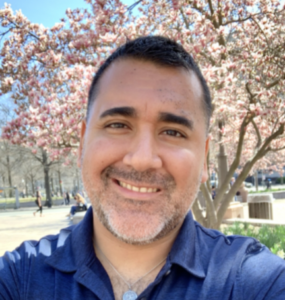 Having always loved to tell stories and make up scenarios in his head, Michael Cabrera has been writing since he was a kid. And this year's Fall Fiction Contest is the first time he has entered a writing contest, and he is honored to have placed third.
Cabrera's short story "Michael Row" was inspired by the loss of his grandmother. "My story was based on an old memory, though fictionalized. Really, I just wrote from my heart," he said.
A few years ago, Cabrera wrote and published his first novel and knew it was the path for him. Currently, he is a graphic designer earning his bachelor's degree in creative writing and English from SNHU, and this scholarship will help him succeed in his degree.
Fourth Place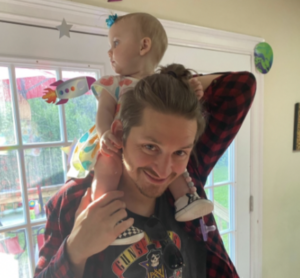 Hayden Pursley has a dream of becoming a full-time novelist one day. He currently works as a FedEx delivery driver, but he's a storyteller once night comes.
Pursley is a Tennessean father of four and husband to one. With a background in marketing and sports writing, he is pursuing a creative writing degree with SNHU to go after his dream finally.
Fifth Place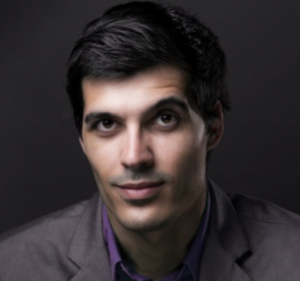 Kevin Broccoli used to find short stories daunting, but during the 2020 pandemic, he wrote a new short story every week, even if it wasn't a piece he found worthwhile. Broccoli is still learning much about himself as an author, but placing 5th in this year's competition has boosted his confidence.
"Cage the Storm" was inspired by Broccoli's idea of what it may be like to live on the ship inside a bottle. With his fascination with the sea and a fantasy setting, he explored a new world in his story.
Currently, Broccoli works in the tech industry but always makes sure to nurture his creative side and hopes to publish a collection of his stories one day.
Category: