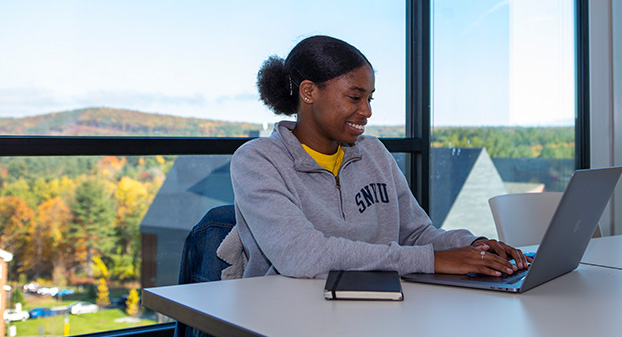 The 6th annual Southern New Hampshire University (SNHU) Fall Fiction Contest brought writers from across the country together for a chance to win a scholarship to SNHU and publication in The Penmen Review. After receiving more than 650 submissions, a panel of creative writing experts considered several factors during their review, including originality, structure, character arc, language and whether it was engaging. 
Cyndle Plaisted Rials, an adjunct instructor at SNHU, returned to judge this year's contest as an initial reviewer. Responsible for narrowing hundreds of short stories down to only the strongest few dozen, Plaisted Rials said this team needed stories to hook them. 
"It's important that the story is engaging from the first couple (of) sentences," she said. "Stories that had a strong sense of character right from the start, which usually meant they also started with a very defined point of view, pulled me in and kept me reading." 
Finding a new way to express universal themes was another aspect that took stories to the next level. "Digging deep to find new ways of seeing the world and familiar human experience and communicating that unique perspective through vivid sensory detail and figurative language is a very important skill to hone," Plaisted Rials said. 
Once the judging concluded, the top–scoring stories made it to the voting round, and the public weighed in on their favorites. The winners of the 2020 Fall Fiction Contest are:  
The top three writers were awarded $3,000, $2,000 and $1,000 scholarships, respectively, that can be applied to an SNHU undergraduate or graduate degree program.  
All five stories earned publication in The Penmen Review, and the writers will have an opportunity to read their work at an upcoming virtual Student Writer Spotlight event. They'll also receive two books, including "Story Genius: How to Use Brain Science to Go Beyond Outlining and Write a Riveting Novel" by Lisa Cron and "The Best American Short Stories: 2020." 
Meet the Winners
This year, the finalists possessed varied writing backgrounds, educational and professional goals, but they all produced work that stood out and resonated with others. 
"There was a spirit of surrealism and dislocation in the service of emotional resonance," said Crystal Curry, a semi-finalist judge and adjunct instructor at SNHU. "These stories are strange, fresh and innovative, but they still have a familiarity in subject that evokes a humanism that is desperately necessary in these times." 
Read on to meet the top five writers. 
First Place
Holli Harms developed an interest in writing through performing. While acting at a New York City theater, she also had an opportunity to create and direct the plays and was involved in award-winning productions.  
"Writing was through trial and error, no formal background, just intuitive choices and finger crossing," Harms said. 
Now invested in helping budding screenwriters realize their potential, she decided to return to school and pursue a master's degree in creative writing at SNHU.  
Although she began the program just three months ago, she's already noticing a shift in her perspective at a weekly writing group she organizes. "I hear their writing differently," she said. "… I hear my own work differently. Depth and direction have been increased. These are all things that I know will enforce my work and the work of those I want to help and nurture." 
Her coursework equips her with the vocabulary and technical language needed to identify and label different aspects of writing, which helps her better articulate feedback.  
Harms first heard about the Fall Fiction Contest from her adjunct instructor, Abigail Schaffer, and, at her husband's encouragement, decided to enter "Cereal and Fire" in hopes of winning a scholarship. 
Typically finding inspiration in titles, moments and characters, Harms said "Cereal and Fire" began with its title, which she credits her daughter, now a seventh grader, for creating.  
After exploring some possibilities, she had it: A talking spoon and a 6-year-old narrator. Once she found her story, she couldn't stop writing. "It was one of those rare times when I had to do all I could to keep up with the story as it unfolded and poured out," she said. 
Courtney McDermott, semi-finalist judge and SNHU adjunct instructor, particularly liked the narrator's innocence. "The line 'She is alone in her confusion' struck me to the core," McDermott said. "There is so much emotional intensity in this story, and I found myself rereading the piece to absorb all of this intensity." 
Harms was happy to learn she was a finalist and that placing first was "the icing on the cake." "We writers sit alone in a room creating and writing for ourselves," she said. "To have this acknowledgment that others connected with my story is very satisfying." 
Second Place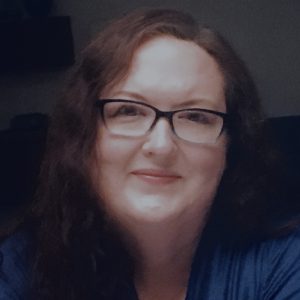 As a teen, Jennifer Schallehn, who goes professionally by Jennifer Taylor, loved writing. She recently rediscovered her passion when a chronic illness left her seeking remote work.  
After co-founding Gnashing Teeth Publishing, Schallehn enrolled in SNHU's BA in Creative Writing program. "As I hoped, the knowledge and experience I am gleaning from SNHU is giving me more confidence and credibility, both in my writing and in my publishing business," she said. "I only expect those things to grow and flourish as I continue on my degree path." 
It was the possibility of earning a scholarship that pushed Schallehn out of her comfort zone to enter the contest. "Eggshells" was one of her first attempts at fiction writing, which made placing second out of more than 650 submissions extra exciting. "It feels surreal," she said. "… This is really affirming that I am on the right trajectory." 
"Eggshells" began as a poem, loosely based on real events. Poetry is often Schallehn's first stop. "I am usually wanting to express one emotion, like a snapshot," she said. But after a bit of exploration, she decided this particular story better served as a work of short fiction. 
The result resonated most with Marcella Prokop, a semi-finalist judge and adjunct instructor at SNHU. "(Schallehn's) use of metaphor in this piece felt so natural that in a year when we were all walking on eggshells for various reasons, I didn't feel that I was reading a story about a mother/daughter relationship," Prokop said, "But rather, reading a story about our collective experience as humans in 2020." 
Despite earning a fiction accolade, Schallehn's primarily focused on nonfiction with the hopes of writing a memoir and sharing the stories of those around her. "There are other people in my life whose stories I think should be told. I want to be able to do their stories justice," she said. "It's important to me that they can trust me with their truths." 
Third Place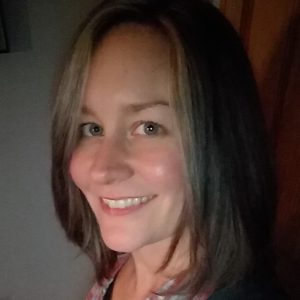 While Laura Carnes Williams hopes writing can be a source of income for her one day, she doesn't see herself leaving her nursing career. Nursing offers numerous paths and workplace environments she could pursue, and the experiences and connections they give her are what fuel and inspire her writing. 
"For example, I've written about face–to–face encounters with death, working in an intensive care unit," she said. "I've described an operating room during open–heart surgery with precision because I've been there. And when I write about eighth graders, I write what I see and hear (and smell…) as a middle school nurse." 
Carnes Williams is currently querying one of her novels, and "The Jump Off" offers context around a "tragic decision" Deke, one of the minor characters, made. "I loved reading the 'Choose Your Own Adventure' series as a kid and thought it would be a cool device to provide Deke's backstory in the novel," she said. "After writing the chapter, I realized it had enough circularity and substance to work as a standalone." 
Curry thought the story's use of narrative disjunction was sophisticated. "It works in a reference to linear time in a conversation in a nod to the story's conceit," she said. "The writing is tight and sharp, the final image striking." 
A nod to the solitary act of writing, the contest's outcome left Carnes Williams feeling seen. "This contest proves there are readers on the other side," she said. "And they like it. They actually like it!" 
Fourth Place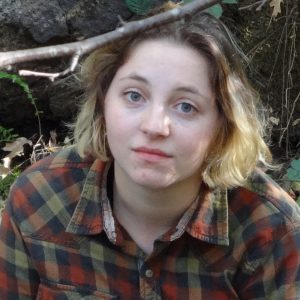 For the second year in a row, E.M. Francisco broke a Fall Fiction Contest record. Last year, with the horror story "The Thing in My Closet," she became the contest's youngest finalist. This year, she's the first writer to reach the finals more than once.  
Claiming a spot in the top five once again was a gratifying experience for Francisco. "It was amazing to know that my first finalist spot wasn't a one-off, but instead reflective of my work on a larger scale," she said. 
With her story, "Over the Beyond," Francisco shows readers a different aspect of the fantasy genre. "I wanted to explore a fantasy world that was analogous to our world in a modern era," she said.  
McDermott enjoyed how dynamic Florence, the story's protagonist, was and how Francisco captured her attention from the start. "E.M. Francisco's story is riveting from the opening line: 'Florence's plane is bright.' There is a powerful quietness to this piece that is elevated with rich imagery and realistic dialogue," McDermott said. 
Francisco isn't done with "Over the Beyond" yet. She hopes to transform it into a comic one day. "I would need to spend a solid amount of time working on my art skills before that would come to pass," she said. "In the meantime, it will sit in story form until I am ready for that." 
As she approaches the end of her bachelor's program in creative writing, Francisco said she is experimenting with long-form fiction to determine what writing process works best. She is also focusing on short stories more often as they have felt more manageable while meeting course milestones. 
Francisco plans to become a manuscript editor one day and will eventually pursue her MFA. In preparation for this path, she is applying for editorial assistant positions.  
Fifth Place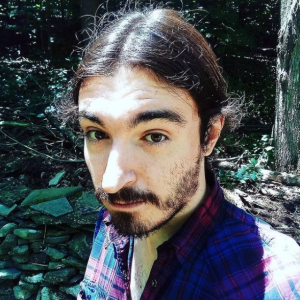 Steven Christopher McKnight submitted "Fare Thee Well, Basket Face" to the Fall Fiction Contest in an October sprint to share his work with as many literary magazines as possible – a friendly competition with one of his friends. "It's always fun to get new eyes on my work, even if it doesn't get published," he said.  
When he learned he was a finalist and that this piece would get published, he was surprised. "There's always that feeling of imposter syndrome, you know? I went to school with several high-caliber writers, and I would always think, 'They're so brilliant, and I'm so not-brilliant,' only to be published in places where they weren't," he said.  
McKnight dreamed up the title, "Fare Thee Well, Basket Face," and its story after reacting to an image of a medieval beekeeper, who wore a wicker mask for protection. He considers how the character of Basket Face may also wear an emotional mask to protect himself from his partner.  
"The rest just kind of manifested from bits and pieces of the relationships around me," McKnight said. 
Jacob Powers, SNHU's associate dean of creative writing, found McKnight's second–person perspective created an intimate story. "I really appreciated the visual of this love interest and how it captures someone who is willing to put everything into a relationship, except let people in," Powers said. "This line—'frankly you never learned to read the woven swirl of wicker'—carried so much weight." 
Meet 
the Judges
 Who Identified the Finalists
Pamme Boutselis is a senior content director and adjunct communication instructor at SNHU. An award-winning writer, her work has been featured in print and online via The Huffington Post, newspapers, parenting magazines, technology publications and non-fiction and poetry anthologies. She holds bachelor's and master's degrees in communication. 
Joe Cote is a content writer on SNHU's marketing team after spending more than a decade as a newspaper reporter and editor in New Hampshire. He earned a BA in Journalism and Mass Communication. A one-time poetry major, Cote remains an avid reader of all things fantasy. 
Crystal Curry is the author of two prize–winning poetry books, "But I Have Realized It" and "Our Chrome Arms of Gymnasium." She holds an MFA from the Iowa Writers' Workshop in Creative Writing and an EdM in Human Resource Development. Curry has been an adjunct professor of creative writing and English at SNHU since 2012. She lives in the Bronx, New York, with her family. 
Pete Davies works on the marketing team at SNHU. In his prior lives, he earned a BA in Creative Writing, sold fireworks in North Dakota, investigated police misconduct in New York City and taught fiction writing in Wisconsin. 
Courtney McDermott holds an MFA from the University of Notre Dame. Her debut collection of short stories, "How They Spend Their Sundays," was nominated for the PEN/Hemingway Award and The Story Prize. She has been twice nominated for a Pushcart Prize. McDermott has been teaching at SNHU since 2014, and she lives in the greater Boston area with her husband and son. 
Cyndle Plaisted Rials lives in Maine between the mountains and the ocean. In addition to teaching creative writing courses at SNHU, she operates a small business designing and creating fiber art and accessories. Plaisted Rials earned her MFA at Vermont College of Fine Arts, and her poems have appeared in such places as Hunger Mountain, Glass: A Journal of Poetry, and Be Wilder: A Word Portland Anthology, among others. She is currently at work on her first novel. 
Marcella Prokop lives on a hemp farm and hard cider orchard in Minnesota with her husband, son and two dogs. She teaches creative writing online for SNHU and literature at Augustana University in South Dakota, writing poetry and nonfiction when she has time. Her work has been published online and in print in journals, including Ploughshares, Pank, the Brooklyn Review and the Coal Hill Review, among others. 
Christopher Sullivan, MFA, has worked as an adjunct instructor at SNHU since 2011 and has served as a member of The Penmen Review's editorial board since 2012. Sullivan teaches numerous creative writing, screenwriting and English composition courses at SNHU, and he encourages his students to be fearless (and keep an open mind) as they study and sharpen their respective craft. In his spare time, Sullivan enjoys writing, reading and spending time with his beautiful family. He is also an avid Boston sports fan. 
Category: