by Christina Johnson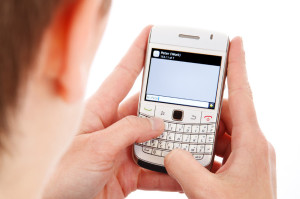 Once upon a time, I sat down, ready to write this really cool story. It was going to have DANGER! DANGER! DANGER! in it, along with some stupid, cliché type characters who were stupid enough to think going on a spring break tour of the mountains just as a psycho-ex-cop had broken free from Shady Oaks prison was a good idea…
I reached out, grabbed some of my roommate's computer paper. I liked to write my stories out; it really allowed time for ideas to mature.
But then all of a sudden my paper began to talk to me! (Really, I am not delusional or anything. It really started talking to me!)
"Hey, don't you think that we need to add some high-selling points to this novel? I want to be a book that's a household name, buster, not another Stephen King knock-off wannabe!"
"Whaaat?" I gasped. "Did you just talk!?"
"Don't be so surprised! You talk to yourself all the time! Don't you think someone is listening? By the way, I would look into that ADD medication! You can't stay on topic for more than two sentences! No wonder your girlfriend left you!"
I felt my ears start to peel. "Hey, Felicity did not leave me, it was totally, completely, 100% mutual."
"Sure it was…I'm sure you have a back-up ready to date, too, or at least someone you've been texting behind Felicity's back all week!"
"How did you…never mind." I rolled my eyes. "What kind of stuff do you think I should write, since you're such a know-it-all, apparently?"
"We need more sex! SEX, SEX, SEX!" the paper insisted. "Come on, I'm whiter than an unused wedding dress. Dirty me up a little, won't you? Ugh, anyone can tell you are still a virgin."
I frowned. "Hey, I choose not to have sex –"
The paper began laughing. "Oh, Cameron, please! Let's save the humor for the other papers out there. I want to be a ground-breaking crime solving erotica."
"Well, I guess we could add some of that in with the danger idea. Sounds good." Sure, why not? I wondered to myself. Sex sells. People like sex.
So I picked up my pen, and I'd just finished the first paragraph when I heard a new voice.
"Oh, no! Not more of this…"
My heart began to beat just a few (more hundred) times faster. "Who's there?" I asked, glancing around nervously.
"It's me, Cameron. It's me, your pen!"
All of sudden my ballpoint pen, the one my mother had given me for my 18th birthday after starting college, started talking to me.
Okay…
"Hi?" I stammered. What do you really say to your pen? Or your paper? I'd really like to know, frankly.
"Hello, it is finally nice to talk with you. I thought you'd talk to me one day, but no, you don't. Oh well. We can work on that later. Right now we need to have a discussion about your work. Don't you think we should change that SEX to romance? I mean, people love romance so much more than just dirty, random, or in your case, imaginary sex."
What was the deal with all these things worried about my sex life? "Ugh…okay," I shrugged. "Good idea."
"Of course it's a good idea! You know your mother will be reading this! You don't want to disappoint her!"
"Well…my mom does like her romance novels, so you do have a point. Romance works. A lot of people like romance," I agreed.
"Maybe you can even get Fabio to model for your book cover!" the pen sighed happily.
"Who?" I shook my head. "Never mind. Let's just get on with this."
It wasn't long before I finished up a few more sentences.
The paper grumbled as I wrote. "All this fluffy love shit needs to be better. I need some hard-core emotional porn like Twilight or you'll never make it as a writer!"
"Now, now, you don't need to swear!" the pen insisted. "Non-creative people swear. Good writers don't have to swear to write a good book!"
I checked the time on my cell phone (really it was my sister's old phone – she'd just gotten the new and improved iPhone) half-wondering if I should call a therapist or one of those self-help hotlines.
All of a sudden a beep let out from my phone: blurby-blurby-blurrble!
The pen and paper were still arguing, so I hit the "view" button. I didn't recognize the number. That should have tipped me off.
hey cam. letz add some funky fancy tech gizmos to ur story
My eyes bulged. "What? Not you too!" I moaned.
Blurby-blurby-blurrble!
sure y not? u think u so special? but the peeps <3 tech stuff. FB TW PIN blogs email etc
I decided to text back so the pen and paper, who were still arguing, wouldn't be interrupted.
ME: what u think?
put in some more sexting for paper. make it gushy for the pen
ME: do u think that will werk?
cant u spell 'werk' right? itz not kewl man
ME: sry
u lazy now 2? sheesh no wonder felicity left u
ME: WhAt!?
@[email protected] there's that B in English 2
ME: Just stop bothering me‼
but u'll put in the tech gear?
ME: FINE. JUST LEAVE FELICITY ALONE
thatz what yo momma said!
I rightfully chucked my phone across the room after that. A little more forcefully than what was convenient, because it ended up denting my computer screen. "Ah, no!" I hurried over to check the damage.
A blank sheet of paper came up, and Clippy the Paper Clip appeared.
[Hi Cameron…I hear you are writing a story?]
"Not you too!" I grumbled.  "What do you want?"
[First may I suggest using the computer to write?]
I normally liked writing my work out by hand. But glancing back at the pen and paper, I figured Clippy had a point. "Well…I guess we could try it out and see?"
[Good. Second, may I suggest using more pop culture in your work? Your work is too vague. You should say "Big Mac" instead of 'burger' and "Coke-a-Cola" instead of 'soda.' Your readers will be less confused and more eager to stimulate the economy.]
I laughed uncertainly. "Why are you so worried about the economy?" I asked. "I thought product placement was overrated."
[Where do you think I've been for the last 13 years? I've been volunteering, hoping someone will hire me! I've been unemployed!]
Clippy raised an eyebrow and added, [Just like you will be if you don't get people to like your work.].
"Aughhh!" I screamed, pushing myself back to my desk.
"I don't know what to do!" I pulled at my hair, chewed my fingernails, suddenly stopped breathing correctly…
I had to sit down. I was getting dizzy. I threw my head down into my hands. "Oh, please, please, please, God! Please just help me write this!"
I AM FLATTERED YOU ASKED, CAMERON. BUT ARE YOU SURE YOU WANT MY HELP? YOU HAVE TOLD ME SEVERAL TIMES YOU DO NOT LIKE HOW I DO THINGS.
"Ugh…ugh….sorry to disturb you, God…"
IT IS NO TROUBLE, CAMERON. YOU ARE ONE OF MY CHILDREN AND I WOULD LOVE TO HELP YOU. NOW, TRY AGAIN. AS LONG AS YOU KEEP TRYING, YOU WILL NOT FAIL.
"Really, God?"
"Hey, stop talking to God!" the paper grumbled. "God doesn't want to talk about all the mind-warping sex we need to churn out a bestseller here, dude! Even the Bible has tons of sex and gore in it!"
Blurby-blurby-blurrble! I guess the phone was still working.
"Honey, you need to just stick with romance…Love is a many splendored thing!" the pen insisted.
TRY AGAIN. YOU WILL NOT FAIL SO LONG AS YOU BELIEVE AND KEEP TRYING.
"Come on, man, SEX, SEX, SEX!"
Blurby-blurby-blurrble!
[Can we work in an Apple reference? Anything to help humiliate Microsoft sounds good to me.]
TRY AGAIN.
"Love is all you need!"
I AM HERE FOR YOU.
Blurby-blurby-blurrble!         
"Love is like oxygen!"
"Sex, sex, sex, sex, sex!"
Blurby-blurby-blurrble!
KEEP ON TRYING.
[You might need to get some Red Bull if you are going to be this slow about it.]
ME: "AUGGHHHH!"
When I woke up in the hospital (I don't really know how much time later), everything was settled. I was prescribed a lot of rest, and meds, and other doctor stuff, which I did follow, because that was the day I decided I would only do what I was told to do, and I would do it, never doing anything I really wanted to do, because the risk of failure or uncertainty was too much pressure. It was too hard.
It was much easier to smile and swallow, singing: "One for sorrow, two for joy…"
And I 'lived' happily ever after.
Category: Short Story