By Mary Warren Foulk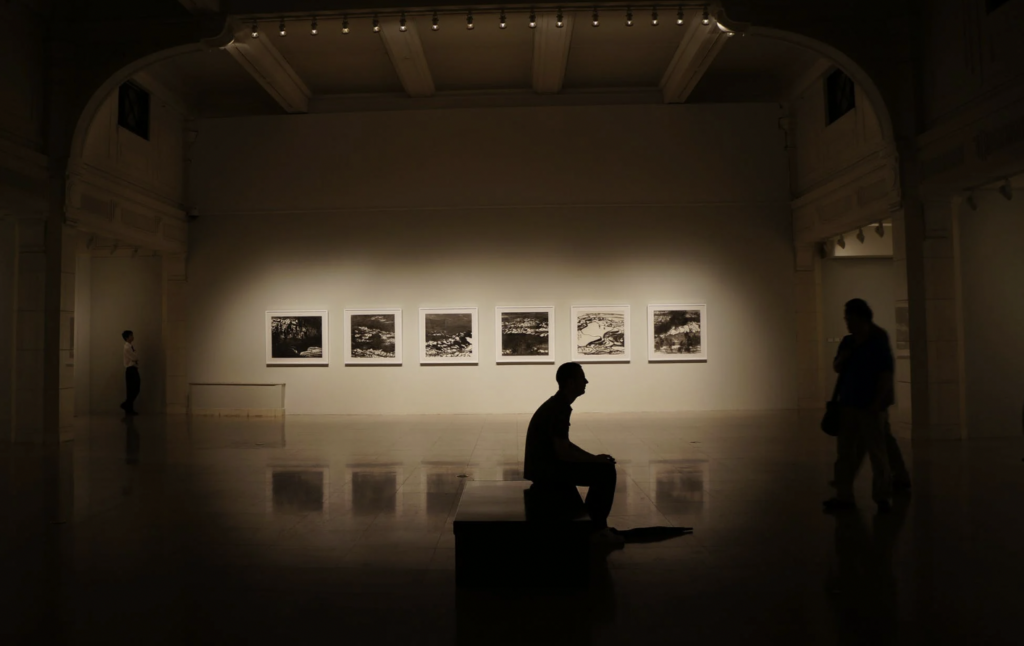 One weary pandemic day I found myself returning to Mark Doty's Still Life with Oysters and Lemon. During my second semester at Vermont College of Fine Arts, my faculty advisor urged me to read it, and within the first few pages, I understood why. I was immediately drawn in by Doty's profound prose. Although only seventy pages, his meditation on the intersection of painting and poetry and, more broadly, on the role of art in life felt like a transformative journey. What I so desperately needed at the time and now, given these long months, years, of quarantine and isolation, of uncertainty.
I have long been a fan of Doty's work: his free verse poems, his odes to urban gay life, his wrenching elegies for his lover, Wally Roberts, who died of AIDS in 1994. I grew up and came out with Doty's words as a vital guide and reference. I underlined nearly every word of Heaven's Coast, his stunning memoir, and My Alexandria, which won the T.S. Eliot Prize, a turning point in his career and evolution as a writer—the pages for both worn thin. I look to him for lessons on death, on grief, on remembrance, on being human. I admire how he has reiterated and reinforced these lessons through an array of different forms and metaphors. His themes—of loss, longing, mortality, queer identity, and love—are familiar and consistent across his broad collection and vast body of work, yet—as evidenced in his newest hybrid (poetic criticism/memoir/biography), What Is the Grass: Walt Whitman in My Life—he also is continuously challenging himself, making himself new, questioning, and reflecting. His attention to the particular connotes his deep engagement with the world. As Reginald Shepherd notes in his review for Publisher's Weekly, "[Doty's] poems combine close attention to the fragile, contingent things of the world with the constant, almost unavoidable chance of transcendence, since 'desire can make anything into a god'" ("Mark Doty"). Or, as Elizabeth Lund observes in the Christian Science Monitor, "Mark Doty holds a magnifying glass to his subjects. He uses language as a way to highlight a moment, elevate it, and unearth hidden depth and meaning" ("Mark Doty").
Still Life with Oysters and Lemon begins with the criterion work by Dutch painter Jan Davidsz de Heem, from which Doty then moves through a reflection on intimacy and distance, on permanence and perspective, concluding with a passionate assertion of art's use and resonant significance. Throughout he weaves the personal, across past/present/future, blurring first-person narrative with aesthetic/critical theory. He writes:
"I have fallen in love with a painting…I have been drawn into the orbit of a painting, have allowed myself to be pulled into its sphere by casual attraction deepening into something more compelling. I have felt the energy and life of the painting's will; I have been held there, instructed. And the overall effect, the result of looking and looking into its brimming surface as long as I could look, is love, by which I mean a sense of tenderness toward experience, of being held within an intimacy with the things of the world" (Doty 3-4).
Doty examines in depth this fundamental "intimacy" and effect, what it means to be brought into relation with others and with objects, and the tension that often arises. He mentions the phenomenologist Gaston Bachelard, who stated, "Intimacy is the highest value" (Doty 6). According to Doty, we want intimacy but flee from it. "A powerful countercurrent pulls against our drive toward connection; we also desire individuation, separateness, freedom. On one side of the balance is the need for home, for the deep solid roots of place and belonging; on the other is the desire for travel and motion, for the single separate spark of the self freely moving forward, out into time, into the great absorbing stream of the world" (7). Ours is a fierce internal debate between holding on and letting go—we wish to connect but fear what we might lose in doing so, that our freedom and individuality will disappear. Doty urges us to hold ourselves in the balance, to allow ourselves a fixed moment of attention, of absorption, of this "love" he details so exquisitely throughout the book, while remaining apart, unique, ourselves yet belonging. In a review of Doty's work for Mass Poetry, Alice Kociemba remarks, "One of Mark's most persistent questions, found in so much of what he writes, is: How do our narratives (visual and verbal) hold the tension of opposites?
"Lemons: all freedom, all ego, all vanity, fragrant with scent we can't help but imagine when we look at them, the little pucker in the mouth. And redolent, too, of strut and style. Yet somehow they remain intimate, every single one of them: only lemons, only that lovely perishable ordinary thing, held to scrutiny's light, fixed in a moment of fierce attention. As if here our desire to be unique, unmistakable, and our desire to be of a piece were reconciled. Isn't that it, to be yourself and somehow to belong? For a moment, held in balance" (Kociemba).
This is important as writers and as human beings. We need to allow ourselves this "tenderness toward experience," to see and feel the other, to embody and enter different worlds. This makes us better artists and individuals and deepens our empathy and our humanity, so needed now, so lost it seems. Which makes Doty's words all the more necessary and relevant. I am reminded of poet Lucille Clifton, a guest lecturer in my graduate program at Columbia University Teachers College, who ended each class by asking us to rise, to hold the hand of the student next to us, and to share a moment of gratitude. She felt that if we couldn't touch each other, feel the presence of each other, we couldn't know each other, let alone connect with or venerate or love. It was an essential lesson and one that lives with me.
How does this relate to the still life? Doty asserts that "knowledge is visible…it might be seen in the daily world" (7). This is a point Doty makes in many of his pieces; his is an ongoing fascination with "daily objects," their inherent meanings, their mysteries, their transcendence, how they rise above their own form and context. Researching him, I also note his explorations of the varied threads between selfhood and objecthood. In Still Life with Oysters and Lemon, he confesses, "I have loved art that defies limit, that reaches for a scale beyond the human" (53). One of his most significant points in the work is his correlation between the still life painter and the poet. Doty shares, "To think through things, that is the still life painter's work—and the poet's. Both sorts of artists require a tangible vocabulary, a worldly lexicon. A language of ideas is, in itself, a phantom language, lacking in the substance of worldly things" (9-10). In Doty's view, objects offer instruction, they "speak with us" (48), they tell us again and again how to live in this world, demonstrations we require. Still Life offers us the principle of attention, the principle of love, the principle of faith…."faith in the capacity of the object to carry meaning, to serve as a vessel" (48), faith that if we look, we will be rewarded and we will see.
As mentioned, the paintings also offer Doty, and us as readers and fellow observers, the opportunity to consider permanence and impermanence, the fleeting nature of things as well as their timelessness, our own mortality and legacy, the art we leave behind. Included in this consideration are what we let go of, and what we hold on to and why. Doty writes, "I am learning to accept the flux and revision time and experience invariably make, but I am also learning to love what I wish to keep the same…learning, that is, not to let go but to hold on" (43). The painting's objects afford a contemplation of time's immensity, and the paintings themselves serve as historical frame and continuum as well as mirror of their masters, as much about subject as object. What moves Doty is the notion that "[the] objects are in use, in dialogue, a part of, implicated. They refuse perfection, or rather they assert that this is perfection, this state of being consumed, used up, enjoyed, existing in time" (40). A poignant revelation and reminder—this, here, now, is perfection; this, our time, whatever the circumstance or context, pandemic, all.
For me the most profound moment in the book occurs more than halfway through when Doty reveals the role still life played in his own grief and mourning, how it helped him find again the desire to live, to reemerge in the world, to choose to be a part. Doty cites Zbigniew Herbert, his observation that "[still life] paintings 'increase the store of reality'—they offer us more images, more world…
"More world, just when you think you've seen what there is to see. That is how I felt, coming back to life after a period of grief, reentering the world…Of course I'd never left: it was simply that I was going through the motions of a life in which I no longer had faith, because I had come too close to death…I could not help from focusing on the fact that everything disappears, everything's brief…Desire brings us back…Not that grief vanishes—far from it—but that it begins in time to coexist with pleasure; sorrow sits right beside the rediscovery of what is to be cherished in experience. Just when you think you're done" (46-47).
Doty concludes the book with a final dissemination of what still life as an art form can offer us, the role it might play in our own meanings and life:
"[Still life] is an art that points to the human by leaving the human out; nowhere visible, we're everywhere. It is an art that points to meaning through wordlessness, that points to timelessness through things permanently caught in time. That points to immensity in intimacy. An art of modest claims that seems perennial, inexhaustible…[the paintings] satisfy us so deeply because they offer us intimacy and distance at once, allow us to be both here and gone" (66-67).
Here and gone: this is what it means to be human, to be both someone and no one at once, a fixed identity and ever dissolving. Doty reminds us that we are and can be pure moments of attention; we are both individual and part of the whole, the wide field of consciousness. The "I" is to be found in the world: "looking outward, we experience the one who does the seeing. Say what you see and you experience yourself through your style of seeing and saying…‌tenderness and style are still the best gestures we can make in the face of death" (70). In the face of COVID, in the face of so much loss.
The relationship between poetry and painting is an ancient one. In an interview with Andrew David King of the Kenyon Review, Doty observes the parallel histories of word and image, "two breeds of symbol" (King). Clearly, art is a passionate subject for Doty and as affirmed by his ekphrastic writing. Doty claims, "The best ekphrastic writing makes use of a work of art as a kind of field of operation, something to keep bouncing off of, of thinking through. It becomes a touchstone for meditation" (King). Doty's aspiration is to write about art in a way that considers a broader human framework than most academic writing allows. He looks to Frank O'Hara and Charles Simic as models, for their criticism of artists David Smith and Joseph Cornell, respectively. In Still Life with Oysters and Lemon, Doty urges his readers to embrace the routine of museum-going as a continual act of discovery, of uncovering, of meditating on the world, on the mortal and the evanescent.
Still Life with Oysters and Lemon has enlarged my understanding of the importance of art and poetry in life, and the use of art in the grieving process. As someone often consumed by memory and inheritance, I value Doty's messages regarding our attachment to ordinary things, what they can teach us, what we can embrace, and what we can free. As a writer I am awed by his craft, by his wisdom and honesty, how he moves the reader through layers of insight upon insight. It's like one long, seamless chapter or dream of wonder, a stunning accomplishment. As an artist myself and one passionate about myriad art forms, I am affected by his plea for routine museum-going (however limited, however virtual), for a routine practice of cultivating attention, of cultivating awareness of the "objects" around us and awareness of our sense of place in humanity and across time. Still Life with Oysters and Lemon is the book that catches your eye among the bookshelves, that radiates with light and that pulses in your hand, an energy that reverberates throughout the reading and long after the last page.
In an interview with poet Mark Wunderlich for the Cortland Review, Doty expresses why he thinks poetry has endured as an art form:
"…Poetry is a vessel for the expression of subjectivity unlike any other; a good poem bears the stamp of individual character in a way that seems to usher us into the unmistakably idiosyncratic perceptual style of the writer…we're hungry for singularity, for those aspects of self that aren't commodifiable, can't be marketed. In an age marked by homogenization, by the manipulation of desire on a global level…poetry may represent the resolutely specific experience. The dominant art forms of our day—film, video, architecture—are collaborative arts; they require a team of makers. Poems are always made alone, somewhere out on the edge of things, and if they succeed they are saturated with the texture of the uniquely felt life" ("Mark Doty").
I am grateful for Doty's texture and look to him to help me find and develop my own, during this pandemic state and beyond. When day bleeds into day, hour into uncertain hour, Doty's lessons serve as vital balm, a reminder of art's necessity for our own survival and transcendence.
Works Cited
Doty, Mark. Still Life with Oysters and Lemon. Beacon Press, 2001.
King, Andrew David. "The Lesson of Objects: An Interview with Mark Doty." Kenyon Review, 12 Dec. 2012, www.kenyonreview.org/2012/12/mark-doty-interview/. Accessed 1 October 2020.
Kociemba, Alice. "Mark Doty: A Poet of Loss, Acceptance, Transcendence – and a Bit of Humor," Mass Poetry, 2018, www.masspoetry.org/markdoty/. Accessed 1 October 2020.
"Mark Doty." Poetry Foundation, www.poetryfoundation.org/poets/mark-doty. Accessed 1 October 2020.
Category: Featured, Nonfiction