by Bleuzette LaFeir
One. Two. Three. Begin: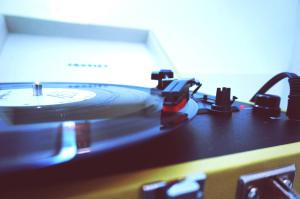 My first breath is thin air. Elevated. Seventy-five-hundred feet. The desert and the mountains. The light? Brilliant, harsh even, yet buffered through creamy cloth. Thinned further by slips of silver smoke that layer through the living room. Thick, earthy scents of meat wave from dangerous pots and pans. Cherished needle sucks breath through vinyl tracks. "Hey Jude," "Mrs. Robinson," "Young Girl." That's me. Daddy bends knees, arches back, and blows "This Guy's in Love With You" through his high-gloss glory-day horn. Living tinted in the back of his mind, distant love memories of Julliard swirl through regrets of boy choices made by a chronological man. But he tries to make up for it. Sometimes with a jitterbug, sometimes a hop, they flunk, drunk-crash into bandstands. I chew as they cha-cha, duck as they swing. I bob in the din…a toddler's jig on milk-chocolate shag. My thin gingham blouse gentle against my flat baby chest. Too big shorts. Soft blue. Soft as Mother's voice is soft. And, in the corner, my overalled brother mallets rainbow xylophone. A cymbaled monkey in conductor's hat completes his band. That monkey is his only friend.
Backyard:
The afternoon squints by. My father's father's garden is the best garden I've ever seen. Wings spread, spinning in pink pillowcase dress. Soft ribbon ties flap on apple cheeks. Mesmerized in the discovery of mind/body connection, I giggle as I twirl. Send signal after signal. I am my captain. I am conscious now. I am born again. I command my tiny toes to curl into the lush lawn of Long Island. The sound is a soft crunch barely audible yet deafens the ladybug and her beetle boyfriend. It is the only place I am allowed to go barefoot, in safety, near Papa's green grapes.
Focused, I squeeze my finger and thumb together, knuckles curled. It's a duck's beak. Be the duck. I am an actress, even then. Ducks are chickens. They hide from loud noises. They crouch under plastic-strapped lawn chairs to flee the prison of argument. There is no protection under a lawn chair. They insist it's safe, but my ears and eyes aren't safe. Loud is the sour of merriment's once sweet, sunny drink. Nana slips me Tootsie Rolls, attempting to sugar-ease the carnal carnival. Lesson? People break. People break as easily as cheap cocktail glasses. Cheap enough to break on purpose and buy again.
Desert Calls:
It's all on the line. Cut to Mommy and me back in the blaze-hazed Land of Entrapment. The sand welcomes us. It cakes our sight. The dust is all that is glad to see us. After all we are moisture for it to cling to. No grass. No bare toes. The blinding, silent threat of naked snakes and clear, cut scorpions rests heavy. Lots vacant. Littered with dancing brown-bottle shards, winking as we pass.
I face east. Monumental mountains, rosy watermelons stand as the single redemption of boundless flat earth at their feet. They are glorious, voluptuous. Peeking over raw cinder-block walls. I want to visit those peaks. I want to be the peaks. This backyard, the new cage, a prison of "should have." A prison of "told you so." A prison ruled by self-appointed high-court judges. Mother's black-robed parents pointing. Wardens of guilt. Cross-armed, looming. Darkening jambs with sour-breathed sighs. Held in contempt, I grow five years in one. Then I hear her…lips close to the round holes on the colossal black receiver smashed to her reddening ear, knuckles white, voice whispered; brokering peace.
I learn another movement in the dance. The volcano quick time is safer than the slow, evil waltz. Each is equally deadly, equally loved and equally hated as my glass beaded, Ginger Rogers hem, flits over the canyon's edge. I take another step toward falling into freedom.
Category: Fiction, Short Story