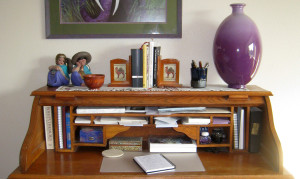 Robert Hilliard is the author of "A Season on the Allegheny", a non-fiction book about Pennsylvania's Allegheny National Forest. For him, one of the greatest challenges to completing his book, which has been called  "a well-researched, well-written account" by the Pittsburgh Post-Gazette, was finding time to sit down and write. To solve that problem, he came up with a solution that allowed him to write far more quickly and to be more efficient within the limited time he had available. For fellow writers, Robert has offered his advice on time management:
My advice to new authors to deal with time management is as follows: Pick a specific Saturday (or Sunday or Tuesday) morning. Block out four hours of time, say 8 AM-noon. Before the day arrives, clear your entire schedule for those four hours—no kids, no dogs, no email, no phone. Promptly at 8 AM, be seated in front of the computer, stimulant of choice next to you on the desk, and start writing your book.
Write whatever you feel like writing. Maybe it's the book's introduction or the beginning of Chapter 1, maybe it's some key point that you want to be sure you convey, or maybe it's that momentous event that you want capture in full. Write for the full four hours without stopping (allow yourself no more than 90 seconds to ponder the correct wording and highlight things you might want to revisit later). If you get to noon and you're still rolling (and the kids aren't killing each other yet), don't stop.
Let's say you can type 80 words/minute. That's 240 minutes of uninterrupted typing time. So when you break for lunch, you should have 19,200 words written – maybe 15-20% of a really substantial book.
Of course, it doesn't really work like that, and you probably won't finish a fifth of your book in one Saturday morning. But, if you carefully block out the time to do it and discipline yourself not to dawdle while you're writing, you'll surprise yourself with how much you do complete.
There are two large side benefits to this approach. First, you'll find yourself planning ahead to what you're going to write that day, structuring it in your head before you ever sit down at the computer. That "mental composition," as I call it, is the true secret of writing well and writing efficiently. You'll have a real focus when your fingers start flying and you'll have already mentally pre-edited some of the content.
Second, when you're done, you'll actually have something written. It will be the planted seed that sprouts into your finished book. You'll have to tend it over time – a little pruning here and a little manure there – but if you keep after it and stay disciplined, it will definitely grow.
Robert Hilliard is the author of A Season on the Allegheny, a non-fiction book about Pennsylvania's Allegheny National Forest. Formerly a contributing editor with Ohio Valley Outdoors magazine, where he created the popular column, "In the Public Domain," Robert has written numerous feature articles for magazines such as Upland Almanac, Pennsylvania Wildlife, Pittsburgh History Magazine, ESPNOutdoors.com, Ohio Game and Fish, and Pennsylvania Game and Fish. Hilliard was also a contributing author for the 2000 book, Rivers of Destiny.
Category: