by Anne Eston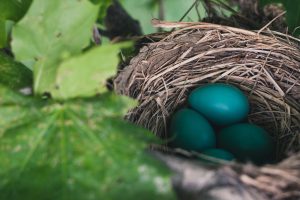 I hold my head
the way I held that robin's egg
when I was six.
Unsafe in the nest
Grandpa stole
(he said it fell out of a tree),
the egg sat.
I took it,
was careful…
I couldn't take care of it.
Didn't think
it would crack
when it slipped
from my hand
and fell to the
dining room rug.
How long did
the mother robin's heart
tremble in sorrow
before it burst and moved on?
These years are gone from me.
This love is dead to me.
Category: Poetry, SNHU Creative Writing, SNHU online creative writing, SNHU Student