by Kathleen Katims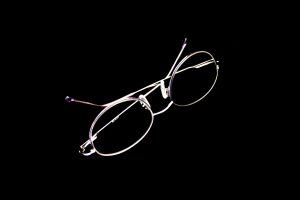 I am shy.
In my Brooklyn elementary school, it is painful for me to look in people's eyes, to speak up, to say what I am thinking. In every encounter people tell me they can't hear me and to speak louder.
In sixth grade the teacher asks me to transfer student grades on to permanent record cards. When it gets to my card, there in Mr. Sanders lefty handwriting were two words–overly sensitive. Those two words hit me like a blaring foghorn. I feel hot and sweaty with a tinge of nausea—all probably, I have to admit—symptoms of my oversensitivity.
I feel awkward in the world. I am awkward in the world. I wear octagonal, tortoise-rimmed glasses—the only ones my family can afford. They sit on my face like a lizard.
And yet, part of me is itchy to be in the larger world. Part of me longs to shine.
Just before middle school starts, my father takes my sister and me to Chinatown, where he can get a discount, and buys us steel rimmed, aviator-shaped glasses.
I stare at myself in the mirror for a long time when I get home. For the first time I am not hidden behind the lizard glasses. I can see my brown eyes, the planes of my face, and my long brown hair. With these glasses not only do I look different to the world, but the world looks different to me—more inviting and accessible.
I decide when I go to middle school I will reinvent myself; I will meet the world and not hide away. I am done with being shy.
* * *
On the bus ride to school, I think everyone's nervous. No one knows anyone. We all need a friend. Maybe I could be that friend to someone.
In homeroom, I make eye contact with Gwen Goldsmith—long brown hair, cute figure, easy laugh—and smile at her. She smiles back. In English, I ask her what school she came from. In social studies, she passes me a note. In math, I ask her if she wants to sit with me at lunch. She doesn't say, "What?" She says, "Yes."
My school year goes like that. I make friends. I participate in classroom discussions. I submit poems to the school paper and sing "Matchmaker, Matchmaker" to try out for the school play.
Robert Brownstein asks me to his Bar Mitzvah, and I almost don't go because I don't have a dress. In the eleventh hour, I get a hand-me-down pink velvet gown from my cousin and I go. He asks me for the first dance.
At home my brother who is two years older knocks on my door at night. He asks if I want to have a rap session.
"What is that?" I ask.
"We can talk about stuff," he says.
I do. Suddenly I want to talk about stuff.
He asks me about girls I am friends with at school who he is hoping to date. He plays me "Aqualung" by Jethro Tull, his favorite. I play him "Oh Very Young" by Cat Stevens, my favorite. We show each other our drawings and I read him my poems.
While we talk I sew patches—velvet, silk, flannel bits I've collected—on two pairs of jeans that I am hoping to keep alive through the school year. My brother takes a turn sewing, and his stitches are better than mine.
The kids I am meeting are from middle-class neighborhoods, and I am from the junction of Flatbush and Nostrand. I live over a mattress store in a railroad apartment with my five brothers and sisters, my uncle, my parents, two dogs, one cat, and a parrot. I go to my friends' Bar and Bat Mitzvahs, have sleepovers on their shag carpets and swim in their pools. Saturday Night Fever has just come out and everyone wears Jordache jeans and wedges. I don't.
I don't have stuff and I like to keep this on the down low. I go to other kids' houses, but they don't come to mine.
Michael Gallelli sits in front of me in English with curly brown hair and dark eyes. He's funny and tries to get my attention. My friend Elise Abbazio and I both like him. He asks me if I could be his girlfriend, and I say yes. One day he takes my hand as we walk to the bus stop. I think about how his hand feels in mine—sweaty, warm, brave—the whole way home.
Days later, I am in my room at home when my mother comes in to tell me that I have company. Michael Gallelli and his best friend Steven have come to see me. They have huge grins on their faces, and they snicker to each other when my mother goes to get them a drink. I see my apartment through their eyes.
My mother works hard to keep everything neat and clean, but the linoleum is torn, the paint is old, and these are narrow little rooms over the avenue. I pray they don't notice my worn bedspread, peeling wallpaper, or God forbid, see a roach on the floor. My uncle is in the house usually walking around with a beer and a T-shirt when he is back from work at the moving company.
I try to remember that this is a boy who likes me, but it doesn't feel like that.
At school the next day, I hear through the grapevine that Elise Abbazio dared them to come to my house. I hear they said my house was "horrible."
Later that day, Michael takes me aside and breaks up with me. A few periods later, he is talking to Elise outside of English.
After school, I don't take the bus because I don't want to see him. I walk the two miles home, and it is barely enough time for me to think all the thoughts I need to think, to go after wave after wave of humiliation. I think all the kids know where I come from and who I am.
I feel myself slipping back to my quiet world.
That night my brother comes to my room for a rap session, and I find a way to tell him about Michael Gallelli.
I don't remember the words he said. I remember him taking over sewing the pair of pants that I was sewing. I cut up swatches of colorful old flannel shirts and he attaches the patches with tight, symmetrical stitches. The jeans are half denim and half a tapestry of other materials that I have collected on the knees and the seat of the pants. The seams are stitched with turquoise, red, and indigo threads. When I hold them up, they are quilted, multicolored, unique, magnificent.
The next day I come to school wearing my patched pants and they give me the courage I need. I don't have Jordache jeans, but I have these jeans that are works of art, that have been made over telling stories with my brother and us becoming good friends.
Over the next weeks, I turn away from the friends that judge me. I lean into the friends who like me.
I bring Gwen home. We throw open my window and sit on the ledge talking all night, our feet on the Sleepy's Mattress neon sign below, looking out onto Flatbush avenue. She calls my mother "Mom."
I decide I'm not going to get quiet. There is no going back to the quiet world. I don't fit there anymore. I decide I'm going to accept myself as I am. I decide that right where I am, who I am, is just right.
Category: Fiction, Short Story, SNHU Creative Writing, SNHU online creative writing