by Tom Catalano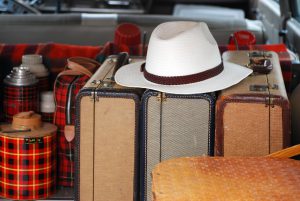 There wasn't much for her to take. She had given away most of her possessions when they left Malibu. He furnished the new house in San Francisco. She merely brought an old country table, an old wooden chest, some art objects, and an antique doll's chair.
But in she came, armed with little stick-on red dots to mark her personal property for the movers. In she came, carrying cappuccino for two—cappuccino in one hand and little red dots in the other.
"Hi, my sweetie," he said, and she responded, "Hi, dear," with a gentle perfunctoriness, seeming to pay no attention to the sadness in his eyes.
They sat at right angles to each other. She, on the couch in the kitchen; he, on the hassock alongside. They drank cappuccino, silently, and between sips put the Styrofoam cups down on the Parsons Bench that sat in front of them.
"Could we not do this? Couldn't you just bring your clothes back and move in again? Couldn't we try?"
"I'm sorry, dear. I'm not ready yet. I don't know if I'll ever be ready again. I don't know."
He got glassy and stared into his Styrofoam cup, keeping his eyes open as wide as possible, so they wouldn't spill.
"I left work early in order to get this done. Let's not make it any harder than it is." She rose and turned to look at the painting over the couch. "You can have this. Your father gave it to me, but I know what his work means to you. In fact, I don't mind if you keep all of your father's paintings. Just give me the little watercolor in the powder room."
"My sweetie, I don't want them without you. I want to be with them, with you."
"Yes, dear, I know. But I don't want to talk about that right now."
She went gracefully through the rooms putting little red dots on the most delicate things in the house. The bone-white espresso service, set off in Robin's egg blue; the Baccarat pitcher; the wonderful Duck tureen; various beautiful frames containing pictures he would never wish to look at in his solitude; and a soiled copy of Marcella Hazan with a burned dust cover. Her fingers moved like wands, marking everything that was lovely and rare.
He followed behind her like a reluctant little boy being taken to school for the first time, fighting back his tears—occasionally losing it. Then she would stop and hug him, and he her.
When at last she was done, they kissed, lingeringly, and she was gone.
He climbed the stairs to the kitchen and sat on the couch she'd sat on. He sat there with his arms at his sides, looking around. He glanced at the Parson's Bench in front of him and saw the Styrofoam cups and the pad of red dots.
He walked over to her old country table, which they used as a bar, and rummaged through the liquor bottles till he found the Fernet Branca. He picked it up and noticed the red dot on the table. He stroked it gently several times.
He went back into the kitchen, took a glass out of the cabinet, and poured a drink. He sat back on the couch and began sipping the bitter liquid. At times he sobbed aloud. At times he restrained himself, like someone trying to stifle a sneeze.
When he awoke, it was 2:30 a.m. He was cold and aching. He decided to go to bed.
In the powder room, as he stood over the toilet, he felt a presence watching him. He turned his head slightly and peered into the mirror. There, he beheld the echo of his loneliness reaching back—on his cheek, below his left eye, a little red dot. He touched his cheek. But there was nothing.
Category: Fiction, Short Story, SNHU Creative Writing, SNHU online creative writing