by Frank Richards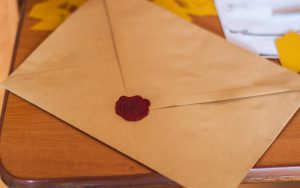 James had just stepped into the kitchen when he heard the garage door opening. His wife, Jan, must have returned from the auction. She was always good at finding overlooked treasures at auctions. He wondered what she'd bought this time.
Jan came into the kitchen through the doorway from the garage. She dropped her purse and keys on the counter, then fished through the purse and took out her cell phone. She plugged it into the counter's power cord. "This thing died on me again." She shook her head, her blonde-and-gray ponytail waving back and forth, following the movements of her head. "Gonna have to get a new one."
"No luck at the auction, I take it?"
"Au contraire. Wait 'til you see this." She opened the purse, drew out a small, bubble-wrapped item, and pulled away the wrapper. "This is worth way more than the twenty-five bucks I paid for the box it was in." She held up what appeared to be a white, ceramic cat with small, blue spots or diamonds all over it. He couldn't tell which from where he stood. "It's a Herend, worth at least four hundred dollars."
Jan bought items at auction and offered them for sale online. She had a good eye for that sort of thing.
The cat didn't seem impressive to him. One of those knick-knacks you see in little old ladies' houses, he thought. Shelves full of them: cats. Or dogs. Owls, maybe mice. "That's it, then?"
"The rest of the box is junk. Some cassettes, CDs from the nineties, a photo album, stuff like that. I left it in my car. Would you put it in the trash for me? Pleeease? I'm going up to the office and get this up on eBay right away."
James walked out to the garage and lifted the cardboard box from the back seat of her Lexus. As he carried it toward the garbage can, the bottom of the box opened, spilling junk all over the floor. He grunted, folded the bottom so it was semi-secure, and set the box on the steps leading into the house. As he picked up the photo album, he noticed a protruding envelope. He wondered if Jan had seen it.
The envelope was stamped and postmarked San Jose, California. He sat on the steps and opened the cerulean-blue-covered album (it said SNAPSHOTS on the front). The letter had slipped from a pocket on the inside cover. It was addressed to a Mrs. Alice Atlee. He opened the letter and read:
Dear Alice,
Yesterday I received your letter. I opened it with a sense of dread. I always wondered if you would track me down. What you must have thought of me! I'm so sorry. But you are much older than I was when you were born and I gave you up, so if you cannot find it in your heart to forgive me, I hope you will try and understand.
I was sixteen when you were born. We were not married then. The war had begun and Pug (your father) had joined the Army (he was nineteen) and was away at basic training. I did not want him to worry about my pregnancy while he was there, and he shipped out overseas soon after. The times were uncertain. It may not make sense to you now, as I tell it, but there was a war on, and people hid sensitive things from the boys over there so they wouldn't be distracted from what they had to do. My family thought it best for everyone's sake that we give you up for adoption through the Church and so I did. I did not tell Pug about you until long after the war. By then you were five years old, safe and happy with your new family, and we did not want to harm you by imposing on you and trying to obtain custody, even though Pug and I married in 1946.
Your birth was difficult. I later learned we could not have other children.
Pug and I lived in San Francisco all our lives. He was an auto mechanic and later opened his own garage and auto parts store in Palo Alto. We were happy, although we were separated for a time. Pug died an early death in 1979. You asked for information about him, so I've sent you the photo album I put together shortly after his death.
I am currently in a nursing home. Because of my recent stroke, I can't write more right now.
I have thought of you with love every day.
                                                                        Love,
                                                                        Margery Farley, your mom
James refolded the letter and slipped it into the envelope, then slid that back into the album pocket. Then he began to thumb idly though the album. It had black pages and photos. Other memorabilia were either stuck in with those glue-on corners, were cellophane-taped, or were glued directly to the page.
The first page was Franklin W. Farley's birth certificate, dated February 20, 1923. Franklin—that must be the "Pug" of the letter, James thought. Wonder why they called him "Pug"? Black and white, with tiny blue footprints, one slightly turned in. You could see the individual print lines—the whorls, the curves. James had read somewhere that every fingerprint was unique. He wondered if that applied to footprints too.
A long lock of fine auburn hair, labeled "Pug's Hair" in shaky scrawl. A hospital picture of a smiling mother and a scowling baby. More baby pictures followed; one labeled "Pug's Baptism." Pug gets progressively older in pages that follow, noting birthdays. Now Pug crawls in them, now he stands, one fist held in the air, defiant, on little bow legs.
First day of school. Pug holds his mother's hand. Pug, a grin, missing both front teeth. A photo labelled "1929—The [underlined] Birthday Party." A sequence of photos, kids playing a game. Possibly Pin the Tail on the Donkey, as one is blindfolded. A cake with seven flaming candles.
Next, "Pug, after the fight." Pictures of Pug, left eye blackened. "Pug, fishing with Grandpa," and Pug holds up a stringer of trout for the camera.
High school. Pug played football. There's a team photo, "State Champions, 1940," but James can't tell which boy is Pug. Senior photo, Franklin "Pug" Farley: his face, growing into manhood, is rugged, squared-off, looking a bit bulldoggish, hence the nickname, James presumes. "Pug and his date (?)" (Apparently, Margery doesn't know who she is), senior prom. Women had such curious hairdos in those days, James thinks. Curls and waves were big then.
A page of scraps: a green pack of Lucky Strike cigarettes, flattened, glued on. Didn't know they came in green, James thought. Many pictures of Pug on dates, picnics, parties. Different women. Nothing labeled until "Pug and me." That must be Margery, nice-looking, brunette, twinkle in her eye, provocative stance. "Pug at work." Pug looks up from the Model A's engine, smiling, a smear of grease on his face, a wrench grasped in a dirty hand.
A page is blank.
James flipped to the next page, labeled "Pug in the Army." These photos are different; large white margins frame minuscule black-and-white shots; "Pug in France after Normandy," "Pug in Paris," another of Pug and others at a party, labeled "Pug, Mack, Steely; French Girls," shows people sitting around a table. Wine bottles but no wine glasses.
People in the next shots don't look happy. GIs in the snow, under trees, in foxholes. Grizzled, haunted looks. One labeled "Me and Steely, after Mack bought it." Different handwriting; must be Pug's.
A newspaper clipping, headlined "GIs in Ardennes face Nazi onslaught. Montgomery, Patton drive to relieve." A picture of Pug in bright sunshine, holding a swastika'd flag. Wonder what happened to Steely?
Next page, a military citation and Silver Star award for gallantry, Franklin Farley. A newspaper clipping dated January 24, 1945, "Local man awarded Silver Star for Bravery," with high school senior picture of Pug inset.
Pug in dress uniform, Pug picture with mother. A full page, Pug's U.S. Army Honorable Discharge, September 1945.
Pug at work in an auto repair garage.
"Our Marriage Certificate," March 1946.
Pug and Margery standing in front of "Our new house," May 1948.
Blank page.
Newspaper clipping: "Intoxicated man drives over woman at bus stop. Woman in critical condition." Mug shot picture of Pug.
Application for Divorce—Margery Farley vs Franklin Farley.
Blank page.
A full page of different-colored sobriety tokens from Alcoholics Anonymous, labeled "Pug's chips."
Bill of sale of downtown auto garage to Franklin Farley for the sum of eighteen thousand dollars.
Marriage certificate, Franklin Farley, Margery Farley, dated October 14, 1955. So they remarried.
Now the color pictures supersede the black and white. Pug, in white T-shirt, cigarette dangling from mouth, mowing lawn, dated 1956; Pug standing proudly beside a blue-and-white Buick sedan. Pug and Margery, Pug in Hawaiian shirt, Margery in Lei, August 1956. Pug and Margery, playing cards with unidentified others, dated 1958. A beagle puppy, captioned "Cleo." A Christmas tree, with Margery hanging tinsel.
Pug in a suit, seated at a desk in an office. "Pug's Auto Supply" in background. Margery and Pug (again in a suit), taken in front of a church, probably after services. A pair of 1962 World Series tickets, San Francisco Giants vs. New York Yankees, Candlestick Park.
"Pug and Cleo. Hong Kong Flu." Bathrobed Pug in an easy chair, thermometer in mouth, weakly smiling, a full-grown Cleo lying on the floor beside the chair.
"Pug prepares for his surgery." Pug being wheeled away on a hospital gurney, giving the thumbs-up sign.
Another blank page.
Death Certificate, Franklin Farley. March 7, 1979. Cause of death, lung cancer.
Staged photo, thirty or so people, several children, labeled "Farley family. Reception after Funeral."
Photo—headstone, Franklin B. Farley, June 16, 1923 – March 7, 1976; Margery Anne Farley —— (no date). Someone had scribbled "Plot 176-177" on the bottom.
That was it. James took a deep breath. He felt kind of choked up by the ending and this surprised him. He should have seen it coming; he'd already known of Pug's death from Margery's letter. The album was all that remained of the man people called Pug. He'd seen Pug's whole life, from baby footprints to tombstone, and even though he'd never met him, James felt he did know Pug in some fundamental way, and Pug's life was that of every man. Someone could put together an album for James himself, an album like this one, an album with the same small beginning, an album with the same final ending. But what did it mean? That one's whole life could be summed up in a photo album? Was that all?
Outside it had begun to rain. James watched raindrops slide down the garage window pane, one after another.
The door opened behind him. "What have you been doing out here all this time? I made pasta for dinner." Jan handed him a glass of Zinfandel, his favorite red wine. "Come on in. And you should wash up after handling that." She gestured at the album, still in James's hands. "You don't know where it's been."
Category: Fiction, Short Story, SNHU Creative Writing, SNHU online creative writing