by Courtney Edwards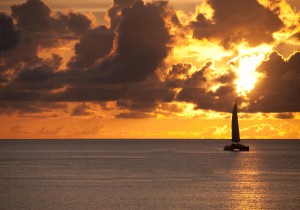 I am still
idling in an azure sea
and waiting for wind
which moves me to adventure,
the kind that Hydra
deserves.
I resent
shadows of soaring seagulls
encroaching on my cabin windows,
mocking my failing
wings.
I mourn
the mast, my
eager sentinel
who waves a lifeless flag
like a clothespin holding a limp
bed sheet.
Their reflection becomes an eerie
apparition
in calm waters.
My wretched spirit
trapped between blue and gray
            swirling,
                     stippled paint.

Sunlight travels quickly,
bounding off blue
ripples
dancing on my bow side, performing
a Chinese ribbon dance.
Shimmering satin
flickers
on white fiberglass,
slowing into rhythmic waves
which trace the pulse of my
Heart
finally settling
into the shape of a trembling tortoise
shell.

Still
no sign of wind.
             I lean
slightly,
lurch and
sway.
Even Aeneas knew never to linger, 
I cry
looking toward the forsaken shore, looking
—smaller,
now a green-leafed crocodile snuggles the gray sea
blanketed
by an orange sunset.

Still
I stand tall
admiring the great
distance
between sand and horizon
gained
             silently.
Category: Poetry, SNHU Creative Writing, SNHU online creative writing, SNHU Student