By Rebecca LeBoeuf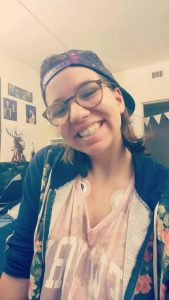 Between classes and homework, extracurricular actives, a part-time job and a social life, college is a busy time for many students. Imagine writing and publishing a novel on top of all that. In the middle of her college career, Nicole Mello published her first novel, "Venus," with Backpack Digital, a travel media company that has podcasts, blogs, videos, music, travel help and now, books.
"It feels weird to be a published author at this age," 21-year-old Mello said. "I'm excited that people can read something I've worked so hard on and am so proud of, and I'm looking forward to continuing to work on this."
Mello, set to graduate in 2018, is pursuing her undergraduate degree in both American history and creative writing, with a minor in digital film. The honors student takes six to seven classes each semester, works two jobs, has an internship and holds executive board positions in a number of clubs and societies on campus. "Balancing all of that, my social life – which is incredibly important to me – and my home and family life is its own problem," Mello said. "Adding writing into that makes my life a 20-ring circus." Enjoying every aspect of her busy schedule, Mello has learned to prioritize when needed. "I guess I find the time (to write) because I make the time."
Mello has been writing her entire life. She writes short stories, works on novels and participates in National Novel Writing Month (NaNoWriMo) every year. NaNoWriMo is a world-wide challenge to write a 50,000-word novel each November. Her goal has always been to become a published author, and now that she has achieved this goal so early on in life, she is determining what her next step will be.
Starting as a transcriber for Backpack Digital, Mello is an example of how opportunities can come unexpectedly. When she started working there a year ago, the company was expanding from its original "The Travel Stories Podcast" to new types of media. "When the idea of books came around, it was discussed and developed for a long time after that before my name came up as the writer," Mello said. Working a ground floor job ultimately gave Mello the opportunity to achieve her goal of publishing a book, without having to seek out agents or publishing companies and without having to pay any fees.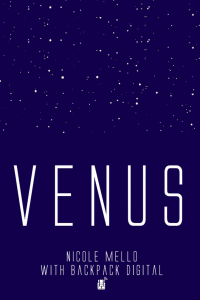 In just 15 months since the idea for "Venus" sprouted in Mello's mind, it was published. "Writing it, I was mostly left to my own devices, which I adored, because this was my pet project and I didn't really want other people to mess with my vision," Mello said. Along the way, a couple of people at Backpack Digital offered their input and Mello had her friend and boyfriend as editors. Once she finished her story, Backpack Digital kept her in the loop with the formatting and distribution of the book. "There's so many things I just didn't consider coming in that now I keep in mind going forward with my work," Mello said about the publishing process.
"We're on a learning curve, both myself and Backpack Digital, because this is the first for both of us," Mello said. "We're marketing as best as we all know how." Some of their marketing techniques thus far include advertisements on Backpack Digital's website and in their podcasts, and the joint effort of reaching out to book reviewers.
Mello found a need in the market for a book about diverse women that does not linger on the diversity. That's where "Venus" comes in. "The story isn't about the fact that they're coming out, or that they struggle with their identities, or anything like that," Mello said. "It's a love story, and it's a story about discovering who you are."
Mello has turned her attention to graduating, just one year away. "I'm building up my skills and, a lot like my characters, I'm finding out who I am, which is important to me," Mello said. "Most of all, though, I plan to keep writing. I've been writing stories since I first learned how to write as a little kid, so that's not going to stop just because I got something published. I just want to keep doing what I'm doing."
Synopsis of "Venus"
"Venus" is about a young woman named Juliet who lives in northern Michigan and meets a stranger who changes her life. That stranger, whose name is Daksha (and who goes by Dax), is a nomad who's been escaping her own problems by going on a cross-country road trip in search of aliens. Juliet joins her on this quest to find both aliens and themselves as they go. Along the way, Juliet starts to fall in love with Dax, which presents its own set of problems, so Juliet really has a lot to figure out.
Category: