by Pamme Boutselis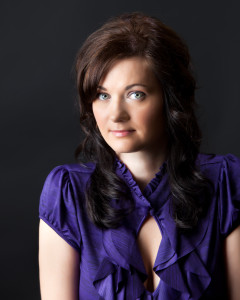 When it comes to romance writing, chances are that award-winning, bestselling author Mandy Harbin has explored one its sub-genres–from suspense and historical to humor and paranormal, if she hasn't written about it yet, chances are that she one day will. SNHU recently caught up with Harbin to learn more about her experience as a writer.
Have you always written?
Yes and no. I remember writing poems, short stories, and even song lyrics off and on throughout my childhood and teens. As I got older though, I was of the mindset I couldn't be an author while living in Arkansas. When I went to college, I studied computer technology and business with a career goal of working in accounting information systems development. I also studied writing, but it was treated more as my creative outlet and not for professional aspirations. Even when I was already working in that career and decided to work towards my master's degree, I researched MFA programs in creative writing, but again rejected that idea to work towards an MBA. I got within three classes shy of completing it when I finally decided enough was enough. Studying for that degree was getting in the way of my writing.
What's your process in developing your storyline and characters?
I'm a planner, a visual planner. I studied screenwriting early on because I love movies, so I incorporate some of the things I learned back then and apply it to my manuscripts. I like drawing out a three act timeline, marking the key events in the story and filling in some of the smaller ones. I used to write character bios to fully understand who my characters were, but nowadays, I chart a few key characteristics as I learn who they are. As for the manuscript, once I've played with the three-act diagram, I open a spreadsheet and outline every scene. Yes, every scene. When I can look at my story at this very high level, I can see things easier. For example, I might need to move a pivotal fight scene before another event. When I do this prep work, I can get through the first draft pretty quickly because I know what's coming. However, just because I plan out my story, doesn't mean I have to stick to that outline. I still let my story dictate where it wants to go when I'm actually writing. The outline is just a roadmap to the final destination, and sometimes my characters demand a different route. Some writers don't like to outline their books because they want the freedom to just write. For me, outlining a story actually fosters my creativity, rather than stifling it.
What challenges do you face in your writing, and how do you overcome them?
Knowing what project I want to/need to work on next and dedicating that time to writing those projects, editor's deadlines notwithstanding. I used to finish a book and think, "What next?" It can become daunting if you're not prepared for the next project when you finish the one you're working on. I don't mean you can't celebrate typing that final sentence in your masterpiece. By all means, pop open the bubbly, crack open a beer, or indulge in that cheesecake, but remember you have to open up a blank document and start something new. I now outline my writing schedule. I make sure to allot enough time to finish a project within my speed, plus added time to account for delays and other obligations. Now when a reader emails me asking if I'm going to write something in a particular series, I can give an idea of when I might get to it.
Also, finding that line between providing a great escape for a reader, yet keeping the story real—even if the premise isn't—can be very challenging. For example, it's difficult when children are present as minor characters in erotic romance. Reading is an escape, so fellow moms out there might not want to read about heroines who have children running around the house while she falls in love with a new guy…even if said guy is a shape-shifting alien from the planet Zeon. You run the risk of making your character look like a bad parent if a reader doesn't agree with how she handles her children. As writers, we need to question everything about our stories. If something doesn't serve a specific purpose, then it doesn't need to be there. In this particular example, I'd question why the heroine needs a child. I've only written one story where the heroine had a child, Darkest Sin, and it was crucial to the story arc. That book went on to final in a major national contest and win another award from my publisher. So you can obviously have an erotic romance with a main character also being a devoted parent. Whether it's a minor child or a raging case of gout, make sure you know why your character has it and it's important to the story.
What has the road to publication been like for you?
I started out doing what I'd always heard you should do. I finished my manuscript, and subbed it to agents. My first response was a request for a partial, so I thought getting published would be easy. Then the rejections started pouring in. I got some more requests for partials and even a few requests for fulls, but no offers of representation. This was a Y/A fantasy romance, not a genre I typically read—it was an idea I'd had for years, and the age of the character didn't work being older than high school/early college. Then I came across a submission call for a short erotic romance. I'd read a lot of those books, but had never considered writing anything erotic. I figured it wouldn't hurt, and if the submission got accepted, I'd have a publication credit with a major house to add to my query letter, so I shelved the Y/A series and wrote the paranormal erotic story. But when I drafted it, it didn't feel right within the word count limitation of the open call. I decided to write the story the way I wanted to and just sub it to some digital-first publishers. In the meantime, I found an open call with Ellora's Cave for contemporary erotic novellas and started working on a story for them. I wrote, edited, and submitted it within two weeks. In the same week, both manuscripts were accepted. I was floored.
And that y/a series I'd started several years ago that agents rejected? I rewrote it and self-published it under another pen name. It's my bestselling series to date with over 100,000 downloads which led to a major company in L.A. inquiring on the film and television rights to it that my agent is now working with them on.
My opinion…there's no right way to get published. I consider myself a hybrid author. Each project I take on I decide if I'm going to send it to my agent to shop, submit it to one of my editors at smaller houses, or self publish.
How do you market your work?
The best thing I can do to market my work is to write another book. Writing is my creative outlet, but publishing is a business. The chances any of us are going to win the publishing lottery with a one hit wonder are slim, but we can make a steady living writing fiction, which means we have to move on to the next project. When you release a new book, you gain new readers who go back and buy your old books. It's a win-win.
I believe in author branding, so I market myself more than my books. I interact online and am active in author organizations for my genre. I attend conferences and meet readers face-to-face. When I do have a release, my assistant books a blog tour and sends out my book to reviewers. I like to do contests to get people excited about it, but again it's the big picture I like to focus on—my author brand—not the individual books.
What do you know now that you wish you knew back then?
I wish I hadn't been scared to take the plunge into my writing career. You can live anywhere in the world and be a writer. I live in a small country suburb. My agent lives in New York. My publishers are all over the place. I also wish I wouldn't have been hesitant about writing erotic romance. I understand some authors have a hard time writing open sex scenes. I personally know authors who have super secret pen names and won't even do book signings in their hometown in fear of someone finding out what they write. I was never that extreme, but I understand it. I was at a conference once where the authors all introduced themselves and announced what they write. There were a lot of inspirational romance authors in attendance, and when I included erotic romance in my list of areas during my introduction, one author turned to me and asked, in front of everyone, if my parents knew. I was shocked to get this kind of response from a fellow author, but I was honest with her. Yes, my parents know, and they are proud. Period.
Overall, I wish I hadn't been initially timid about anything and just forged ahead. It's like people who say they are always going to write a book. It'll never happen unless you do it.
Who are the writers that have inspired you most, and how have they inspired you?
Although I can't really identify any authors who've influenced my writing itself, there are a couple who've inspired me other ways. Danielle Steel is one of those because her books were the first adult style romances I read at an age when I was probably too young to be reading them. I remember being shocked that people actually wrote about such adult topics yet being totally enthralled. I read some as a child, but it wasn't until my preteens that I fell in love with reading, and it was because of her books. You can't be a writer unless you're a reader.
Sylvia Day is another author who is a point of inspiration for me. Unlike Danielle Steel, I actually know Sylvia. She is very business savvy when it comes to contract dealings and no nonsense when it comes to our rights as authors. She's currently the president of the Romance Writers Association, an organization with over ten thousand romance authors and writers serious about publishing in the genre. She's not just a great writer; she's also very intelligent on the business of publishing, so I always listen whenever she's speaking. If I ever experience anywhere near the level of success she's had, I hope to incorporate the things I've learned from her while managing to stay just as graceful as she's managed to do.
If you keep just three books in your library, which would you choose and why?
1. Steven King's Memoir On Writing. It's a great book about his journey as an author and provides great advice to those wanting to break into the field. It should be on every fiction writer's bookshelf regardless of your preferred genre.
2. Broken by Megan Hart. This is an erotic novel that is so brilliantly written you won't care that the sex scenes aren't actually occurring between the hero and heroine. You'll laugh. You'll cry. You'll squirm in your seat. It will leave you wanting so much more, and even saying that still doesn't do the book justice.
3. William Shakespeare's Hamlet because we all have to act a little crazy every now and then.
Category: