by Pamme Boutselis
The Penmen Review recently caught up with writer Joe Giordano to discuss his new book, "Birds of Passage, An Italian Immigrant Coming of Age Story." Kirkus Reviews calls Giordano's book, "a riveting debut novel." Let's see how it all came about.
Have you always written?
I started writing about ten years ago. We lived in Greece, and loved it. The sense of history I felt inspired me to try my hand at an historical fiction novel about the Persian Wars: Marathon, Thermopylae and Salamis. My prose was terrible; I needed to learn how to write. I took some University of Texas classes and began to compose short stories. I received a truckload of rejections; the first acceptance came after three years. Since then, over 60 of my stories have been published.
What's your process in developing your storyline and characters?
For short stories, an element of life pops into my head and I imagine a character thrust into the situation. For "Birds of Passage," I used the classical character arc and novel structure.
What challenges do you face in your writing, and how do you overcome them?
The innovative idea can't be programmed, it just happens. A new storyline might surface through an offhand comment, a photograph or a memory. I read to stimulate ideas.
What has the road to publication been like for you?
Writing is a creative outlet. Most writers agree that good writing is hard, but the process gives me pleasure. Completing "Birds of Passage" was easier than attracting an agent or a publisher to accept my work. There's huge competition for readers, art is subjective, and like any new product, what you produce must be unique and desirable.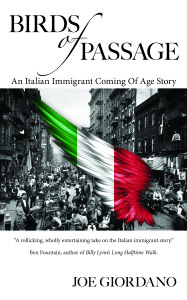 How do you market your work?
For short stories, I submit to various magazines. "Birds of Passage" will be supported with reviews, readings, blogs and author interviews with publications like "The Penmen Review."
Who are the writers that have inspired you most, and how have they inspired you?
I took a UT class taught by Ben Fountain and walked out eager to write. I admire the short stories of Chekhov and Salter. Philipp Meyer is very talented. Then there's Dante, Homer, etc.
If you could keep just three books in your library, which would you choose and why?
"The Iliad," 2,500 years old and still insightful. "The Complete Works of Shakespeare," the Bard is timeless. Larry McMurtry's "Lonesome Dove," still one of my favorites.
***
Joe Giordano's stories have appeared in more than 60 publications, including Bartleby Snopes, Newfound Journal, The Summerset Review and The Penmen Review. Visit his website to learn more.
Category: