by Rebecca LeBoeuf
Julie Pennell published her debut novel, "The Young Wives Club," in February. Pennell's book follows four young women, still in relationships from high school, as they discover how complicated love is. With praise from Kirkus, Booklist, Bestselling Author Karen White and others, "The Young Wives Club" shifts character perspectives with each chapter and takes readers on a roller coaster of emotions.
A contemporary women's fiction writer, Pennell also writes lifestyle articles for Teen Vouge, TODAY.com and The Nest in New York City.
Have you always written?
Yes! My mom says that I used to always go around writing little stories when I was a kid. When I was in middle school, I entered a fiction contest for a teen magazine and won honorable mention. It was really fun seeing my name in print, and I think that's what kicked off my career in writing. When I was 14, I began writing a weekly teen column in my hometown's newspaper (Shreveport, La.) and ultimately studied journalism in college. After graduation, I somehow managed to get my dream job at Seventeen magazine. But I always had it in the back of my head that I wanted to write a novel. Ten years later, I finally did it!
What's your process in developing your storyline and characters?
I've tried to write novels before by just writing as I went, but learned that was a huge mistake. "The Young Wives Club" was the first novel I plotted out by chapter – and subsequently the first one that I got to write "The End" on! So, that's my biggest piece of advice for aspiring novelists – plot it out first.
What challenges do you face in your writing, and how do you overcome them? 
I got my first ever case of writer's block while on deadline for a revision of "The Young Wives Club." I would stare at the screen for an hour and nothing would come out. It was horrible. I found that writing exercises actually helped. I came across one that told me to write a thank-you note for a friend who gave me a piece of garlic, and I thought it was silly, but did it anyway. All of a sudden, I got the idea to incorporate some thank-you notes into the scene I was working on because one of the characters had just gotten married. It fit perfectly and is one of my favorite parts of the book.
What has the road to publication been like for you?
It's been such a magical experience, and I still have to pinch myself knowing that the book was published and people are actually reading it. Of course, the process was made smoother thanks to my amazing editors and publishing team. That's the thing about writing a novel – even though only one person's name is on the cover, it takes so many people to make it happen. I'm so lucky to have such a wonderful team in my corner.
How do you market your work?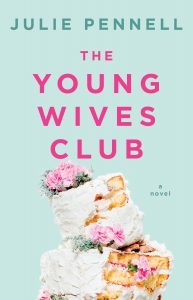 Social media has been a huge part of the book's publicity. Bloggers have been taking these absolutely stunning pictures of the novel and posting them on Instagram, and that's helped get a lot of new readers. I think word-of-mouth is also really important. Yes, it's great to have your book recommended by a glossy magazine, but I also get so excited when I see people tagging their friends in comments telling them to read the book because they loved it. To me, that is the ultimate endorsement.
What do you wish you knew when you first started writing?
I think the idea of writing a book seemed so daunting to me that I kept putting it off even though it was something I really wanted to do. After having completed one, my biggest advice to others is to just sit down and do it. Even if the first draft is messy, at least you've got something down on paper and can work from there.
Who are the authors that have inspired you most, and how have they inspired you?
I've always admired Judy Blume's writing style. "Summer Sisters" is one of my favorite books – she just has a way of writing that makes me want to keep reading. I'm also really lucky to have met a lot of authors recently who have guided me through this whole debut novel experience. I share a publisher with Amy Poeppel ("Small Admissions") and Georgia Clark ("The Regulars") and am so grateful they have taken me under their wing and given me advice on everything from whether or not I should read the reviews (the answer is always no, by the way), to how to market the book.
If you could keep just three books in your library, which would you choose and why?
"Summer Sisters" by Judy Blume (I read it almost every summer), "The Help" by Kathryn Stockett (one of my favorites) and Helen Gurley Brown's "The Writer's Rules" (I re-read it to gear up for writing "The Young Wives Club").
Julie Pennell's website includes her blog and her portfolio.
Category: