By Amber E. Box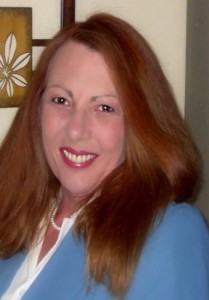 Novelist Kelly Stone Gamble began writing in grade school, but her passion was put on the back burner as she pursued a different career. After years of nursing and a semester at law school, she found herself reevaluating what she wanted to do with her life, which ultimately led her back to her first love – writing.
Gamble's upcoming book, "Call Me Daddy," a novel revolving around family, will be released in October. "Call Me Daddy" is the second book in the "They Call Me Crazy" series.
As a graduate of Southern New Hampshire University's MFA program, Gamble teaches literature at the university level. Visit her website to learn more about the author.
Have you always written?
I was accused of plagiarism in the third grade when I wrote a poem for Arbor Day. I'll never forget that; getting in trouble because I'd done something well. In middle school and high school, I used to leave stories for my friends instead of notes, and some of them were pretty wild. It may be a good thing that none of them survived. I wrote my first novel when I was 18, then threw it in the garbage, which is where it belonged. So I'd have to say yes; I've always written.
What's your process in developing your storyline and your characters?
I daydream a lot. With my current novel, I wrote the first chapter and then spent a lot of time daydreaming about each chapter, visualizing it in scenes, and then I would go home and write it all down. It seems like I go off in my own little world quite often, but I'm really working.
What challenges do you face in your writing, and how do you overcome them?
Time. I work a full-time job and a part-time job as a literature instructor, which means I am grading papers and reading on my time off. I don't sleep much, so I tend to write in the middle of the night.
What has the road to publication been like for you?
The book was easier to write than finding an agent and then a publisher. You have to develop a thick skin during the query process, and you have to be patient. The skin comes naturally for me. The patience? Not so much.
How do you market your work?
I'm lucky in the fact that I have written a book about a crazy woman. Therefore, anything crazy I do is considered promotional. So anything goes!
Who are the writers that have inspired you most, and how have they inspired you?
Marguerite Duras. In "The Lover" (my favorite book, ever), she wrote about a love affair that she had as a teenager living in French Indochina which she published at the age of 70. She once stated that although she had written about the affair several times in her life, she never felt she had given it the emotion that it truly deserved. I think that is inspiring, to know that a writer like Duras was never quite satisfied with her own work, with her own story, and continued to develop it into her seventies, trying to get the story right.
If you could keep just three books in your library, which three would you choose and why?
1. "The Bible"- It's still the number one bestseller of all time, so I think it should be in my three-book library.
2. "Love You Forever" by Robert Munsch, because it reminds me of my sons and always makes me cry. Sometimes, I need a good cry.
3. "One Thousand and One Nights"- I could read a different story every night and then start over!
Category: