by Rebecca LeBoeuf
Annie Hartnett's debut novel, published in March, is a summer must-read. Receiving starred reviews from Library Journal, Publishers Weekly and Kirkus, "Rabbit Cake" is a coming-of-age story about a 12-year-old with the facts to explain everything – that is, until her mother dies unexpectedly. The novel was named an Indies Introduce, an Indie Next Pick and People magazine's book of the week.
Living in Providence, R.I., Hartnett offers discussion questions for book clubs reading "Rabbit Cake," and will even make appearances, either in person or through Skype, upon request. She works as a creative writing instructor in Boston.
Have you always written?
I didn't realize how much I loved writing and storytelling until my senior year of college when I took a creative writing class that really lit my brain on fire. Since then, it's been my number one favorite activity but I didn't really find it until I was 21 or 22.
What's your process in developing your storyline and characters?
I have a "create-a-character" worksheet that I use to help me create fully formed characters. And with a storyline, I'm constantly asking myself "what-if" questions: what if this happened, and then what would it cause. The story comes from those what-ifs.
What challenges do you face in your writing, and how do you overcome them? 
Finding the time! It's something I'm still working on, but I have the most success if I go to write in a public place, a place I'd be embarrassed to look at Facebook, and a place I can be over-caffeinated. I like to write for hours, not a little bit at a time. I don't write every day.
What has the road to publication been like for you?
Ups and downs certainly, as in any creative career, a mix of rejections and good news emails. I believe it's very important for artists to celebrate every single victory, no matter how small, because all creatives face a lot of rejection. Rejection doesn't really bother me, because it means I'm doing the work, putting myself out there. You have to keep putting yourself out there.
How do you market your work?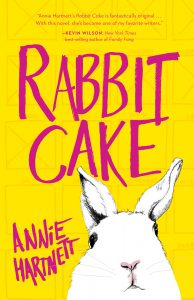 I'm on book tour right now, which I think it a great marketing tool – making personal connections with readers and booksellers is really important. It's also a whole lot of fun traveling from place to place. Although right now I'm sitting on a couch in a coffee shop, trying not to fall asleep in a public place.
What do you wish you knew when you first started writing?
Oh, I think I had great teachers who taught me what I needed to learn when I needed to learn it, but the best advice I can give is: Read a ton. Read, read, read. There is no worse creature on earth than a writer who doesn't read.
Who are the authors that have inspired you most, and how have they inspired you?
Writers who are generous to other writers really inspire me. I've been dumbstruck by the kindness of some of them: Kevin Wilson, Heidi Durrow, Jeff VanderMeer, Beth Hoffman, James Scott, Laura van den Berg… just to name a few writers who are confirmed good eggs. And there's many more. The writing community is friendlier than I thought it would be. I will try to pay the kindness I've received forward.
If you could keep just three books in your library, which would you choose and why?
Only three books! That's a hard task, since I buy a ton of books. But here goes: "The Quick and the Dead" by Joy Williams, "Geek Love" by Katherine Dunn…and "The Magic Kingdom" by Stanley Elkin. There! I did it
Visit Hartnett's website for additional author information and publications.
Category: