by Rebecca LeBoeuf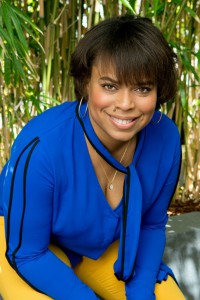 Memoirist Laurie Jean Cannady focuses on poverty in the United States, community and domestic violence and women's issues in her writing and lectures.
Her first book, "Crave: Sojourn of a Hungry Soul" (2015), was selected as an Indiefab Book of the Year 2015 finalist and The Root named it one of the best nonfiction books by black authors in 2015. To learn more about her efforts in targeting survivors or to purchase her memoir, visit her website. To keep up with her happenings, like her on Facebook.
Have you always written?
I began writing poetry at seven and I drafted a few plays and short stories throughout my adolescent years. I didn't start doing the work necessary to write a memoir until I entered college.  Even then, my focus was examining literature, so I couldn't give creative writing the attention it deserved.  Once I completed my Ph.D. and enrolled in an MFA program, I gathered the tools I needed in order to have a professional writing career.
What's your process in developing your storyline and characters?
I'm a memoirist, so most of my storylines come from life experiences, but even with that there is the crafting of plot and the lyrical voice that surfaces in my writing.  My "characters" come from my life, so I don't have to create them, but making them come alive for the reader, in the way that they lived with me, that is hard work. Usually, I meditate and focus on the person. I work to see each "character" as a full person, with his/her own history and personal motivations.  I'm mindful of the fact that the people in my memoirs aren't just characters in my story. In their worlds, they are the protagonists, they are the center, so when I write them, I try to also depict the way in which they might have viewed me and the experiences we shared.
What challenges do you face in your writing, and how do you overcome them?
Most of my challenges are self imposed.  Fear, doubt, wondering if I'm getting the story right, all of these things plague me when I sit in front of the blank page.  When that happens, I just give myself a goal (a word count, finish the scene, a time limit) and I work toward that, rather than working toward a "perfect" piece of writing.  I also constantly remind myself that there is no such thing as "perfect."  The author of this saying escapes me now, but I live and write by the following mantra:  "If I am searching for perfection in my work, I am really looking for what's wrong with the work, at the expense of overlooking what is right."  So, I write knowing no matter how crappy a page is, there's likely "something" right in it.  That "right thing" might be just enough to build a page, a chapter, or a book.
What has the road to publication been like for you?
I sat on my manuscript for a few years before I got the courage to submit it to publishers.  Etruscan Press was the first press I sent it to and they immediately contracted "Crave."
How do you market your work?

I'm horrible with social media and things like that, so most of my marketing happens when I'm on the road during readings and keynotes.  When I first began preparing "Crave's" book tour, it was important to me that the book get into the hands of the people I wrote for, my sister and child survivors, those who needed to see what life could be once they were able to break free of the generational dysfunction. For every city I visit, I reach out to local women's shelters, community centers, and foster homes in order to see if they are interested in having me share my story with their residents. Usually, I donate a copy of "Crave and have a short reading/discussion session with the residents of the facility. In addition to that outreach, I work closely with Etruscan Press on marketing.
What do you know now that you wish you knew when you first started writing?
I wish I knew to trust myself, my voice, my experiences.  I spent so much time fretting about my right to tell my story. Now, I know all of that worrying was wasted time.
Who are the authors that have inspired you most, and how have they inspired you?
Frank McCourt, Jesmyn Ward, and Jeannette Walls. Each of these writers, in their own way, gave me the courage to share my story.  Their memoirs are so different, but the heart of each is the same.  They give voice to those who haven't always been able to have their voices heard.
If you could keep just three books in your library, which would you choose and why?
"Mama Day" (Gloria Naylor), "The Glass Castle" (Jeannette Walls) and "I Know Why the Caged Bird Sings" (Maya Angelou). These are the three books that have stayed with me and each time I read them, I find something new to love.  They keep teaching, keep stretching me in ways I didn't know I was able.  That, I believe, is the charge of any great book.  I return to them again and again because there is still so much to learn.
Category: