By Rebecca LeBoeuf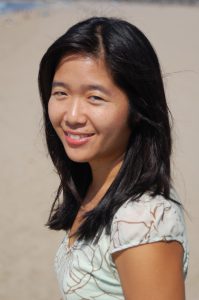 Much of Vanessa Hua's factual and fictional writing focuses on Asia and the diaspora. Her debut novel, "A River of Stars," which follows a pregnant Chinese immigrant, is due out in August and available for preorder now. The novel already appears in multiple booklists for 2018, including Bitch Magazine, Electric Literature, Cosmopolitan Magazine and Squibblereads.
Her work, which has appeared in The New York Times, San Francisco Magazine, The Washington Post, The Atlantic and Newsweek, has earned her an impressive collection of awards and fellowships. Hua also writes a weekly column for the San Francisco Chronicle.
Have you always written?
I've been writing and reading for as long as I can remember. In the second grade, the teacher read aloud our short stories and the class voted on the best one. Mine won, but I overheard my classmate tell her friend, "I only voted hers because it was the longest one." It was the first time I won a writing contest, and my first snarky review! I kept writing. In college, I majored in English with an emphasis in creative writing, when I also developed an interest in journalism.
What's your process in developing your storyline and characters?
I often start with a situation or predicament. That could be inspired by a conversation or something I reported on or something in the news (or an accumulation of several of those things). A what-if. From there, I develop the character who would end up in that situation, and how he or she will face it. Voice is important, too, in driving the tone and arc of the story.
What challenges do you face in your writing, and how do you overcome them?
As the mother of twin boys, I'm always juggling schedules, always feeling pressed for time, always feeling guilty that I'm forsaking one for the other. Often, I am distracted, thinking about a scene, a paragraph, a sentence or a word while the twins race around the park, teetering on the edge of the play structure. A moment later, I feel torn between the children I gave birth to, and those sprung from my imagination. And yet, after becoming a mother, I felt as if I'd stepped through a threshold, into another world of emotion, of ideas, of experience that I hadn't known and was eager to explore in my writing. Being a parent has expanded my view, opened my heart and my fiction in ways I didn't foresee. And so, I write as much as I can, reminding myself that the work will come, even if it's more slowly.
What has the road to publication been like for you?
I worked on my short stories in my collection for a decade, writing them one by one, at first on weekends and in the mornings before I went off to my job as a newspaper reporter, and later on, while also working on my novel and getting my MFA. When I had enough to fill a book-length short story collection, I started submitting to contests here and there and eventually, won the Willow Books Grand Prize in Literature. Separately, I also began submitting my novel to literary agents to represent my novel, and I'm thrilled that my novel, "A River of Stars," is coming out in summer 2018.
How do you market your work?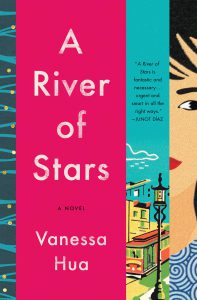 I've long attempted to foster literary community. The more you put into helping and encouraging other writers, sharing opportunities, supporting independent bookstores, pitching in to literary magazines, interviewing fellow authors for Q&As and more, the more connected you are when it comes time to market your own work. I'm also active and engaged on various social media platforms and try to make sure what I'm sharing is useful and interesting and not solely self-serving.
At first I felt a bit awkward about publicizing my book, but I've found that if I reach out to the reviewers and others in the literary world respectfully, explaining why my book might be of particular interest to them, they just might respond. I expect nothing and am grateful to those who have helped me out –sharing my book on social media, considering my book for review, inviting me to speak to their class or book club. Again and again, I've been touched by the kindness and generosity of others.
What do you wish you knew when you first started writing?
No one will care as much as you do. Not your partner, not your editor, not your family, not your friends, not fellow writers. Maybe that sounds depressing, but I find it empowering. You may find yourself in a difficult patch in your book, and others may offer insightful advice, but only you can write your book.
Who are the authors that have inspired you most, and how have they inspired you?
When I was a kid, literary heroes were Anne Shirley, of "Anne of Green Gables" (by Lucy Maud Montgomery), Jo March of "Little Women"(by Louisa May Alcott) and Laura Ingalls of the "Little House" series (by Laura Ingalls Wilder) – who were all aspiring writers, too, and wrote their own fates. I am deeply moved and inspired by the work of Junot Díaz, Edwidge Danticat and Yiyun Li, all writers in various diasporas.
If you could keep just three books in your library, which would you choose and why?
Can't choose – won't! As a kid, I re-read the same books over and over again and the familiar plots and characters were like sinking into a warm bath. Other books I've read very closely when I'm trying puzzle through something in my own work. But I don't have as much time these days to re-read the same books.
Check out Hua's website for more author information.
Category: