by Rebecca LeBoeuf
Cynthia Reeg writes middle-grade fiction and educational children's books. The first book in her "Monster or Die" trilogy, "From the Grave," was published in October 2016. Reeg's Pet Grammar Parade books use animals to teach children about different parts of speech. In addition to these books, the retired librarian has short stories and poems published elsewhere.
Have you always written?
Yes, since grade school.
What's your process in developing your storyline and characters?
The characters generally come to me first, followed closely by the setting. We are whom we see ourselves as and also whom others see us as. Characters are shaped by both the inside and the outside worlds.
What challenges do you face in your writing, and how do you overcome them? 
I face the challenge of being unique – I overcome this obstacle by telling the story as only I can and creating the characters only I know and crafting words as only I hear them.
What has the road to publication been like for you?
Long. I began seriously writing for children about 15 years ago. I had some magazine articles published, as well as stories in anthologies. I took classes. I joined the Society of Children's Book Writers and Illustrators (SCBWI). I attended conferences and workshops. I tried to grow professionally and artistically. I joined critique groups, both online and in person. I wrote, revised and submitted – over and over again. I won a few awards along the way to help keep me motivated and finally secured an agent a few years ago, only to have her leave the business about a year later. But I continued on and six months down the road in spring 2015, I secured a two-book deal with Jolly Fish Press, an independent press in Utah.
How do you market your work?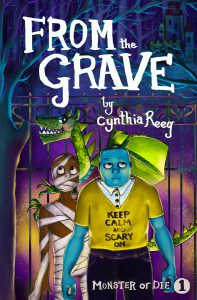 I have an author Facebook page. I'm active on Twitter and recently started using Goodreads. I have a website and blog. I'm actively seeking out local schools and literary conferences.
What do you wish you knew when you first started writing?
That once you jump in it's hard to ever leave the pool. I mean, writing is sometimes cool and refreshing and easy like floating on an inner tube on a sunny day. But often it feels like I'm flailing in deep water, barely able to keep my head above the waves. Yet, still I love the challenge and feel like I couldn't exist without the words, the stories and the characters. Writing is a passion to glory in and yes, sometimes to endure.
Who are the authors that have inspired you most, and how have they inspired you?
I love Kate DiCamillo. She is so creative with her characters from the mice in "The Tale of Desperaux," to the adorable young girl in "Because of Winn Dixie" and her latest touching story, "Raymie Nightingale." I loved the mastery of Karen Hesse's "Out of the Dust," told in free verse poetic style and her story, "Music of the Dolphins," relating the life of a girl adopted by dolphins. The ability of the author to convey a world so foreign to humans but bring it life was amazing.
If you could keep just three books in your library, which would you choose and why?
"Sarah Plain and Tall" by Patricia MacLachlan is classic historical fiction told with such delicate, precise, perfect prose that it is a lesson in writing children's literature.
"A Year Down Yonder" by Richard Peck is a wonderful combination of well-drawn characters, compelling plot, humor and historical fiction. He is another favorite author of mine.
"Orbiting Jupiter" by Gary D. Schmidt is a tightly woven tale of troubled teens. It's powerful, poetic and satisfying – a wonderful example of masterful writing.
Category: