by Richard Adams Carey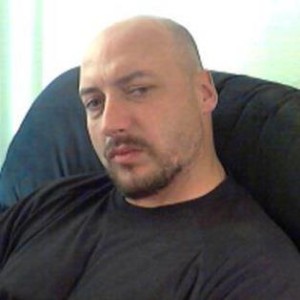 Mike Hancock was that lucky first-time novelist snapped up by one of New York's legendary literary agents. Fate intervened, but Hancock has found another route.
JULY 22, 2014, MANCHESTER, N.H.—First-time novelist Mike Hancock was so close. The former pack horse handler and hunting guide had graduated in 2008 from Southern New Hampshire University's low-residency MFA in Fiction and Nonfiction program, and was marketing "Fallen," the novel he had written there for his thesis.
And he had a New York literary agent interested in the manuscript. Nor was this just any agent. Jack Scovil—of the Scovil Chichak Galen Literary Agency, a man whose previous clients included Norman Mailer and Arthur C. Clarke—had read the novel twice, and was guiding Hancock through its last set of revisions.
Hancock's own story has novelistic dimensions. Raised by his mother and grandparents after his father disappeared, he became a high school football star in the Friday-Night-Lights world of Garland, Texas, and then played linebacker for Texas Tech. Then he lost his taste for football, transferred to Montana State University, and lost his taste for college.
He dropped out in 1995 and began a decade of bouncing from place to place, job to job: journalism in Colorado, construction work in Texas, commercial fishing in Alaska, and outfitter and guide, often on horseback, in various wild places in Montana, Wyoming, and New Mexico.
In 2004, while taking a friend elk hunting above the timberline in Montana, he slipped and fell thirty feet. He didn't get hurt, but he was shaken enough to ask himself, at 31—"Do I want to be doing this for a living in twenty years?"
Hancock went back to school, finishing his Bachelor's in one of Southern New Hampshire's online undergraduate programs, and learning there that he had as good an instinct for writing as he did handling horses. "I was asked to write about a life-changing experience in a nonfiction course I took," he said, "and my instructor said that it needed expansion, that a novel might be hidden inside it."
He had written not about that fall near Butte, but rather, in 1997, the night a bear broke into his camp in the Bob Marshall Wilderness. A fellow guide shot and killed the animal, but the danger had been real. Hancock would continue guiding for seven more years, but with a new sense of humility in relation to humanity's place in the webs of time and nature.
The Bob Marshall Wilderness was once Piegan country, and part of that humility involved his respect for the Piegan hunters who had preceded him. In 2006, on a whim, Hancock enrolled in Southern New Hampshire's MFA program, which was just inaugurated that year.
Over the next two years, he wrote the first draft of "Fallen," a complex novel with two different story lines, one contemporary and one historical.  The former is semi-autobiographical, its protagonist a modern-day hunting guide haunted by the break-up of his family; the latter focuses on a Piegan family in the midst of the Indian Wars, and the destruction of their people. The stories fuse, finally, in the attack of a totemic bear on a hunting camp in the Bob Marshall Wilderness.
Jack Scovil, meanwhile, was a member of the advisory board—agents, editors, publishing professionals—to Southern New Hampshire's MFA program. He took an early interest in Hancock's story, knowing full well that a novel neither entirely historical nor contemporary would be tricky to sell, but confident that he had the connections to make it work.
Hancock felt like he was on his way, especially as Scovil's feedback sharpened and clarified the narrative—until Scovil's sudden death from illness on February 23, 2012.
"Without Jack on my side, I was in a cold place," Hancock said. "Not just a first-time novelist, but one with a novel that's difficult to categorize. I sent out queries to other agents, a lot of them, but never got a bite."
So Hancock went another route, one that suggests one of the more hopeful trends in contemporary publishing to eco-journalist Richard Adams Carey, assistant director of Southern New Hampshire's MFA program.
"It's always been hard for first-time novelists to break into print," he said. "But while publishers consolidate in New York, a number of small, independent presses have sprung up in all regions of the country, and powerful and quirky stories such as Mike's are being welcomed there. That's good for us all."
Hancock, once more a resident of Texas, was courted by several such presses in the Southwest, and finally settled on Black Rose Writing, in Castroville, Texas—a press born in the same year as Southern New Hampshire's MFA program. The publication date for "Fallen" is July 24.
It's a more modest debut than he might have obtained with Jack Scovil pitching the book—but it's a debut, and provides this spooky, layered narrative with at least a puncher's chance in the literary marketplace.
It also provides a solid answer to what Mike Hancock will be doing in twenty years. With all the places he's been, all the things he's seen and done—well, there are more good stories to come.
Category: