by Pamme Boutselis and Gabbi Hall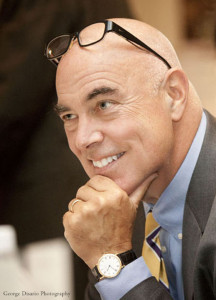 Known as a thought leader on the art of building sustaining enterprise value for all stakeholders in private owner-managed organizations, author Peter Worrell shares a wealth of knowledge and experience in the recent McGraw-Hill release, "Enterprise Value: How the Best Owner-Managers Build Their Fortune, Capture Their Company's Gains, and Create Their Legacy." The Penmen Review had an opportunity to speak with Worrell about what drove this book, and his process in writing and marketing it.
Why now—why the book?
I have heard so many times—"If I'd only known then what I know now!"—that it was troubling me because I believe that building a sustainable organization and a positive legacy is identifiable in advance. My goal with "Enterprise Value" was to share my experiences and teach Entrepreneur Owner-Managers (EOMs) about the simultaneity of their personal transition and professional transaction.
What were the key concepts that you felt were most important to share?
Through working with hundreds of seasoned, successful EOMs over the past thirty years, I have observed that the natural human condition is to tirelessly strive. That behavior has been conditioned into us over thousands of years of biological selection; it is imprinted in our DNA, and all of us—but particularly EOMs—are literally built to strive. And striving for goals is more important to our subjective well being than actually achieving them. For EOMs, their striving frequently results in building a lasting legacy, and oh, by the way, earning a fortune.
Capturing that fortune in a capital gain usually turns out to be the largest financial transaction in their lives. I have never met a seasoned, successful entrepreneur whose primary desire was to earn a fortune. Rather, the fortune was always the result of building a great long term sustainable organization that made a significant positive difference in the lives of its customers, its employees— all of its stakeholders. A little-known result of EOMs building a fortune is that it often results in charitable gifts, which are the largest contributions by far that fund our entire not-for-profit social sector in our country.
In writing "Enterprise Value," did it force you to re-examine your own presumptions on the subject matter?
Emphatically, yes! Look, many of us went to trade schools—law school or MBA—that taught us how to poke holes in arguments, poke holes in business plans. We learned how to perform mean variance optimization and discounted cash flows. We're taught to find the "problems," but that's not the stuff that matters! Curiously, the "hard skills" are easy to master, and what we think of as the "soft skills" are hard to master—relationship building, character strengths, allowing ourselves to be authentic and vulnerable; to trust so as to be trusted.
What was the process like developing the book?
I started writing about topics that I think are important to the subjective well being of owner-managers, and that I passionately care about. I began with some themes that ultimately became chapters, and actually started with some that ended up in the middle of the book. I have a full, full, full life, and am a mid-career professional with lots of responsibilities already, so a lot of the work on this book came between 5 am and 8 am in the mornings, on weekends, and on a couple of week-long visits to the beach. I probably added another 25 to 30 hours a week to my usual 60-hour workweek; thankfully my family was very understanding and patient with me.
I enjoyed the writing process, and learned some things about how to organize myself better for the next book. I think I probably wrote fairly steadily for a year to complete a 75,000-word manuscript, and then the publishing activity took about another calendar year. I did it backwards, i.e. I wrote the manuscript, then found a literary agent, and then found a publisher. I understand that the traditional method is to find an agent, write a book proposal, get a publisher, and then write the book. I have no patience for that. I just want people who are interested in these ideas to be able to access them as easily as possible.
What challenges you most as a writer, and how to do overcome those challenges?
I am metaphysically oriented toward the positive, and I enjoy and benefit from positive collaboration. I believe that the best outcomes are a result of smart people with different points of view getting together and collaborating on issues, problems, challenges and solutions. What I found was that writing this book was an absolutely solo experience.
I attempted to get others interested in collaborating, and at the end I did find a collaborative editor who worked with me on the technical layout and flow of the book, but it was a very lonely, in some cases, isolating experience. Even when I got others to read the work to give me what I hoped would be substantive comments, what I usually got instead were proofreading style suggestions like, "I think this sentence is too long, or you're missing a comma here." Until I got together with my collaborative editor, I really got no help on the substance or flow. And I found that everyone—without exception— wanted to take the safe route and tone down my "voice" in the book. That went against my intuition because I want you, the reader, to hear me speaking to you personally. So it was a struggle to preserve that desire to be true to my voice.
How have you used your own knowledge and skills in the business field to create a marketing/promotional plan for this book?
I was called to author this book to answer the questions from my friends and clients. I think their questions are indicative of the questions that all great EOMs have. So I would like to make these ideas, and concepts (that come from my scar tissue!) as widely available as practicable to EOMs and their expert advisors. I think this is a special purpose book—McGraw-Hill doesn't necessarily agree, i.e. they believe the audience is broader.
I am interested in getting to my targeted markets in a very focused way. The idea is to educate. So in order to educate, I have used a series of blast emails to our 7,500+ contact database, a book website, some McGraw-Hill blogging and tweeting, increased my willingness to speak to groups about the topics in the book, and we created a video book trailer (analogous to a movie trailer) to use. Luckily, I am in a profession where my colleagues and I can use the book every day as a tool to slide across the table to our clients and friends and suggest it might be a resource to help them on their journey towards a capital gain.
Watch Peter Worrell's TEDxAmoskeagMillyard talk from November 2013:
Category: