by Rebecca LeBoeuf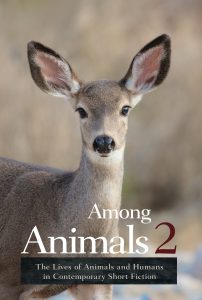 "Among Animals 2" is the second anthology produced by Ashland Creek Press, depicting the relationship between humans and animals, both domestic and wild. Fifteen authors contributed to this 2016 collection, and The Penmen Review was lucky enough to talk to four of them about their stories.
C.S. Malerich, an "Among Animals" veteran, contributed her short story, "Phoenix Cross," to the second anthology. Malerich crossed chickens with phoenixes in this story, adding an element of science fiction, to save a farm that was losing money.
In "Phoenix Cross," the main character develops a bond with one of the birds. Malerich grew up surrounded by animals and discovered that "every species and every individual is different, and figuring them out – trying to communicate with them, and trying to understand what they are communicating to me – brings a satisfaction that I don't get from human relationships."
Rachel King's, "A Normal Rabbit," drew from her personal experience showing and caring for rabbits to write a story about a young girl who is struggling to bond with her rabbit. Having the personal experience helped her ensure the information in her story was accurate.
King believes children should be exposed to animals at a young age. "I think that children who are given the chance to bond with animals, like children who spend a lot of time in the natural world, are more likely to become adults who value the environment," she said.
After reading the first anthology, and enjoying its literary value and political stance, Catherine Evleshin, was inspired to submit her work. The setting of her story, "A Sterile Place," is a nursing home where an elderly man suffering from memory loss resides.
Evleshin draws upon her life for colorful characters and situations and likes to incorporate her environmental concerns.
Anne Elliot's story, "Strays," tells of a woman caring for feral cats with her landlady's grandson. Inspiration for this piece came from her own experience looking after feral cats in Brooklyn with her husband.
As she wrote "Strays," Elliot focused primarily on the sentence level and the images they produced. "It was very organic, very language-oriented, very slow, and composed line by line," she said. "I was more concerned with the feelings created by the sound and image of the sentences than the characters or story arc."
Many of the stories in the anthology tackle controversial topics. For example, Malerich's "Phoenix Cross" speaks to the conditions chickens are raised in for the meat industry and the lack of animal welfare laws that apply to them. King's "A Normal Rabbit," discusses animal abuse. Evleshin's story includes pesticide use in nature and its harmful effects. "Strays" touches upon the relationship between humans and animals or nature.
Each of these authors has participated in the promotion of "Among Animals 2," in some way – from social media to blog posts, word of mouth and readings in bookstores. Since its debut from Ashland Creek Press, the anthology has garnered praise, including this from Booklist: "Any animal lover or connoisseur of high-quality fiction will appreciate this collection and the artistry of its contributors."
The contributors have not been alone, however, in their promotion efforts. "I also saw the effort that Ashland Creek put into making the book visible: submitting it for review, doing interviews, getting it to stores and libraries, nominating writers for awards," Malerich said about her experience with the first anthology. "A lot of small presses don't have the capacity to do that kind of work, and that matters a lot when you are trying to find a place for yourself in the literary world."
Category: