On Wednesday, June 14, 2023, Word for Word, Southern New Hampshire University's (SNHU) online literary series, held its final event of the season, where we spotlighted six recent graduates of the Master of Arts in Creative Writing and Online Master of Fine Arts in Creative Writing programs. Because of the breadth of each story, our Q-&-A section of the event was shorter than usual, but we asked each reader what their plans were after graduation. Their responses, along with each reader's bio and additional content, are captured below.
The video for this event can be found here, on our YouTube playlist. We hope you take some time to watch it, as we're very honored to have these students graduate from our creative writing program.
***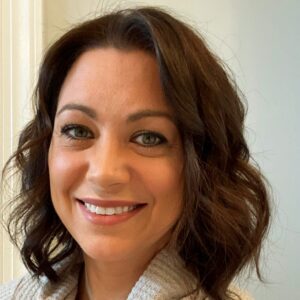 Amanda Garland holds a BA in Psychology from Christopher Newport University, an MA in Higher & Postsecondary Education from Columbia University, a graduate certificate in Adult Learning from John Hopkins University and an MA in English and Creative Writing from Southern New Hampshire University.
At SNHU, she began work on "Blackout Curtains," a novel of speculative fiction re-imagining the 1960s Jane Collective in a 21st-century context. Grounded in the history of reproductive rights in America, the story explores the ways that Southern and religious values are often at odds with a woman's right to choose.
Amanda teaches English and literature to community college students in central Virginia, where she lives with her husband, two children and an exceptionally fluffy rabbit named Bun Bun.
W4W: Amanda, what are you planning on doing next? Where do you go from here?
Amanda: I'm lucky that I teach English and writing, so I'm surrounded by people who love and support me. My primary goal is to prioritize and set time aside for my own writing and to finish this story that I really am dying to tell. Researching has taken up so much more time than I ever expected or knew that it would, too. So juggling work with other tasks, you know, that's my goal. Just to be able to prioritize something that really is important to me.
W4W: Yes, the constant challenge is finding that time to put aside to continue the journey. It's wonderful to hear that you are surrounded by students who want to learn the craft as well. That must be inspirational and can certainly help with your own goals.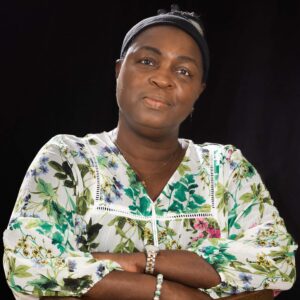 Sheron Zellous was born in Jamaica, West Indies, and emigrated to the United States in July 1979 and currently lives in Southern California with her husband, William. She earned an AAS degree with honors from New York City College of Technology, formerly Brooklyn Technical College, in 1982, and a Bachelor of Science degree in Pharmacy from Long Island University (LIU) formerly known as Arnold and Marie College of Pharmacy, in 1985.  
After graduating from LIU, she worked in the civilian sector for three years before joining the U.S. Navy in 1988. In 2000, she earned a Doctor of Pharmacy degree from Nova Southeastern University in Ft. Lauderdale. After serving in the Navy for 20 years, she retired in 2008 but continued working as a civilian pharmacist, retiring for the second time at the end of 2021. 
Along the way, she earned an MBA from Webster University, which she hopes to parlay into a business venture. She decided to pursue the MA degree in creative writing at SNHU because she hopes that writing will keep her brain functioning at the highest level, well into her twilight years. She is excited by the wealth of information that she acquired along this two-year journey and can't wait to see what the future holds.  
W4W: Sheron, you had mentioned in your bio that you decided to pursue this MA in hopes of keeping your brain functioning at the highest level well into your twilight years. I must say, by the way, this bio is quite impressive—to earn all these degrees and serve in the Navy for 20 years.
What do you hope to do with your writing in the next few years? Is it just for pleasure, or do you hope to do something else with it, perhaps with the MBA you earned from Webster University?
Sheron: Well, first I just want to say thank you to you and SNHU for this opportunity. And for all the readers tonight, those are such wonderful stories. Oh my God, I'm so touched.
But to answer your question, because I'm retired, I'm always looking for stuff to do. And as I was going through the program, I thought about how many people (there are) who are not able to read and write. When I looked at the statistics, it's like 39 million Americans who can't read. So I thought, wouldn't it be great to join the literacy program in my community? So I'm going to sign up as a volunteer to teach people how to read.
I hope I can read my stories to them as inspiration, so that they say, "Oh, here's an immigrant girl who's done all this. I can do that too." I hope I can create a program to motivate people to learn to read and write. Meanwhile, I'm going to also pretend I'm still at SNHU and try to write one story a week.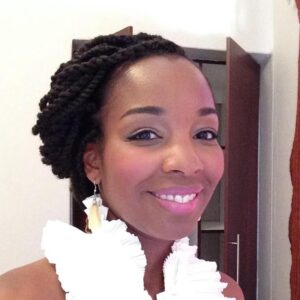 Kaylan Reid Shipanga is a writer, literacy coach and preservationist of the African diaspora's reconnection with Africa. She documents this rekindling through blogging, videography and her upcoming cross-continental Black romances and Afro-utopian fantasies. She enjoys exploring the concept of Black liberation through life and love abroad and Black utopian societies. This passion has taken Kaylan from her native New York City to Namibia where she lives with her husband, son and daughter and manages a literacy clinic.  
A Howard University journalism graduate, Kaylan has worked in media both in the U.S. and Namibia. She is best known for her YouTube channel, Afro American in Africa, where she chronicles her life abroad in Namibia. Kaylan is also the Founding Editor of the African American in Africa website, which chronicles the experiences of Black Americans living across Africa. Her debut Black fantasy romance novel, "Ancestrally," will be released in 2025.
W4W: Kaylan, where do you go from here? I mean, you're a world traveler. You've got all these different irons in the fire with your blog, your YouTube stuff, a new novel coming out. What's next?
Kaylan: I've heard a lot of familiar goals just mentioned between Amanda and Sheron. Number one is just the constant struggle to create a proper writing routine, because I do have a two-year-old and an eight-year-old, so there is the everlasting struggle of making time. But publishing the novel is next. I'm in the revision process.
Sheron spoke to my heart too, because living here in Namibia, in southern Africa, I have seen just the major struggles when it comes to literacy. And that's exactly why I decided to start a literacy clinic, because the numbers here are just staggering.
Since I'm now based here, I would really like to contribute to the writing community. And that community is very young here, so I would like to use my experiences to tackle illiteracy and help shape Namibia's literary community. And of course, I would love to write a memoir as well. That's down the line, just about my experiences living abroad.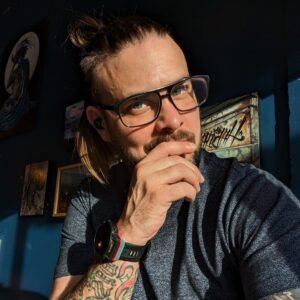 Residing in the Pacific Northwest, Aaron Seaman lives to write dangerous stories that provoke deep thoughts about morality and the duality of human nature. Along with an MFA in Creative Writing, he also has two undergrad degrees focusing on different portions of history.
Prior to writing, Aaron spent seven years in the U.S. Navy, and a decade as a wildland firefighter, EMT and radio communications specialist for the U.S. Forest Service. He is an avid climber, distance runner and world traveler, and has been to the South Pole, the North Slope and all the other lonely places in between.
W4W: Let me pose the same question to you, Aaron. What lies ahead?
Aaron: Right now, professionally speaking, the VA paid for this degree for me because I'm trying to retrain. So ultimately, what I'm trying to do with this is use what SNHU gave me and do a freelance career with writing.
In terms of what I read tonight, I've been published a couple of times with some sci-fi stuff. And that's great, and I'll probably go back to writing sci-fi. But honestly, the only thing I care about getting published in my entire career is this novel that I wrote right here for this program [a novel on PTSD and suicide awareness in veterans] because it's out of my depth. It's not my normal thing and it matters. It matters a lot.
W4W: I wish you the best of luck with that. And I'm sure you'll find some agent interested in that novel. I mean, based on what you read here tonight.
Aaron: I hope so. I have to finish it first. I just want people to understand what veterans are going through, because I didn't until I did this program that talked about it. I'm hoping that people read my story and they go, "Oh shit, things are bad." That's the only connection I want. So if you got that connection and if anybody else did tonight, then I'm good with that.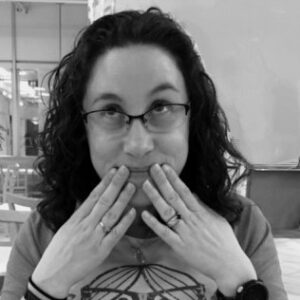 Nicole Hansen writes speculative fiction under the pen name Nic Tusa. She grew up in Long Island, New York, a place she dreamed of leaving before realizing that abandoning such good pizza might be a criminal offense. She is a paramedic, educator, researcher and all-around overachiever who refuses to let "that's what she said" jokes go the way of the dinosaur.

[Unfortunately, Nicole's connection was lost at the end of the event, but we were able to talk earlier in the night about her craft.]
W4W: Nicole, what's so amazing about this story is that (you have) so much happening at once. It's an incredible juggling act that's thoroughly entertaining to listen to and read. Tell us a little bit about what (it was) that drew you to this as the setting for your story.
Nicole: Well, I guess it's the old adage, write what you know. I've worked New York City EMS for over a decade. So a lot of the inspiration came from things that I've seen, coworkers that I've worked with. And this character just came to me at one point, and I thought she needs her story told. It was kind of like having a new person on my ambulance. I thought, Oh, this is someone who I can imagine being real. Who I'd be at work with and interacting with and doing these calls. The EMS milieu unfortunately covers a lot of very real ground, just like PD and fire.
W4W: The narrative voice is so strong and compelling. You're immediately on the side of the narrator and want to follow her and know more about her. Thank you so much for sharing, and I wish you the best of luck!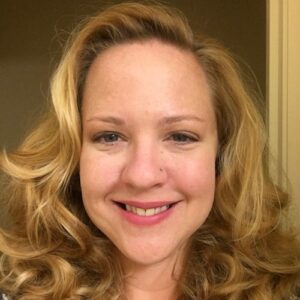 Melissa Kampfer is a wife and mother of two from Raleigh, North Carolina. In her spare time, she enjoys reading, cooking and crafting.
After a lifelong battle with bipolar disorder and alcoholism, Melissa sought treatment in 2020 and decided to fulfill the dream of completing her college education and pursuing a career as a professional writer. She graduated with her BA in English Language and Literature from Southern New Hampshire University in 2022 and was recognized as a Distinguished Scholar. She received her MA in English and Creative Writing (Nonfiction) in the spring of 2023 from SNHU.
She is currently completing a personal memoir, "Little Pink Elephant," about her struggles with addiction and mental illness and how the significance of a tiny, treasured family heirloom, like a grandmother's stolen little pink elephant, can have a larger-than-life significance when one is searching for a deeper meaning in life. She also enjoys writing fiction and poetry.   
W4W: Melissa, what about you? What's next for your writing?
Melissa: I'm working on finishing my memoir. At this point, I think I've got to work on two books at the same time. My memoir is a collection of family stories and personal stories, but I'm at the point now where I'm wondering if maybe I should split them in two. So instead of having one collection, (I'll) create two.
I'm also looking for an agent and a publisher, and I write children's books, so I'm interested in that as well. Maybe down the line I'll get one of those published. But right now, I'm concentrating on my memoir and seeing where that goes.
W4W: Well, we are in awe of all of you and appreciate how none of you shied away from leaning into serious, meaningful, engaging topics tonight. Best of luck to all of you—Sheron, Aaron, Amanda, Nicole, Melissa, Kaylan. It's been our pleasure.
***
Thank you to everyone who continues to support the Word for Word Reading Series. This concludes our 2022-23 season.
We were proud to spotlight fellow faculty, host a young adult author, a historical sci-fi contemporary romance writer and a screenwriter.
We were also able to facilitate a panel of publishers and indie authors, showcase The Penmen Review Fall Fiction finalists and host these exceptional graduates from our creative writing programs.
Each of our readers and guests have offered deeply engaging works and conversations on creative writing and publishing, and we're very thankful for the opportunities to talk with everyone throughout the year.
For other Word for Word events, please be sure to visit our YouTube playlist channel. See you in the fall!
Category: