by Pamme Boutselis
With more than 6 million copies of her books in print worldwide, award-winning, USA Today bestseller Lucy Monroe has published over 50 books and had her stories translated for sale in dozens of countries. While she writes multiple subgenres of romance (paranormal, historical, single title and short contemporary), all of her books are sexy, deeply emotional and adhere to the concept that love will conquer all. A passionate devotee of romance, she adores sharing her love for the genre with her readers. Find Lucy on the web: Facebook, Twitter , her blog and her official website.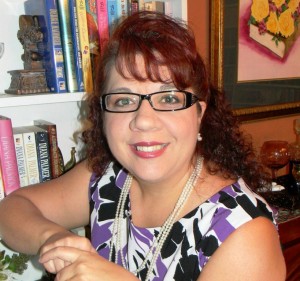 With over 50 books written, published or soon to be published since 2003, you have been one busy woman! What's your process like regarding the conception and writing of your books?
Stories come from everywhere. I could see a couple at the mall and start to create a scenario in my head, or dream a scene that will end up a book, or the story is part of a series and I write the characters who are the loudest in seeking the attention of my imagination. So, the conception is a very fluid and organic thing which varies from book to book.
The process is a little more settled now, but it took a bit getting here.
I used to plot everything and then deviate from my plot cards after about #5, but that pre-plotting was necessary. So were my critique partners (CP). They forced me to look at what I wrote and why I wrote it. They are both amazing authors with successful careers in the small press market. The first book I wrote completely spontaneously was "The Greek Tycoon's Ultimatum." It was also the first book I did not send to my CPs for substantive feedback. If you've read my "call story," you know it was also the first book I ever published. All twelve of the fiction books I'd written previous to that also sold over the next two years.
Since then, all my books have been written extemporaneously. I start with a story idea (usually about a page long) and character sheet for my main characters with bits on their background, visual inspiration and their physical descriptions. I write 10-25 pages a day (depending how tight I am to deadline), revise those pages and then write more. I usually rewrite the first one to three chapters of a book at least twice before moving on to finish it. And when I have time and feel the book needs it, I do an allover paper edit (printed out so I'm not reading on the computer screen) before turning it in to my editor.
Pretty much every book, I'll hit the halfway mark and panic. This is dreck. It's too short for word count. The story isn't going to make a book. And every book ends up the right length (usually a little long, lol), something I'm proud of and published.
Your books are so rich in detail and background. What are some of the things you've been really surprised to learn while researching?
Now that's a long list because I love to research. My mother never finished high school or college (though she went), but she was brilliant and self-taught. She passed her passion for learning onto her children. We all love to read, watch documentaries, travel and go to galleries and museums whenever we have the opportunity.
I take it one step farther naturally, because my ingrained desire to learn new things is coupled with my need to weave that knowledge into the fabric of my books.
My biggest surprise came early on when I started reading the "Uppity Women" series – "Uppity Women of the Middle Ages," Renaissance, etc. In these compact books are a myriad of true stories about women in eras of history we do not consider progressive, demanding their rights, fighting for their dreams, their families and a brighter future. These books made me realize how skewed historical fiction was toward the majority experience.
I decided I wanted to write extraordinary characters, not the norm. So, my heroines in my historicals are never typical or perfectly societally normative. But this also made me want to write more extraordinary characters in my contemporaries as well and I hope readers experience that in each of my books.
And of course this goal has led to more research.
You are very supportive of other writers, and particularly those who are up and coming, with advice on your website and free online classes for writers as well. How did this come about and why?
Blame my mom again. She raised us to give back. We are not blessed to wallow in our own blessedness, but to be a sieve through which that blessing might pass on to others. I've received some amazing mentorship from the likes of Theresa Scott, Debbie Macomber, Lori Foster and JoAnn Ross. I not only try to pass on whatever they have shared with me, but the things I've learned along the way myself.
What do you know now that you wish you had figured out sooner?
While I have tried very hard to meld them all, the truth is I've been essentially building three different careers for ten years. Contemporary series (Harlequin Presents), contemporary single title and historical/paranormal single title. The crossover in my readership is a lot smaller than you might expect. Certainly it is smaller than I expected. While I don't regret writing the books that were begging to be written, I do realize there was a cost to dividing my time and energies that way.
You see, once you publish, writing your books becomes less than half the time you spend on your career. The business and promotion side of writing (like any small business – which is what each author is) is consuming. Without as much time to write (your days don't suddenly expand once you sell, right?), maintaining so many disparate careers isn't necessarily the wisest of choices .
How much of your time is spent in marketing your books, and what part of marketing do you most enjoy?
A lot. At least half of my time is spent on marketing and I have three part-time people who help me in various ways. A billing & shipping admin (who sends out all my contest prizes etc.), an editing & special projects admin (she contacts booksellers, etc.) and a promotions coordinator. Can you imagine the time I would spend if I had to do all of this on top of what is left to me?
The part of marketing I most enjoy is interaction with readers, whatever form it takes. I love my FB and Twitter time – though there are days it eats into my writing time, hence those weeks I sail far too close to the edge of deadline.
If someone were to write the story of your life, which chapters would hold the most meaning for you?
The one about my family. We're very close and there's nothing more important in my life than my husband, children, grandchildren, siblings, nieces and nephews and other extended family. I have very few friends I see outside of writing conferences because my sisters and daughters are my best friends, my husband is my favorite entertainment companion and I love the time I spend with all of them.
How important is perseverance?
Penultimate. Full stop. I wrote for 9 years, got stacks and stacks of rejections before I sold my first book. Once I published, I had to keep pushing through, gutting books for editors (that is horrifically demoralizing to the creative mind), keeping at the writing when life's hardest challenges were/are tearing at my heart and right now? I'm working on a reset for Lucy Monroe single title author, now that I've had my revelation about those simultaneous, but separate, careers.
Thank you so much for the opportunity to share with you all. I hope in some small way, I've opened eyes or encouraged someone to keep on keeping on. Our dreams make life so much richer; we cannot let them go because they are considered impossible to achieve.
I'll leave you with another quote from my mom (I miss her every day): "Nothing in life really worth having comes without sacrifice"  ~  Shirley Ann
Category: