by Megan Parker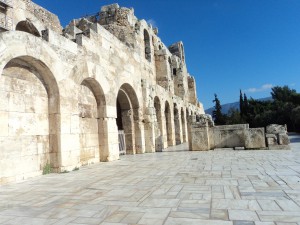 I brought Medusa to the Opera
so we could fool around.
I seduced her with promises of macabre
song, a scale hissing from the staged chorus
in masks that look of flayed clowns
flogged by C minor. Is it creepy that I brought Medusa to the Opera
to seep beneath her skin, to burn like candelabra
held now onstage by masked ghouls? Sit down,
my muse. I shall seduce you with the art of the macabre—
I'll be discreet, my little prima donna.
Ignore Perseus' frown—
He wishes he could go down on you at the Opera.
Your serpentine figure would curve like a comma
round his waist, his hands slithering beneath layered gown
to praise seduction of a hero's macabre
fantasy. How easy to woo with empty cantata
when the faux-god has turned to stone.
Which is why I brought you, my viper, to the Opera—
Let me seduce you, despite (or to spite?) tight-lipped Athena.
Category: Poetry, SNHU Creative Writing, SNHU online creative writing, SNHU Student