by Ann Hosler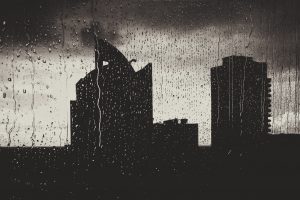 Water trailed down the window in
rivulets, tracing the contours
of my ghosted face. You wished
me a happy birthday, nestled in
sterile sheets of your hospital
bed. Freshly woken from the coma
of your surgery, you couldn't
remember my name. The surgeon
removed a basketball-sized
spleen from your body. I wondered
how someone could survive without
their spleen, or what made it grow
so large. When they rushed you into
the E.R. that morning, your belly
distended, I imagined you gripped
Mom's hand, whispering for her to
wish me a happy birthday. It wasn't
how I envisioned becoming a teen
would be, wracked by grief three
days later when your body succumbed
to the cancer eating away at it. The
day I graduated, I imagined you sat
several rows behind me, proud that
your youngest child finally got her shit
together and finished high school,
even if it was five years late. When I
crossed the stage and looked out, only
my husband sat there. Maybe you were
seated beside him, and I couldn't see.
Maybe you shook my hand on the stage.
Maybe you remembered my name.
Category: Poetry, SNHU Creative Writing, SNHU online creative writing, SNHU Student