by Cecile Pecoraro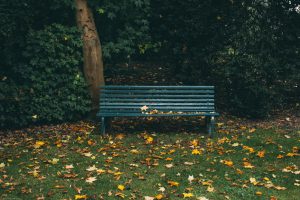 My journey to the office each day begins with a drive around Jackson Park. After one block I must veer right to continue up the street, Park Avenue, that holds the 2.27 acre, two-block long park in its grasp. Despite its size, the park is home to a bandstand, bathroom facilities, a walking path, and several benches. If someone is looking for a shady place to enjoy some peace, they need look no further. The park is loaded with magnificent trees. Because it is smack dab in the middle of a road in a residential neighborhood, there is no designated parking per se, so it is mainly used by the most local of locals, along with the occasional art shows in summertime.
The name of the street is deceiving. Nestled in the affluent city of Alameda in northern California, Park Avenue is in an older section where lovely Victorian homes reside, some of them in need of some tender loving care. The density of the trees surrounding the park provides enough shade to hide their flaws though, and provide a sense of peace on a normally busy street.
If one does not make that right turn approaching the south side of the park, they will run into one of the benches. This bench is beloved, and any damage to it would be seen as a moral felony. This giant, crescent shaped, concrete bench, the Clarke Memorial Bench, is a mainstay of the city.
Painted the color of leftover peas that have been in the refrigerator too long, the bench has a high back which gives its users an illusion of privacy. Teenagers who wish to have a secret rendezvous depend on that high back to hide them from onlookers, better known as parents, forgetting as they make out or smoke weed that anyone driving north can clearly see what they are doing.
"Parents who drive by this bench," I remarked to my daughter one day, "always look to see if their teenager is sitting there."
"Teenagers," she replied, "always look to see if their friends are there."
The bench also serves as place for smokers to retreat, readers to read, and sometimes a resting place to those without a home. It has its very own concrete walkway, making it easy for dog walkers to lead their pets there for a break. Sometimes the bench is treated poorly, with trash left behind and the occasional graffiti, but most of the time it provides a lovely place to rest and think.
Then one day in November of 2013, life in Alameda changed, seemingly forever.
The storm that hit was not unwelcome. California had been experiencing a drought, and any amount of rain fed the hopes and dreams of residents that perhaps extreme water conservation would soon be over. There was a great wind storm, not unusual at that time of year, but the wind was so strong during the storm that it pulled a tree that stood directly behind the bench up from its roots. Falling on top of the bench, the tree damaged the high back and the seating area, along with the marker in front of it with the inscription "In Memory of My Dumb Friends."
The city was in shock. How could it be? How could our adored, precious structure be…gone? Where will we sit? Where will we hide? Readers made a beeline back to the library, dog walkers hurried back to the dog park, the homeless dragged themselves to other benches, and smokers retreated to the sidewalks. It was an event of monumental proportion. There had never been so loud a cry heard in all the city since the closure of Noah's Bagels.
When it was suggested, however, that the city put funds aside for repairs, there was a small but vocal minority who were not as sentimental as the rest of us.
"Well," they said, "it's just as well. It's just a place for kids to hang out anyway. A lot of bad things happen on that bench." And what did we expect-it was 93 years old! Of course it was crushed under the weight of that tree. "Knock the rest of it down," they declared. "The city does not need to spend any money restoring it."
Others, however, who knew the back story, had very different ideas. It was indeed 93 years old. Isabelle Clark, a long time Alameda resident, had the bench built in 1920. An animal lover and activist, Mrs. Clark wanted to create a space for pets and their owners to rest. She decided to have the bench, along with a water trough which is now long gone, built at the park. She wanted everyone to know for whom the bench was to honor, so she had a marker built in front with the unusual inscription carved into it. The inscription in front was not an insult to her friends, or to her husband as rumor sometimes had it. It was meant as a tribute to her many pets whom she dearly loved. In 1920 no one was going to wash your mouth out with soap for using the word "dumb." It was not a demeaning word having to do with a lack of intelligence; it simply referred to creatures who were unable to speak.
Isabelle Clarke is a small town heroine. She left a legacy for a city that is active in its love and care for animals. The dog park is a well-worn, safe place for pets and pet owners to mingle. Our citizens fought against the closure of the animal shelter and the outsourcing of care for our stray darlings. Pet adoption agencies reside in the outdoor mall every Saturday, and people can be seen walking their dogs everywhere. I have a neighbor who walks his cat. Even the dreaded raccoons and possums that roam our streets at night, tossing our trash and terrorizing both other animals and people, are treated with respect.
Hoping to satisfy everyone, all-pet lovers and bench lovers, all penny pinchers and naysayers, a group called Save the Bench formed to raise funds to repair it, and not a cent would come from city government funds. And it wasn't difficult to do. Alameda "boasts" median home prices of around $800,000, so raising money would not be a problem. In addition, the city in general is very concerned with the historical aspects of the town. Every year there is a tour of the grander Victorian homes that have been maintained, both inside and out, in the traditional style (though I wonder about the one that is painted bright pink-but I digress).
The excitement around the project grew quickly as well. The group used two fundraising approaches. One was advertising in the local papers, directing people to the online site Indiegogo. The other was a simple sign. When it was decided that a light post should be added to increase safety near the bench, the group made a sign that was posted near the bench as it was being repaired.
Imagine my surprise when I passed by the sign one morning. It was a bit curious, to say the least. Instead of a sign with a picture or drawing of Mrs. Clark, or even of animals, the sign said "Come On Baby Light My Bench" and had a hand drawn picture of Jim Morrison. Indeed, it was a clever play on the title of an old song, but come to find out, the fundraising website also sported a picture of him. Isabelle Clark, the caretaker of animals and their owners, the provider of rest and refuge, the visionary over a small section of a city park, was nowhere to be found other than an honorable mention in the middle of the web page somewhere.
For those too young to know or care, Jim Morrison was the lead singer of the 1960's rock group called The Doors. In his era, he was as infamous and shocking as Madonna. His sultry baritone voice, combined with his sensual lyrics, was mesmerizing. His slender frame and long hair reflected the look of that decade, and the girls went wild over him. Songs like "Light my Fire" (hence, light my bench) and "Riders on the Storm" went to the top of the charts.
But along with the looks and the music, Morrison adopted the cliché lifestyle of a rock star. He was a drug user, an even bigger alcoholic, and had at least three paternity suits brought against him. In 1971, newspapers in Paris reported that Jim Morrison was found in an all too familiar scenario-in a bathtub, dead from a heroin overdose. At the tender age of 27, a rock icon was gone. People all over the world mourned him, some even claiming that he had faked his death and was still alive.
Musical talent notwithstanding, Morrison left his children and the world a legacy of alcoholism and drug abuse. So, the obvious question is, what did Morrison's life have to do with a love for animals or anything to do with a bench in Alameda? Why did the fundraisers use his likeness to raise awareness and money? Jim Morrison and his family did live in Alameda in the late 1950's. He attended Alameda High School, and his old friend, Timothy Malone, has reported that Morrison did hang out on that bench after school. Urban legend says that Morrison had the bench constructed for his friends. By the 1950's the meaning of the word "dumb" had morphed into an insult, so the inscription was reportedly a joke Morrison played on his buddies. Of course, there is no way Jim Morrison could have built the bench, but when reading blogs and comments online it is obvious some people still believe the legend.
Almost three years after the storm, the work is finally done. Once the final coat of paint dried the wire fence surrounding it was removed, revealing the newly renovated Clark Memorial Bench. As I sit here on this iconic structure, reflecting on the love and work of Isabelle Clark, I can't help but wonder who we honored when we opened our wallets to pay for the repairs-the heroin addicted rock star, or the heroine of precious creatures who are unable to speak for themselves.
Like with all things new or freshly repaired, people are treating it gingerly, taking their time to return to their regular use of the bench. There has been no graffiti, no trash left behind-at least not yet. In a month or so, though, the public schools will be in full swing, and teenagers will need a place to hang out after school. It only takes a few to break the ice. No doubt readers and smokers and the weary will find their way back. For now, for just a moment, before everyone returns, I want to remember and honor Mrs. Clark and the noble work she did.
I see a couple of dog walkers coming this way. I'll go home now and leave them to it.
Category: Fiction, Short Story, SNHU Creative Writing, SNHU online creative writing, SNHU Student