by Elaine Granados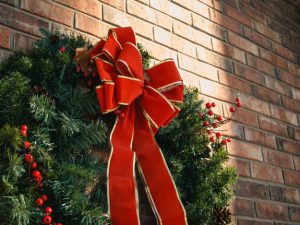 I am escaping into the hallway, letting #401's door thud behind, closing on heavy heat open windows could never lift and the constant smell of black beans cooking, on sirens and horns of Koreatown (before Starbucks and Target on the corner), on the buzzing in my head, Get me outa here, I'd think even then. Backpack slung over my shoulder, I saw our wreath was crooked, sad attempt at being American – bought at the Dollar Store, across Rampart, by the 7-Eleven – the Ramirez's had their door open, telenovela blaring, "No quiero vivir sin ti!" Looking that way, end of the hall by the propped-open glass, I saw him sitting, Abuelito, plaid button-down tucked into khakis, on his walker that folded into a seat.
I am the kid they always put in Mrs. Gonzalez's class or Mr. Castillo's, as if I didn't know why, last name didn't quite fit my face though: "What are you anyway?" classmates asked. My Spanish was a burden, clunky and cumbersome baggage, let me take out my luggage, open it, show it to you, lay out before you all the times the words didn't come soon enough or all the times I said the wrong thing. Face of the conquistador, heart of the conquered, tongue was their battleground. "Te amo mucho," I could have said to him, but the elevator dinged, and I turned away towards it.
I am crying in speech therapy, where they sent me weekly, Get me outa here. "Say it this way. No, don't roll that. No, don't 'ah' that. You've got to come back next Friday." Guatemala held on to my mouth, memories in Español-like shackles or a straightjacket maybe, sure, I felt crazy: one foot in Los Angeles, one in Quetzaltenango, head in the invisible border, they all laughed that I had the thickest accent but could barely speak Spanish with it. In the elevator going down, running away from laughter to where I could say what I wanted, MacArthur Park, back before it became a cardboard city under the palm trees, my group of in-betweens, speaking our language of Spanglish and whirling "r's" acceptingly, but being there meant the hallway was far away from me, I cannot live without you, no quiero vivir sin ti.
"Igualmente" he would have replied, tears in his eyes, knowing.
Category: Fiction, Short Story, SNHU Creative Writing, SNHU online creative writing, SNHU Student