by Lynne Shaner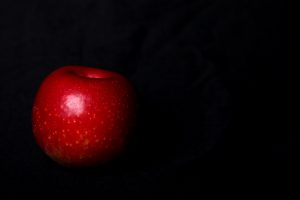 After what seemed like ages of leisurely kissing, days lingering in the garden, and hours leafing through piles of papers on slow, sexy Sunday mornings, he left. Sure, we had argued some—sometimes loudly—but who hasn't? I had even been wearing my hair down, mostly for him, nearly all the time. Our bodies knew each other's every curve and soft place; every small, sweet crease. We twined together, sinuous and serpentlike.
Paradise, for me. And my garden so filled with every succulent thing. Sun-warmed, rain-greened basil, fat tomatoes, yellow black-eyed Susans, and small apples on the intricate espaliered fence. He hated the apples, but I found them perfect. I should have known that this was not, perhaps, the best match when he was reluctant just to be comfortable together with scanty clothes—or none at all. I've never seen the real need for them in the privacy of the garden, but then, I thought, people are different and I could put up with this.
He was, it turned out, a frightened man. A bit of a stick-in-the-mud. He wanted to label everything, find a reason for each cricket and creeping thing, each golden pepper and sweet red apple. And heaven forefend if a creature spoke to him—he could not speak back. Always turned to me to translate, speak, lead.
And he was often discomfited by me in general—another flag I should have noticed much earlier on. Isn't that always the way? He even worried about my hair when I wove it into a serpentine crown that encircled my head in goddess-worthy beauty. Perfect for summer. Or gardening. It was too exotic, he'd say. So many people look at you when you have it up like that. So many women, I'd say. So many men, he'd say, looking away from my eyes and down to my breasts.
Then one day he insisted. We must wear suits and coats and ties and pantyhose. I gave those up when I left the Corporation, I said. But that's what grown-ups wear, he said. And you should take up golf.
What for? I asked.
Everyone does, and I think my boss would spend more time with me if I did. His wife plays golf, too.
Does she like it?
I never asked him.
And so he went away, after tempests of tears that seemed never to end. The summer sky suited our falling out, filled with storm clouds that menaced us, cracking apart with long fingers tipped in gold electricity. He left during a storm, in fact.
I think he'll feel safer now; he'll find someone who is impressed with his suits and his handicap. Maybe a golfer. But he'll never again find a lover who will take him into her garden. Or so deeply into herself.
Or, perhaps, he will.
It is no longer my worry. My arrival to this point was difficult—that Tempest, you know. You've heard of it, I'm sure, though doubtless from a different point of view. One of his friends, I believe, has written that story long ago.
But back to now, here. My life is new now, in this garden—I am aware of the beauty of silence, the comfort of solitude, the delight I feel in this new freedom. Perhaps I'll find a creature or two to befriend. Perhaps another soul will find a path into this garden. Or I will wander out. I am aware of the gracious plenty in the number of choices I have, as well as the sweet relief in being here on my own.
I wind my hair up into its snaky crown, pleased at the cool it affords; it is always lush and warm here, even after the fall. I reach for another crisp apple.
Category: Fiction, Short Story, SNHU Creative Writing, SNHU online creative writing