By: Joyce Kiefer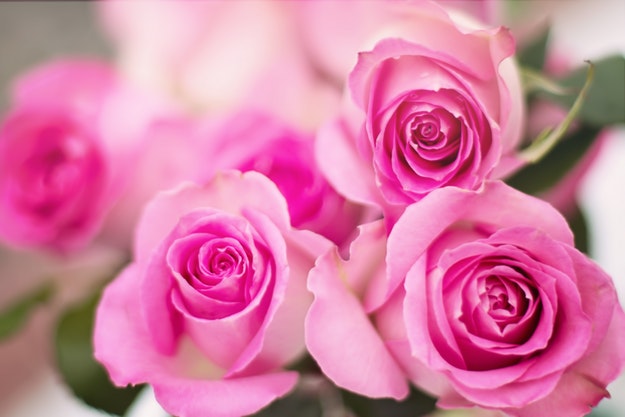 When Ernie stopped to shift his pack on his long walk from the bus stop, he noticed the low fence that circled the house on the opposite corner. The way the rising sun angled in on that fence, man, he could see it was blazing with little pink roses that covered every inch. He crossed the street to take a better look. That's when he noticed the scent. That mass of flowers smelled like a woman's soap. He picked off a couple of blooms and rubbed them in his hands as he continued to walk.
He thought of Bella: How she smelled after the bath she took when the kids were in bed and how, when she tucked ginger flowers in her hair, the scent made him crazy in love with her all over again. My God, he missed her right now! Five years since he saw her last. Seven thousand miles between them – he in California and she at home in the Philippines. Some days the separation slashed his heart like a bolo knife. When their sixth child was born, Ernie and Bella held hands over the infant as he made a promise: "As soon as you're old enough to remember me, I'm going off to work in the States. I'll stay until I get enough money so every one of you can train for good work. It's my life for yours." Then he and Bella held each other and cried. He knew she wanted a better life for their kids as much as he did, although it tore their hearts out.
He left when the baby turned four. He and Bella figured he'd be gone at least ten years.
This new caregiver job his agency gave him wasn't bad. The client had suffered a stroke and could hardly walk. His speech was OK once you got used to it. If you listened carefully, you could hear the punch line to his jokes. Lisa, the man's much younger wife, gave Ernie careful instructions the first week but then stepped back and let him do his job. He liked that kind of trust, like he was a real nurse or one of the family.
She started to go jogging every morning. Ernie liked her pale, well-shaped legs – actually the rest of her, too.
One day Ernie was adding shrimp to the pansit he had just made when Lisa stopped him with a gaze of those sea green eyes of hers. It was like she could see right through him. She asked if he missed his family and the rice fields he said grew behind their house.
"You said you talk to your family just about every day and your kids text you a lot, but don't you miss being physically next to those kids, to your wife?"
Ernie stopped stirring and looked at her. "I miss them so much almost every day," he replied. "Home, too." He served dinner, ate his quickly, and left the table before dessert. Pretty soon Lisa was knocking at the door of his room. She brought him a plate of ice cream, sat next to him, and apologized for asking questions that were none of her business, that were probably hurtful for being so direct. She paused, "I do care about you. You're like part of our family now."
She crossed those long legs of hers.
At that moment Ernie wanted her more than anything.
Her husband passed away four months later. Ernie could never get used to his next assignment. That client was in a stupor. The wife told him to treat her husband with dignity and her idea of dignity was that he would never wear diapers. Ernie explained that having to clean him up after a misfire didn't contribute to dignity. Cleanliness did. She didn't
listen. He discussed the matter with his boss at the agency and asked to be reassigned. He admitted that he missed Lisa's family and her trust. The boss replied that it wasn't good to get attached to any one client.
Hell, Ernie concluded, it was a lot easier the years he took care of one old man, nobody else in the house, no shrew wife, no sweet wife to take the edge off missing Bella.
As if feeling down wasn't enough, his barber had to add to his blues. "Hey Bro, I see a lot of gray in your hair. Want me to color it? Make you look young again?" Ernie kept his black hair short and spiky. Sure enough, the gray really showed after this last clip. He wondered if Bella was coloring her hair now, those soft black waves. When he went home again they would have to face middle age in each other, maybe old age. They'd be different people.
He thought a minute, then told his barber to let the gray show. "Youth is something you feel inside," he explained. "It's when you feel alive." Lisa flashed through his mind. He remembered the first time she stirred up feelings he might not have again. After a run on a hot day, she lay down on the couch, her curly blonde hair damp with sweat, tumbling into her eyes. He wanted to smooth it back and caress her cheek in the process. Now he realized he'd been crushing on her like a teenage boy. Still, those feelings were a relief. Maybe, gray hair or no, he hadn't lost what it took to beget six kids one right after the other.
After the hair cut, he stopped at Jollibees for Filipino fast food on the way back to the board and care home where he helped on weekends, got his mail, kept his stuff, and had a couch in the garage to crash on at night. He ordered Chicken Joy and a pearl cooler. The girl who took his order was friendly, gorgeous with wide almond eyes, and about eighteen. He returned the next day at the same time for halo-halo and chatted her up a bit. He came again the following weekend. After a few more weekends she wasn't there anymore. "I'm still a man," he thought, "but for how many more years?"
Ernie decided to give up on passion. It was getting him nowhere and would surely ebb like the black in his hair. Then his agency sent him to care for Professor Smith, Age 89, who was recovering from hip surgery. When Ernie arrived, the professor asked him to make coffee for the two of them and sit down, please, so we can get acquainted. He asked how long Ernie had been in the states and what island he came from. "During the War my father was with MacArthur when he returned to the Philippines," he said. Professor Smith had taught laser physics at Berkeley. He had been married three times.
Now he was in love again.
He asked, was Ernie willing to take him to visit his girlfriend Betty at her assisted living home about a mile away? Ernie sized up the professor – tall, slender, wavy white hair. Yup, sharp as he must have been at Berkeley. He was curious about this romance. He'd be happy to play cupid and call Uber for arrangements. Sheesh, 89, he had to see this.
The next day the professor said Betty was waiting for them. On the way he gave Ernie a $20 bill and asked him pop into Safeway and get some flowers. Ernie chose a bouquet of small pink roses. "I met Betty at the assisted living place where I stayed after my other hip replacement," the professor explained. "She had some memory problems but I knew she was special. Once I was healed I managed to spring her from her place long enough to take her traveling. She's an adventurer."
When they arrived, the other caregiver opened the door to Betty's suite and left. "This is my girl!" the professor said as he sat down and put his arm around the thin-haired woman sitting on the couch. He thrust the bouquet into her folded hands. She looked at him and slowly
smiled.
Ernie turned away and said he'd look for a glass for the flowers.
When he returned from the kitchenette, the professor was holding Betty's hand and telling her how it had rained last night but today was a great day. "I'm glad you're here," she said again and again. While Ernie was leafing through a coffee table book on the great cities of Europe, Professor Smith announced that he and Betty would like some privacy. He led her to the bedroom and shut the door.
Ernie arranged the roses in the glass and sprinkled them with water so they looked fresh.  He ran his fingers through his hair, stood up straight, and smiled.
"Ernie and the Small Pink Roses" was first published in Birdland Journal.
Category: Short Story, SNHU Creative Writing, SNHU online creative writing